Handy Tips to Deal With a Difficult Spouse
"How do you deal with a difficult spouse?"
Putting up with a difficult spouse for years is a conscious choice. Nobody would willingly put their life and dignity on the line without a form of resolve.
But sometimes situations are such that people end up with spouses who rather than being supportive, cause trouble in their lives. And they don't have the option to promptly exit the relationship.
If you are in such a relationship and are wondering how do you deal with a difficult spouse keep on reading-
Is your spouse really that unmanageable?
"Difficult" is a subjective term. There are cases where the difficult spouse is someone who complains about being too tired to do the laundry on Sundays after working 60 hours the past week.
So the reason why someone did stay with a difficult spouse for years is because they are not really that bad as their partner believes them to be. It's the other spouse that has unreasonable demands.
Both partners are responsible for raising their children and protecting them from harm. It is also fine if both parents work and take care of their household in their free time. In fact, most modern couples have this arrangement.
But when one partner expects the other to accept both a traditional and modern responsibilities that's normally when things become "difficult."
That aside, there are also valid complaints. Everything from deal breakers to non-stop stubbornness, there are also cases where it's not really an issue.
Is it a big deal?
In most cases, when couples think that they are dealing with a difficult spouse it is just something that any normal couple under the stress of a demanding career and young children go through.
"Is the problem big enough to argue about?" Remember that every time parents fight, it affects the children. Is it enough to ruin your marriage? Little pet peeves exist with everyone. Take the good with the bad.
Just because your wife takes three hours in front of a vanity mirror and your husband always leaves their smelly socks on the bed that doesn't mean they don't love you.
It's true even if told them a hundred million times to fix it but they never do.
Are cosmetics and smelly socks a good reason to end your relationship? Is it even a valid reason to piss off everyone and starting a huge fight about it?
Are you just overreacting because it ruins your image of a perfect family?
Learn to put things into perspective. In the grander scheme of things. A happy family includes little annoying peeves. If it's nothing beyond that, everything should be fine.
What if difficult means something terrible?
Subjective means opinionated interpretation, just as some people make a big deal out of ordering anchovies on a pizza, there are people on the other end of the spectrum.
For example, a cheating spouse is a big deal, it is not about being difficult; it is significantly more than that. They sometimes use the lack of emotional attachment as an excuse, but it should still be a big deal.
There are also those abusive family members that just take and don't give. There are too many examples of this, but if this person is your spouse, then you are right to seek help. They range from relatives with sob stories and always asking for money, up to those with blatantly illegal sexual fetishes.
How do you deal with a difficult spouse
The problems didn't happen overnight and patience is running thin. At this point, the couple is just hurting each other and their children.
There are people who would only move when there's a gun pointed to their heads. The time has come for it. But if their relationship has gotten to a point where they needed counseling. Then it means one party has already suffered enough. This is why a large section of this post is their definition of difficult.
Only from there can we learn if the relationship is really in a crisis, or they are just acting immaturely for their age. If it turns out to be a real crisis, then a decent human being has been suffering for a long time in the hands of a monster.
So how do you deal with a difficult spouse?
You don't.
Either take it as part of the person you love, or you leave.
Share this article on
Want to have a happier, healthier marriage?
If you feel disconnected or frustrated about the state of your marriage but want to avoid separation and/or divorce, the marriage.com course meant for married couples is an excellent resource to help you overcome the most challenging aspects of being married.
More On This Topic
You May Also Like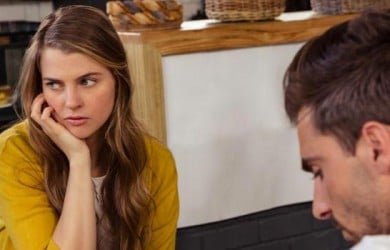 Popular Topics On Married Life