11 Ways to Deal With Difficult Family Members
Relationships with difficult family members can be a draining and emotionally fraught experience. From the outspoken in-law to the hypercritical parent, these relationships often require a nuanced approach that goes beyond traditional conflict resolution methods.
Whether it's passive-aggressive behavior, constant criticism, or more subtle forms of emotional manipulation, dealing with challenging family dynamics is a skill that many of us have yet to master.
While avoiding these individuals may offer temporary relief, it's seldom a viable long-term solution, especially when family gatherings and events are unavoidable.
What does it mean to have a difficult family?
Having a difficult family means that being around your relatives can often be stressful or upsetting, rather than comforting or happy.
Some family members might often criticize you, try to control you, or argue a lot. These actions make it hard to have a simple, peaceful relationship with them.
Unlike families that only have occasional arguments, difficult families seem to have ongoing problems that make family events or even regular conversations stressful. This can make you feel emotionally drained and can even affect how you feel about yourself.
Why it can be so challenging to deal with difficult family members
Dealing with difficult family members is tough because family relationships have deep emotional roots. You can't easily walk away from family like you might with a difficult friend or coworker. Family gatherings, like holidays or birthdays, often make it necessary to interact, making avoidance hard.
These relationships also come with expectations and a long history, which can make any conflict feel bigger and more complicated.
Emotions run high, and issues from the past can resurface, making it tricky to address just one problem without stirring up others. Plus, families often resist change, making it hard to break out of established patterns of behavior.

Types of difficult family members
Different family members can be challenging in various ways, each requiring a unique approach for conflict resolution. Here are some common types:
Constant criticism is the hallmark of this family member. Whether it's your career choices, parenting style, or even your outfit, they always have something negative to say. The ongoing critique can erode your self-confidence and make you second-guess your decisions, causing a great deal of emotional strain.
This person has mastered the art of emotional manipulation. They may use guilt, blame, or even charm to sway family decisions or to create divisions among relatives. This constant need for control can make family gatherings tense and filled with hidden agendas, sowing discord among family members.
Life with this family member is like an ongoing soap opera. They thrive on crisis and conflict, often exaggerating situations for dramatic effect. As a result, family gatherings often become stages for their theatrics, leaving little room for genuine connection or even calm conversation among other relatives.
Always the "wronged" party, this family member is skilled at painting themselves as the eternal martyr. They rarely take responsibility for their actions, choosing instead to cast blame on others.
This behavior can create a cycle where family members feel compelled to 'rescue' them, only for the 'victim' to later blame the 'rescuers' when things go awry.
The silent treatment expert
This person avoids confrontation by ignoring you or giving you the silent treatment like "cold shoulder." This kind of passive-aggressive tactic can make you feel anxious, nervous and unheard, complicating conflict resolution.
This overbearing family member believes they know what's best for everyone and works diligently to make sure everyone falls in line. Their controlling tendencies often stifle individual expression and can lead to resentment among family members who feel their autonomy is being stripped away.
Self-centered and lacking empathy, the narcissistic family member always needs to be the focus of attention.
They often belittle others to make themselves feel superior and are quick to take offense if they're not constantly praised. This emotional drain can take a toll on the whole family, as everyone tiptoes around the narcissist's volatile ego.
This family member's addiction issues can have far-reaching consequences for the entire family. From financial strain to emotional turmoil, their substance abuse creates a cloud of unpredictability. Family gatherings may become battlegrounds, and the emotional wellbeing of the family often takes a backseat to the immediate crisis the addiction presents.
11 ways to deal with difficult family members
Relationships with difficult family members can be challenging, but there are various strategies you can employ to make interactions more manageable. Here are 11 ways to deal with difficult family members:
1. Set boundaries
Make it clear what you are and aren't comfortable with, especially when it comes to personal space, time, and emotional support. This step is about making sure you're being treated with respect and that your needs are acknowledged.
2. Choose your battles
It's important to decide which issues of negative family dynamics are truly worth addressing and which aren't. Sometimes letting a minor issue go can help preserve your emotional well-being and avoid unnecessary conflict with difficult family members.
3. Use "I" statements
When expressing your feelings, focus on your own emotions rather than accusing the other person. Saying "I feel hurt when you do that" is less confrontational than "You always hurt me," making a defensive reaction less likely.
Know the importance of "I" statements here:
4. Seek support from other family members
Sometimes, talking with other relatives who are also dealing with the difficult family member can provide valuable perspective and emotional support. A unified front can often be more effective in promoting change.
5. Limit exposure
If you find it overwhelmingly negative to be around certain family members, limit the time you spend with them. Create a balance between family obligations and your own mental health needs. Setting these boundaries can protect your emotional well-being while still fulfilling basic family commitments.
6. Practice active listening
Make an effort to really understand where the difficult family member is coming from. This doesn't mean you have to agree, but showing that you're listening can sometimes diffuse tension.
Giving them your full attention also provides an opportunity for you to assess the situation more clearly, helping to formulate a more thoughtful response.
7. Avoid sensitive topics
If certain subjects always lead to arguments, it might be best to steer clear of them, especially in group settings. Focus on neutral topics that are less likely to ignite passions, and try to redirect conversations if they veer into contentious territory.
This approach helps to maintain a peaceful atmosphere and reduces the chances of an explosive family argument.
8. Maintain emotional distance
It's easy to get caught up in the emotional turbulence of difficult family dynamics. This can get mentally exhausting. Learning to keep your emotions in check can help you engage with problematic relatives more objectively.
9. Don't expect drastic changes
Understanding that you can't change people is crucial. Instead, focus on manageable goals and coping strategies to deal with difficult family members, without expecting them to become entirely different people.
10. Consult a mediator or therapist
In extreme cases, it might be beneficial to involve a neutral third party. They can help facilitate more effective communication between you and your difficult family members, and may offer additional coping strategies.
11. Practice self-care
Remember that it's okay to take time for yourself, especially if you're feeling drained or stressed from dealing with difficult family dynamics. Exercise, meditate, or do whatever helps you recharge emotionally and physically.
How to forgive difficult family members- 4 ways
Forgiving a difficult family member is often a complex process that takes time.
It's not about erasing the past or pretending that the harm didn't occur; rather, it's about freeing yourself from the emotional burden of resentment and opening up the possibility for future peace, either with or without that family member in your life.
So, how to deal with difficult family members? Here are 4 ways to do so:
Acknowledge your own feelings and pain
Before you can truly forgive, it's important to fully understand what you're forgiving and why. Take time to reflect on the specific actions and words that have caused you pain.
Acknowledging your own feelings gives you a clearer sense of what needs to be forgiven, and it validates your emotions, which is the first step in the healing process.
Understand the limitations of the difficult family member
Sometimes, understanding that a person is limited in their emotional capacity or trapped in their own cycle of pain can make forgiveness easier.
This doesn't excuse their behavior, but it can make it less personal. Knowing that their actions or words are a reflection of them and not you can help you find room in your heart to forgive.
Communicate openly, but carefully
If you decide that it's necessary to address the issue, choose an appropriate time and place to talk. Use "I" statements to avoid sounding accusatory and to focus on how their behavior affects you.
Understand that they may not react the way you hope, but the act of expressing yourself is also for your own peace of mind. It's a way to let go of pent-up resentment and feelings that may be blocking your ability to forgive.
Practice emotional detachment and set future boundaries
Once you've forgiven, it's crucial to safeguard your emotional well-being moving forward. This may involve setting new boundaries and expectations with the difficult family member.
Practicing emotional detachment means that you don't let their future behaviors trigger you as easily, because you've already accepted that they have certain limitations. This enables you to interact with them in a way that is less emotionally taxing.
Commonly asked questions
Strained family relationships can raise many questions and challenges. Whether you're struggling with setting boundaries or understanding the complexities of family dynamics, This AQ aims to offer practical advice for managing these often tricky situations. Read on for answers to some of your most pressing questions.
How do you live with a difficult family?
Living with a difficult family often involves a combination of setting boundaries, choosing your battles, and practicing emotional detachment.
Develop coping strategies that allow you to protect your mental well-being while fulfilling family obligations. Also, consider seeking support from understanding friends, or if needed, professional therapists.
Why are Some Families are difficult?
Families can be difficult for a variety of reasons. These may include long-standing emotional issues, individual mental health struggles, dysfunctional communication patterns, or unresolved conflicts from the past. Every family is unique, but difficult behavior often stems from deeper emotional pain or insecurity.
How do you set boundaries with difficult family members?
Setting boundaries starts with clear communication. Specify what you're comfortable with and what you're not, whether it's about time, space, or emotional matters.
Be consistent in enforcing these boundaries and don't be afraid to reaffirm them if they are disregarded. Make it clear that boundaries are necessary for mutual respect and healthy relationships.
Why are some families not close?
There can be various reasons for a strained relationship with family, such as geographical distance, emotional or ideological differences, or past conflicts that were never resolved.
Sometimes, the family dynamic is influenced by generational patterns of behavior that discourage openness and intimacy. In other cases, individual life choices or circumstances create emotional distance.
In a nutshell
Dealing with tough family members can be hard, but there are ways to make it easier. Setting limits, picking what to argue about, and talking to someone you trust can help a lot. It's good to know why some family members act the way they do. That helps you deal with them better.
Some families aren't close for many reasons like living far apart or not getting along. So, how to deal with negative family members? The most important thing is to look after yourself. You can't change other people, but you can decide how you react. By using different ways to cope, life with difficult family members can get a bit easier.
Share this article on
Want to have a happier, healthier marriage?
If you feel disconnected or frustrated about the state of your marriage but want to avoid separation and/or divorce, the marriage.com course meant for married couples is an excellent resource to help you overcome the most challenging aspects of being married.
Learn More On This Topic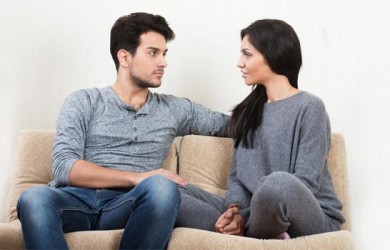 You May Also Like