30 Reasons You're Dreaming About Your Ex and What It Means
When people are involved in a relationship, there is a lot of physical and emotional investment involved.
When couples go adrift for some reason, the cut-off does not happen cleanly. Lingering bonds can manifest in many ways, often in the form of dreams.
What does it mean when you dream about your ex?
From missing your ex to lack of fulfillment in a new relationship, the reasons can be many. Getting to the root of the issue is needed to resolve the problem.
How to interpret your dreams
Any discussion about what dreams mean automatically pops up the name Sigmund Freud. According to him, dreams are a pathway to the desires of our subconscious mind.
Interpreting dreams has become the stuff of popular culture in our times. There are different theories propounded on the meanings of dreams. There are even suggested means to unlock wishes and desires based upon dreams.
What is more, analysts and psychologists are also bringing out dream dictionaries to interpret dreams. These are supposedly thoroughly researched and analyzed. One can try to interpret their dreams based on these journals.
How would you interpret it when you have been dreaming of an ex-boyfriend? This can often happen when a steady relationship has been severed.
You may also have dreams about your ex if you are unhappy somehow in your present situation.
Dreaming about your ex – is it a question mark on your commitment?
A lot of you have successfully moved on in life after a failed relationship. You have since settled with a new partner who makes you happy in every manner possible. Yet, there is a nagging secret doubt in your mind.
Why are you dreaming about your ex even now? Are you not committed enough in your current relationship then?
Getting back with an ex might be the last thing behind such dreams. Alternatively, it might be a hidden desire in your subconscious mind. However that might be, it need not cast doubt on your feelings for your current boyfriend.
Many women in this position tend to ponder sharing their dilemmas with their present partners. The wisdom of this will depend entirely on how open your partner is.
Some men are very cool about exes. They share about their past partners as well.
Some other men might not be so open. They might go to the extent of thinking you are planning on reconnecting with an ex. It is wise to take this call, depending on your situation.
How to talk about these dreams with your partner
Partners in a relationship can be very perceptive. They know when you are being different. Broaching the subject of ex-boyfriend dreams directly might not be a good idea, though.
Tell your current partner how you love him deeply despite being disturbed and that you will sort it out.

Keep the option of talking openly at a further date if the trend continues.
Related Reading: 

The Danger Behind Talking to an Ex While in a Relationship
30 reasons you are dreaming about your ex and what it means
Every time your head spins around the question, what does it mean when you dream about your ex, you get worried and surround yourself with many negative thoughts.
Before you get your head messed up, read some reasons that may be the reasons you are dreaming about your ex.
1. Missing your ex
This is the most probable reason for dreaming about your ex. The good times spent with him, the way of life you had together, and missing it all can translate into dreams.
Mind you, a relationship is not only about the physical aspect of being with your man. It is about sharing ideas and thoughts, bonding over shared interests, planning for the future, and much more. After a break-up, it is these memories that keep coming back.
2. Not happy in the present relationship
The second most likely reason is that you are not happy in your current relationship.
Coming into a relationship with high expectations can be one of the reasons. Another reason could be misjudgment about the new person in your life.
3. Traumatic memories
Losing your ex to some accident or disease where you witnessed the demise can scare any person. This can lead to recurrent dreams about the person.
Often partners in such situations can feel guilty about not being able to save their boyfriend. Guilt manifesting as a dream is quite common.
4. Worries about a new relationship
A reason for recurring dreams about the same person could be wanting to get it right this time. If you are too analytical, this could be a plausible reason.
A failed relationship in the past can make one overly eager to get the new one right. Which in turn means you are overthinking about what you did in the past.
5. Unresolved issues remain
A breakup can be for several reasons, leaving behind unresolved issues. That could be the answer to "Why do I keep dreaming about my ex?"
The best way to deal with this would be to propose a meeting with your ex at a neutral venue. Attempts can then be made to sort out issues and make a clean break.
Related reading: 

How to get closure after a breakup
6. Obsessing about ex
Dreams are symbolic of some other underlying problem. One reason could be going over your mind about what you could have said or done differently with your ex.
Situations and conversations have a way of moving around in the mind unless you consciously banish them.
7. It is not over between you
You may be considering reconnecting with an ex. That would explain why you are repeatedly dreaming about your ex.
At some level, you might be regretting the breakup and wanting to move back.
Do you think your ex also still misses you? Well, here's a video that can help you figure out:

8. You want to reclaim your emotional investment
Those who go all out in a relationship might have dreams of their ex. They have invested so much emotionally into it that they cannot get over it.
9. Subconscious warning signs
Dreams about ex might be a subconscious way of being wary in a new relationship. It might be the mind's way of looking out for warning signs.
10. Residual from an abusive relationship
If you are coming out of a recent abusive relationship, it is normal to have dreams about Ex. These would more fittingly be termed nightmares, though.
Related reading

:

 

How I left an abusive relationship
11. Wake-up call to be yourself
Recurrent ex dreams could also be a call to be yourself. Maybe some facet of your personality had been repressed in your previous relationship.
Dreams about your Ex could be a reminder to re-establish yourself.
12. Forgiving ex after a bitter breakup
Bitter breakups take a massive toll on anyone. Dreams about your ex would probably translate as offering the olive branch to your ex and moving on.
Also read: 

Dreams about divorce – Interpretation and making the best out of them
13. Need for introspection
Maybe dreams about exes are a sign to look inwards. This could be something else going on in your life, making you unhappy.
This could be causing you to look back into happier moments with your ex.
14. Your ex is thinking about you
When you dream about someone, are they thinking of you?
Many experts in the field of psychoanalysis believe it is the telepathic connection manifesting as dreams. How much truth there is to that is open to debate.
15. Does your ex want you back?
An extension of the above point is possibly the answer to "Does my ex want me back?". This mind connection can express itself in the form of dreams about your ex.
There is no solid scientific proof of this, but it is a widely held belief.
Related Reading: 

Get Back with Your Ex With the No Contact Rule
16. Desiring more connection
Dreams are just symbolic of what you are facing in life. All you need might be a soulful connection with family or close ones.
Lack of warmth in your present situation might be the reason you are dreaming of your ex.
17. Stress in your life
If you have problems in your work life or trouble managing your life, you might be seeking solace elsewhere. "I've been having dreams about an ex" is a common manifestation.
Happy memories from a previous relationship often act as a refuge for the mind. When he is nowhere in the picture, in reality, a dream about an ex is just the mind looking for some solace out of current stressors.
18. Seeking closure from the previous relationship
Have you moved out of your previous relationship in a hurry? Is there still a lot of hurt about it?
To truly move on, one needs closure of sorts. This is possibly what the mind is seeking when dreaming of ex-boyfriends.
19. Concern about your ex
Not all breakups need to be messy or bitter. Mutual breakups often mean both parties are left with tender feelings for each other.
If you are concerned for their health or similar issues, this could very well manifest as dreams.
20. Some quality you are missing in your current partner
Your current boyfriend or girlfriend might be the best in the world, but there will possibly be something they do not do that their ex did.
This need can often show up in the form of dreams about your ex.
Related Reading: 

Ways to Have a Quality Time With Your Partner
21. Reliving some traumatic past
Scary dreams about being confined with your ex express the fears that reside deep within you. This is the result of bad residual feelings from an ex-relationship.
22. You are in mourning
The loss of a relationship can be hurtful. It can scar people for a long time to come.
A dream is a pathway for reconnecting with an ex. It takes time to get over the emotional investment that went into creating the relationship.
23. Not having enough to do
If you have been out of a job or simply have too much free time, it can lead to dwelling too much on your ex. Staying engaged bodily and mentally is a way out of this.
24. Oversleeping through the day
Especially in times of pandemic and staying confined to home, people tend to overthink and oversleep.
More sleeping can often lead to dreams, and your ex may pop into them.
25. Yet to find a new person
You are done with your ex, you have closed the chapter and have moved on. But with whom?
Not having anyone in your life can often lead to thinking about your ex. And the next logical step is dreaming about the ex.
26. Being lonely
Loneliness is the biggest bane in modern times. All kinds of gadgets may surround one but they might still feel lonely.
At such vulnerable times, it is natural to dream of your ex. If not in real life, you are at least seeking togetherness in dreams.
27. Comparing your current partner with your ex
Finding new love is always great. However, you might still be comparing your new boyfriend with the one you broke up with.
This could be the reason for your ex dreams.
Related Reading: 

Are Your Past Relationships Haunting Your Current Marriage?
28. Some unfulfilled fantasy you shared commonly
In a relationship, there are many things that couples plan about. Maybe an exotic trip that you were planning or some investment that was around the corner.
These memories can show up in the form of dreams.
29. Jealousy about your ex's new partner
You have seen your ex in public with his new partner, and that is making you go green with jealousy. You are recounting in your mind how you are less and in what ways you are better.
While this leads you nowhere, thinking about them can be why you are dreaming about your ex.
30. His stuff is still around you
A long relationship can leave a lot of residue in the form of physical artifacts. When a partner leaves and moves out, it is never a completely clean break.
Small things remain, maybe as small as a brush or something more substantial. A book, a tie or a cufflink can keep reminding you of all that is no longer there. This can translate into dreams about your ex.
Also Try: 

Do I Still Love My Ex Quiz
Getting to the crux of the issue
The root cause of your ex dreams could be any of the above reasons. Once you can pinpoint the reason, it would be easier to sort it out.
Otherwise, getting to consult a psychoanalyst will be best to resolve it. This will help you to move on without baggage in your current relationship.
Conclusion
Dreaming of ex-boyfriends is not uncommon or rare. It is something a lot of people experience. If you tick any of the reasons listed above, you have already gone halfway.
Finding the reason behind your recurrent dreams of an ex will help you get to the bottom of the issue.
Sort it out, and you are good to go.
Share this article on
Want to have a happier, healthier marriage?
If you feel disconnected or frustrated about the state of your marriage but want to avoid separation and/or divorce, the marriage.com course meant for married couples is an excellent resource to help you overcome the most challenging aspects of being married.
You May Also Like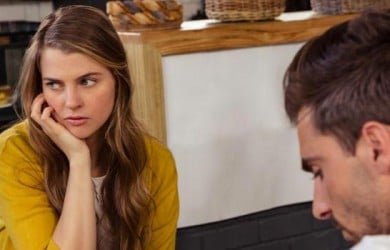 Popular Topics On Married Life