9 Benefits of Bickering in a Marriage
If you are in an intimate relationship, it's hardly impossible not to bicker with your partner. The question is, what are the benefits of a bickering marriage?
A healthy partnership is one where couples fight and trash out issues. That's why arguments or disagreements are considered normal in any typical relationship. Therefore, many people consider this phenomenon to be bickering.
Since bickering in relationships sometimes tends to be stressful, one may wonder if there are any benefits attached to it. So, why do couples bicker at all in a relationship? Is it normal to bicker in a relationship? What are the benefits of a bickering marriage, and what are the secrets to bickering less?
Uncover the answers to these questions as this article dives into the benefits of a bickering marriage. Also, the article focused on bickering couples and secrets to bickering less.
Before going entirely into the topic, understanding the bickering definition is essential to get a complete scope of the topic.
What is bickering?
What is the bickering definition?
Bickering in relationships means arguing about unimportant things or arguing over flimsy or less significant things in a petty way.
To put bickering couples into perspective, it will help to picture two kids arguing over the actual age of a celebrity. Similarly, two siblings who can't agree on washing the dishes fit the typical situation of bickering couples.
Bickering in relationships may also move from domestic situations to issues like cultural differences. It bothers on engaging in a bad-tempered quarrel over something trivial.
While it looks like bickering is harmful to relationships, it's not. The basis of most healthy relationships is the "small" disputes couples constantly have to handle. Bickering in relationships allows couples to re-evaluate themselves and their values.
Learn more about the benefits of bickering in marriage and relationships, generally.
Benefits of bickering in marriage
What are the benefits of a bickering marriage? Bickering couples argue over trivial matters, but some people see it as dangerous to relationships. Thus, it's not strange that they prefer to keep mute over some issues or not discuss them with their partner.
On the other hand, couples who engage in constant bickering in a relationship and are still together might disagree. So what are the benefits of bickering in a marriage?
To start with, there is nothing like a "perfect relationship-." There is no way you will be in a relationship with someone probably from a different background and upbringing, and you won't argue.
However, it is best to realize that conflict is not always bad for couples. In other words, constant bickering in a relationship can bring couples closer than they think. The arguments or fights you detest so much can lead to a better understanding between the two of you. It can also strengthen the bond and intimacy you both have.
For example, it can sometimes feel frustrating to scream at your partner and not agree. But, knowing they are still there for you and accepting your imperfect personality, regardless, can be uplifting. That's why some people feel bickering is a sign of affection.
As excerpted from the book Stronger Than You Think: The 10 Blind Spots That Undermine Your Relationship and How to See Past Them, couples need to fight more strategically than avoid conflicts.
Back and forth banter, another word for bickering in relationships or a bickering marriage, can help couples cool off. That further helps renew their relationship.
Is it normal to bicker in a relationship?
Many people have asked, "Is it normal to bicker in a relationship?" Is bickering a sign of affection? Yes, it is normal to engage in constant bickering in a relationship.
Partners in a relationship are two individuals with perhaps different cultures, traditions, upbringing, orientations, etc. When you come together, it's normal to argue constantly. Imagine bickering to be the argument you have with total strangers on the internet.
Furthermore, it's impossible not to bicker in a relationship since we all have different ways of doing things, from dressing and cleaning to house chores to the general way of life. For example, you may feel 8 pm is the right time for your son to go to bed, while your wife feels spending an extra day wouldn't be wrong.
When our partners do things differently from us, we may disagree. Since each person feels their way is perfect, agreeing will be difficult.
9 Benefits of bickering with your spouse
Unlike what you may have known, bickering in relationships is not the same as fighting. Bickering is about disagreements. If it is necessary to develop any relationship, what are the benefits of bickering in a marriage? Check the following:
1. It keeps the relationship healthy
One of the top benefits of bickering in a marriage is that it allows for a healthy relationship. The lovey-dovey stages in a typical relationship often blind partners to certain realities.
For example, you may find it difficult to accept that the person you love isn't perfect. They snore hard in bed; they are clumsy and mess up the house whenever they are in a hurry. Finding out all these blemishes is enough to make you rethink your decisions.
However, after a few arguments when you make up, you will realize how human they are. Being able to love your partner at their lowest point solidifies your relationship and makes you appreciate your partner more.
Related Reading: 

14 Ways to Keep Your Relationship Strong, Healthy, and Happy
Learn how to build a healthy relationship in this video:
2. Bickering encourages honesty
Another benefit of a bickering marriage is that it leaves room for honesty. Bickering definition emphasizes petty fights, which removes pretense.
When couples bicker, they become vulnerable and let it all out. You tell your partner what they did and how it affects you. Also, you banter with each other without holding back.
When partners become honest with each other in a relationship, it brings trust. That means you can trust your partner's promises and words. It also makes you believe in them.
3. It solidifies a relationship
It's hard to maintain a relationship or marriage for years and still love each other deeply. A typical marriage is full of disagreements, fights, disappointment, and happy and sad moments.
Unfortunately, some of these things affect the relationship and make it crumble. It may seem like "little disagreements" will lead to bigger emotional damage. However, after constant squabbling for years, you will learn the benefits of a bickering marriage as they help you learn from your mistakes.
One minute, you are arguing over dinner; the next minute, you are laughing over the dishes.
4. It encourages open communication
One of the benefits of a bickering marriage is that it allows for open communication. Communication is the bedrock of any stable partnership out there. It enables partners to be vulnerable with each other without hesitation.
With constant bickering in a relationship, partners have chances to discuss openly with each other. Disputes allow you to discuss topics you wouldn't venture into on a typical day.
For example, if you realize your partner tends to mess up the room anytime they are looking for something, having a little argument over it can solve the situation. You may have been enduring for a while, but when you get tired and speak out, it's an excellent opportunity to discuss an issue affecting your perception of your partner.
As partners communicate, they become closer to each other and know each other more. That makes them understand how to navigate the relationship well and settle bigger disputes.
Related Reading: 

Open Communication In a Relationship: How to Make it Work
5. Bickering is suitable for partners
Why do couples bicker? Couples bicker because it's good for them.
Indeed, being apart from your partner is awful. Hell! It can be frustrating when your partner doesn't understand a situation from your perspective. But guess what? Speaking out and hearing your partner's side reminds you of how unique you are.
This understanding helps you accept your partner for who they are – a decision that will give your relationship meaning. It also means you know how to react in the future should the same situation come up again.
6. It encourages me-time
Bickering couples sometimes don't realize how petty fights help them become better. How? It's simple.
After an episode of bickering in relationships, couples sometimes take a little break. Let's call this break retreat into a personal space.
That may mean looking for a quiet and peaceful place to relax, watch a movie alone, meditate, or engage in hobbies.
Notably, me-time allows you to reconnect with things that are significant to you and remember who you are without your partner. It ensures you retain your individuality while you grow your relationship.
Besides, these moments allow each partner to think and enhance the connection. You begin to evaluate the whole petty fight and the reason for it. You start by wondering why the bickering happened in the first place.
Related Reading: 

How to Find Time for Yourself After Marriage?
7. Bickering prevents more significant conflicts in the future
Again, bickering is not the same as fighting. It is a short moment of a fallout between partners. However, as seemingly minor as it is, it helps you prevent significant problems in the relationship.
Once you realize the impact of the last argument and what you discuss, you can use it to prepare for future occurrences. For instance, if you argue about the color to choose for a car, and your husband gives you a reason for his choice, you can allow him.
Then you decide to have sole autonomy for other decisions to avoid similar conflicts in the future. This gives you a win-win situation where your husband gets his desired car color, and you look forward to making other decisions. This trick is one of the secrets to bickering less.
8. It strengthens your ability to handle stress in different situations
You may want to know how to stop bickering with your partner, but constant bickering in a relationship might help you in other aspects of life.
As you engage in back and forth arguments with your partner, you improve your problem-solving and communication skills. Fortunately, you can transfer these skills to other issues in life.
In other words, as you go to work or meet other people, you will find yourself in stressful situations and forced to deal with different people. When there is an issue, how do you handle it? Flare-up, scream, or walk away?
When you remember previous banter with your partner and how you handled them, you will find altercations with a non-familiar person easy to solve. It's even more challenging to cope with difficult colleagues at work. In such a situation, patience and practical problem-solving skills can help you.
Places of work particularly value employees who can handle stressful events effectively. Seeking out the best outcome in a challenging situation is a special skill. Such a gift isn't innate; it is built through many dealings with conflicts, especially in a romantic relationship.
9. It helps you understand each other better
Is it normal to bicker in a relationship? Yes, it is. Bickering is a sign of affection between partners, and it helps you and your partner reveal yourself to each other.
In disagreements with your partner, you tend to table your grievances, giving them clarifications for your actions. That helps your partner learn something new about you. Similarly, your partner will respond based on your words and state his standpoints. It may mean giving excuses for their behavior or explaining to you.
For example, if you hate it when your partner leaves the dishes overnight, their excuse may be that they like to rest after a meal before washing. That shows that your partner is used to leaving dirty dishes. Changing such behavior will take some time, and you must give them the chance to do so.
If you want to know how to stop bickering with your partner, it may be good to understand them. It's one of the secrets to bickering less.
Related Reading: 

How to Understand Your Partner Better: 15 Ways
The takeaway
Bickering in a relationship involves petty conflicts between partners. It essentially helps partners build stable and healthy relationships. Unlike big fights, the benefits of bickering in marriage bring partners closer and strengthen their bond.
Nevertheless, if constant bickering affects your relationship, it may be time to seek a therapist or a relationship expert's opinion. They offer bickering couples advice that can help rejuvenate their shaky relationship.
Share this article on
Want to have a happier, healthier marriage?
If you feel disconnected or frustrated about the state of your marriage but want to avoid separation and/or divorce, the marriage.com course meant for married couples is an excellent resource to help you overcome the most challenging aspects of being married.
More On This Topic
You May Also Like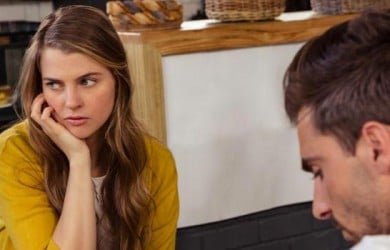 Popular Topics On Married Life