All You Need to Know About Parasocial Relationships
Attraction towards a particular individual can't be controlled. Sometimes it's one's habit or social behavior, and sometimes it's one's persona or physical feature gets our attention.
To be attracted to an individual is absolutely fine, but there are cases wherein one falls in love with the person. This leads to parasocial relationship or in other terms one sided relationships.
The parasocial relationship definition in easy language is a one-sided relationship where an individually is not only attracted but is in love with the celebrity, an organization, or even a TV personalities.
In such cases, the person invests energy, time and interest in the person they're attracted to. In some cases where this parasocial relationships can lead to heartbreak once they've got a chance to express their love to the interested personality, whereas in some cases it helps an individual to come out of their complicated real-life relationships.
Parasocial relationships term was first used in 1956 by Donald Horon and Richard Wohl, who were studying the relationship between the audience and the mass media, particularly with the performers on television.
The one sided relationship meaning is wherein the viewer felt a connection with the personalities on television, despite having limited interactions. In older days, the parasocial relationships were limited due to restricted access of the mass media.
However, with digital platforms, the relationship has expanded through social media platforms since these personalities are easily available these platforms.
One-sided relationships are never supported. This is often looked upon as a negative feeling where, in most cases, one-sided feeling turns into obsession and damages the individual emotionally and mentally. The situation is a little different in parasocial relationships.
There were many researches done and it was discovered that parasocial relationship can be beneficial. It was observed that it uplifts the person's confidence and helps them overcome their real-life relationship issues. Listed below are some of the benefits of parasocial relationships.
In a one-sided relationship, there is no or limited social interaction. The person is afraid to even their feelings and this leads to the negative impact on their emotional self. However, things are a bit different in parasocial relationships. Here, the individual find some connection between them and the celebrity.
In the age of digital connection, establishing a connection is quite easy. They can follow them and look at their activities. Besides, by following them on social media platforms like Twitter or Instagram they can get their motivational dose on a regular basis.
By looking at their hard work, dedication and positive messaging, one will surely get motivated.
2. Social engagement
In a non-digital world it was difficult for individuals in parasocial relationships to communicate their feeling the celebrities. However, things have changed in the digital setup. Today, it is easy for an individual to have a conversation with someone they look up at or adore.
In the older setup there were chances of social isolation, however now one need not worry about it. The social isolation will be limited and in fact it increases the chances of social connection.
These individuals can connect with others who are into the parasocial relationships with the same celebrity.
As mentioned above, today striking a connection with a celebrity is far easier than non-digital era. Celebrities are active on social media platforms and constantly update their profiles. Those in parasocial relationships can follow them on these platforms.
Upon following they can feel the connections between them through these posts. This not only has let go of the isolations but also brings them close to their favorite celebrity. As in these parasocial relationships they're able to strike a communication, things are better.
Apart from some prominent benefits, parasocial relationships have some negative impact on kids as well. Let's have a look at this.
1. Physical appearance
Kids, when into parasocial relationships with a celebrity, start to follow the physical appearance of their favorite celebrity.
They consider that body image an ideal figure and try to be like them. What they forget that every body image is perfect and everyone is beautiful. In order to become a replicate image of their favorite celebrity, they often put their body into danger.
2. Short-temper behavior
As it's quite impossible to control the parasocial relationships, one might not predict what character might interest kids. In such situations, if they've developed likings for an aggressive character, then there are chances that they would follow their behavioral trait. This indeed will impact the kind in the long run.
3. Breakup
It's usual to think that during parasocial relationships breakup, one might not go through much pain, but it's entirely wrong. Researchers found out that the individual go through real-life breakup pain even during parasocial relationships breakup. This implies that they would need similar sort of support and guidance as real-life relationship breakup.
Share this article on
Want to have a happier, healthier marriage?
If you feel disconnected or frustrated about the state of your marriage but want to avoid separation and/or divorce, the marriage.com course meant for married couples is an excellent resource to help you overcome the most challenging aspects of being married.
More On This Topic
You May Also Like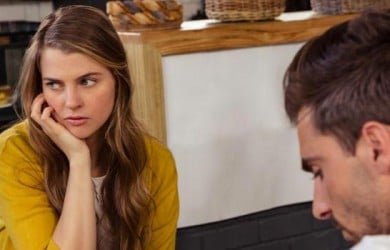 Popular Topics On Married Life