What You Need to Know About Pre-engagement Counseling
You've heard of marriage counseling and pre-marriage counseling, but what about pre-engagement counseling?
While it may sound strange to go to therapy with a person you're only dating, the idea itself is quite brilliant.
Pre engagement therapy acknowledges that asking someone to marry you (or saying yes to someone asking you to marry them!) is a huge decision that shouldn't be made lightly.
It helps couples structure their relationship in a way that is suitable for a long-lasting, happy marriage.
The advantages of pre-engagement counseling are endless. It allows couples to avoid taking past baggage into an engagement, discusses important family matters before you've truly committed to one another, and creates a realistic idea of what a married partnership really means.
Is before marriage counseling for you? Keep reading to find out.
Why do people seek pre-engagement counseling?
Studies show that serious breakups can cause post-traumatic stress disorder in the broken-hearted. Not to mention the current divorce rate is not exactly encouraging for couples.
But why should people who aren't even engaged be hopping into therapy together? Shouldn't they still be in the throes of puppy love?
Pre-engagement counseling isn't necessarily for couples who are having problems. It's for couples who see a serious future together and want to ensure they have all the necessary tools in place to create a marriage that lasts forever.
Many religious couples go through engagement counseling to ready themselves for a serious relationship. Of course, you do not have to be religious to benefit from couple counseling before marriage or engagement.
Engagement therapy can help couples learn proper conflict resolution skills, boost communication efforts, and manage expectations.
Watch this video to learn about how long should you date before getting engaged.
Why pre-engagement counseling is better than pre-marital counseling?
People seek pre-engagement counseling for the same reason they do before marriage counseling – to build a healthier relationship.
One of the benefits of pre-engagement counseling vs pre-marital counseling is that there are no timelines to work against.
Instead of trying to work out your issues before a wedding date approaches, you and your spouse have the freedom to explore the ups and downs of your relationship.
Engagement therapy helps couples strengthen their relationship and slowly work toward a healthy engagement.
Another great benefit is that there is no real pressure.
If counseling reveals that you that you and your partner aren't compatible, you don't have the awkward task of breaking off a public engagement or disappointing family by calling off a wedding. No 'break the date' cards to send out.
Related Reading: 

Premarital Counseling: Everything You Wanted To Know
5 benefits of pre-engagement counseling
Pre-engagement counseling can be an excellent tool for couples to build a great relationship together.
One survey published by Health Research Funding found that 30% of couples who had counseling before tying the knot had a higher marital success rate than those who didn't choose to counsel.
Pre-engagement counseling can also help lower divorce rates by helping couples see whether they are truly compatible for engagement and marriage before it's too late.
Here are just some of the benefits of couple counseling before marriage:
1. Figure out the little things
One of the top reasons why couples attend before marriage counseling is to learn whether they would be a good team.
Compatibility makes for a great partnership. Sure, opposites attract, and opposite opinions can make partners more patient and open-minded. But in some respects, sharing the same ideals and morals will send you into a marriage on the right foot.
Some of the pre engagement counseling questions you'll be asked during counseling sessions include:
What do commitment and fidelity mean to you? What do you consider cheating?

Do you want children? If so, how many and in what timeframe?

How do you want to raise your children?

What are your

expectations about sex

?

Do you share the same faith? How important is that faith to you?

What will you do to stay committed when your partner lets you down or hurts your feelings?

Where do you plan on living?

What are your future goals?

What is your financial situation? Do you expect your partner to help financially? If you have children, will your partner continue to work, or do they want to stay home and raise the child?

What role does or will family/in-laws play in your life?

What do you want out of an engagement and future marriage?
Many couples ignore incompatibilities because they love each other and perhaps hope their partner will change their mind on key issues one day.
By going through pre-engagement counseling, couples will be brought face to face with qualities and opinions that could make their future marriage stronger – and the ones that may make them an incompatible couple.
It is painful for couples who realize their morals and values are too different to go forward, but before marriage counseling allows them to discover these things privately and without a wedding to call off.
Related Reading: 

15 Signs of Incompatibility in Relationship
2. Set healthy boundaries early
Boundaries are a wonderful thing in relationships. They tell spouses where each other's limits are and help them to be more understanding and respectful partners.
During engagement therapy, couples will be able to talk about their sexual, physical, emotional, and even time-related boundaries ("I want to be married/have a baby/live in Alaska by the time I'm X years old.")
Doing couple counseling before marriage is a great time to bring up your boundaries. Your counselor can help you navigate this important topic without you feeling awkward or overbearing by bringing up these important needs.
Related Reading: 

Setting Healthy Boundaries in a Relationship
3. Build and nurture intimacy
Emotional intimacy is just as important as physical intimacy in a future marriage. Research shows that the longer couples are together, they are more likely to value emotional intimacy over sexual fireworks.
Building emotional intimacy has also been shown to buffer stress and enhance partner well-being.
By building and nurturing emotional intimacy during the dating stage, you'll set yourself up for a successful and strong marriage.
4. Create realistic expectations of marriage
Marriage is all about partnership. It's two people melding their lives together with a promise to love and support each other. This sounds romantic but isn't exactly an easy task.
Before marriage counseling can help couples create a realistic expectation of what a marriage should look like.
Some examples of unrealistic expectations include:
Having passionate sex every day for the rest of your life

Believing your spouse will never change

Thinking all your time should be spent together

Never compromising

Thinking that your partner will fix or complete you
Realistic expectations debunk these myths and remind couples that marriage shouldn't be hard, but it won't always be easy, either.
Having realistic expectations about household chores, social lives outside of the marriage, and always working toward keeping sex and intimacy burning will help couples have a happier relationship.
5. Learn to communicate
Communication is the cornerstone of any good relationship.
During engagement therapy, couples will learn how to communicate effectively, which includes learning how to fight fair, compromise, and listen.
Without good communication skills, couples may become emotionally distant or fall back on methods that hurt their marriage (such as freezing a partner out or reacting emotionally and saying hurtful things during an argument.)
In before marriage counseling, couples will learn how to come together and tackle a problem as a team.
Related Reading: 

20 Ways to Improve Communication in a Relationship
A comparison of pre-engagement counseling with pre-marital counseling
Doing couple counseling before marriage is good no matter what stage of a relationship you are in because it means you want to better yourself.
Pre-engagement counseling

is attended when things are going well in the relationship and the conflict levels are low.

Pre-marriage counseling

is usually for couples who are experiencing trials in their relationship that cause them to doubt if their marriage will be a success.

Pre-engagement counseling

is done by couples who truly want to strengthen their connection and hone their communication skills.

Pre-marriage counseling

can sometimes be a mere formality, such as when done for religious reasons.

Pre-engagement counseling

allows you the freedom to explore the relationship at your own pace.

Pre-marriage counseling

has an end date (the wedding) in mind, sometimes inadvertently causing couples to rush through their lessons.

Pre-engagement counseling

focuses on your past, skills, and draws a realistic picture of what a marriage will look like

Pre-marriage counseling

focuses more on specific problems you are having on top of discussing things like sex, money, and communication.
There is no saying whether one is better than the other. Therapy is wonderful for singles, couples looking to get engaged, and couples who are just about to tie the knot.
Counseling helps you build the best version of yourself possible and gives you the tools you need to build a successful future with a partner.
Related Reading: 

9 Best Couples Therapy Techniques to Try in 2022
Takeaway
What is pre-engagement counseling? It's a therapy session for couples who are in a serious relationship. They may hope to become engaged one day but aren't in a rush.
Instead, they are taking time to focus on how to be better partners with each other and build a strong foundation to one day get engaged.
There are many advantages of pre-engagement counseling. Couples aren't viewing their therapy sessions as a formality that they must do to get married.
Stakes are low in pre engagement counseling since there is no wedding to call off or engagement to break if things don't work out.
Counseling helps partners build a strong foundation for a healthy relationship and teaches them to communicate, problem-solve, and grow together.
If you are interested in finding a counselor or taking an online class, visit our Find a Therapist database or check into our online pre-marriage course.
Share this article on
Planning to get married?
Just engaged or contemplating marriage? Discover how to transition smoothly into the next phase of your relationship with Marriage.com's Pre-Marriage Course. Begin your incredible journey with this guide designed by experts and lay a strong foundation for your path of togetherness - forever!
More On This Topic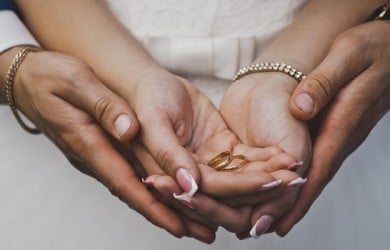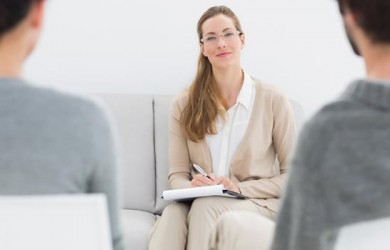 You May Also Like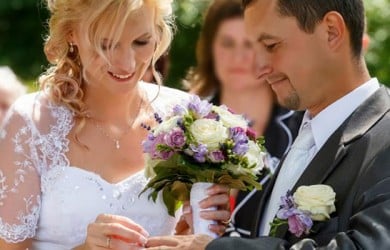 Popular Topics On Getting Married