How to Give a Timeless Engagement Toast: A Step-By-Step Guide
Most guests look forward to the lovely, heartfelt engagement toast in any wedding ceremony. If you've been saddled with giving one, you may feel pressure to deliver the best.
Well, you don't have to worry much. This article gives detailed guidelines on how to give the best engagement party toasts.
4 step guide to writing a timeless engagement toast
For some people, there is nothing special about an engagement toast. However, you really want to evoke an emotional feeling from the couple and the guests. In that case, you must take your time to give the most sensational toast for an engagement party.
Besides, the engagement speech must be one the couple will remember for the rest of their lives. From the beginning of a toast to the end, every word must be truthful, beautiful, and memorable.
Thankfully, you will learn everything about simple engagement toasts, engagement sayings, engagement toast quotes, and engagement speech examples in this article. However, before then, let's dive into giving engagement party toasts step-by-step. Here they are:
Step 1: Preparing your engagement toast
Witty engagement announcements or an engagement party speech aren't something you can handle anyhow. It takes careful planning and preparation. To deliver such a toast, understand the occasion.
Importantly, familiarize yourself with the couple's relationship, their story, how they met, and the engagement's significance. This will help you personalize your toast and make it meaningful.
In addition, determine your roles in the event, such as a close friend, family member, or designated toast-giver. Then, let this reflect and influence the tone and content of your engagement party speech.
Finally, consider the guests attending the engagement party and their relationship with the couple. Tailor your toast to resonate with the diverse audience, keeping it appropriate and inclusive.
Step 2: Writing your engagement toast
Now, this is where the real work starts. Only a few people are good at expressing their thoughts on paper. If you think otherwise, there is a way out. So, what do you say about an engagement?
What do you say on an engagement toast?
When giving an engagement toast, it's important to balance an emotional message and great advice for the couple.
To write your engagement toast of speech, start by congratulating the couple on their engagement. Then, begin with a captivating or attention-grabbing introduction, such as a heartfelt story, joke, quote about love and commitment, or shared memory.
Furthermore, Share personal stories highlighting the couple's journey, qualities, and milestones they've achieved together. Make it relatable and engaging for the audience. You can call one of the couples to confirm any story or details you plan to mention.
While writing the story, try to express your feelings and wishes. Particularly, speak from the heart and express your genuine emotions, sharing your good wishes for their future, using optimistic language.
Also, keep your engagement toast concise and focused, aiming for around 3-5 minutes long at most. Avoid rambling or going off-topic to avoid boring the couple and guests. Ultimately, focus on the couple and their relationship, highlighting their love, compatibility, and shared dreams.
Humor lightens the mood on occasion. Use this to your advantage by injecting jokes into your speech for the engagement party to keep the atmosphere lively. However, be mindful not to offend or embarrass the couple or guests.
Finally, conclude your toast with a memorable and uplifting note, such as a sincere toast to the couple's happiness, love, and lifelong journey together.
Step 3: Rehearsing your engagement toast
You aren't finished with your engagement toast without practicing it. Thankfully, the process is straightforward when rehearsing for a speech for an engagement party.
Practice aloud

: Read your toast several times to familiarize yourself with the flow and timing. Pay attention to your tone, pace, gestures, and

body language

. Act like you are already in front of the couple and guests.

Seek feedback:

To help you better, practice in the presence of a trusted friend or family member and ask for their feedback. This person can provide valuable insights, help you refine your delivery, and offer suggestions for improvement.

Make adjustments

: Based on the feedback you get, make any necessary adjustments to the content of your engagement toast. Ensure it reflects your authentic voice and resonates with the intended audience.
Step 4: Delivering your engagement toast
It is time to show the couple and the guests that you've invested much time into the engagement sayings. To deliver your toast:
Project confidence

: Stand tall, maintain eye contact, and speak clearly and confidently. Also, look around, ensuring you maintain eye contact with the couple and guest. It is essential to project your voice so that everyone hears you.

Pace yourself

: Speak moderately, allowing the guests to absorb your words and connect with your emotions. Look around, and pause when needed for emphasis or to allow for laughter.

Engage with the couple and the audience

: Direct your gaze towards the couple and occasionally engage with the audience through eye contact. This will create a sense of connection and inclusivity.

Use appropriate gestures

: Incorporate natural and subtle

hand gestures

to enhance your speech. For example, if you tell a short story, use your hands and body language to do most of the description. However, avoiding excessive or distracting movements that may detract from your message is best.

Smile

: Show genuine enthusiasm and joy as you deliver your toast. Enjoy every moment, and let your affection for the couple and their engagement party shine.
Remember, your engagement toast signifies the love and support you convey to the couple. With thoughtful preparation, sincere words, and confident delivery, your engagement toast will be a timeless tribute to the couple.
Watch this video to learn some tips to improve your public speaking:
Inspirational & funny wedding toast quotes to make your speech a hit
Knowing what to say in engagement party toasts. More importantly, you should know some funny toast quotes to get everyone rolling and enjoying the moment. Below are inspirational and funny wedding quotes to spice up your engagement speech:
"Marriage is not just about finding the right person, but being the right person. Here's to (Couple's Names), who have not only found love but have also found their perfect match."

"Love is like a beautiful flower – it takes time, patience, and nurturing to bloom into something extraordinary. May your love for each other flourish and bring you endless joy."

"Marriage is a journey, and today, (Couple's Names), you've taken the first step towards a lifetime of adventures, laughter, and shared happiness. Wishing you a grand and exciting expedition together!"

"In the words of Antoine de Saint-Exupéry, 'Love does not consist of gazing at each other, but looking outward together in the same direction.' May you always gaze in the same direction and conquer life's challenges as a united force."

"They say that marriage is a fine institution, but who wants to live in an institution? Well, (Couple's Names), you two have found the perfect partner to turn any institution into an adventure!"

"Marriage is like a dance. Sometimes you step on each other's toes, but with love and laughter, you find your rhythm. May your dance together be filled with graceful steps and spontaneous twirls."

"As you join hands and hearts, remember that a successful marriage requires falling in love many times, always with the same person. Cheers to the couple, who have found a love that grows deeper with each passing day."

"Marriage is like a recipe – it takes the perfect blend of love, compromise, and a dash of humor. Wishing the couple a lifetime of delicious moments and laughter in their recipe for love."
"Some people say marriage is a 50-50 partnership. But I know (Groom's Name) well enough to know that he's giving 100%, and I have no doubt that (Bride's Name) is giving 110% back. Here's to love that exceeds all expectations!"

"According to Oscar Wilde, 'A good friend will always stab you in the front.' But in the case of this couple, they have each other's backs through thick and thin. May your friendship and love only grow stronger with time.
Some commonly asked questions
Here are the answers to some of the questions that may come to mind pertaining to engagement toasts:
What are some good opening lines for an engagement toast?
A good opening line can set the tone for the speech and capture everyone's attention. The following are some opening lines for any engagement speech party:
"Ladies and gentlemen, please raise your glasses to celebrate this couple's love story (insert their name). "

"Today, we gather to toast to (Couple's names) engagement and the beautiful journey they are about to embark on."

"Good evening, everyone! I stand before you today to honor and toast (Couple's Names) on this joyous occasion. Their love has blossomed, and we are here to celebrate the beginning of their lifelong adventure together."

"Dearly beloved friends and family, it is with great pleasure that I stand before you to appreciate the love this couple has for each other. Let us raise a glass to toast their engagement, a symbol of their unwavering bond."
How long should an engagement toast be?
When delivering an engagement toast, keep it concise and focused. Ensure you stick to 3 to 5 minutes or, at most, 10 minutes. While sharing multiple stories may be tempting, it is crucial to maintain brevity to ensure the audience remains engaged and the spotlight remains on the couple.
Final thoughts
What is worth doing is worth doing well. Suppose you are about to give an engagement speech. In that case, it is best to put in the effort to produce one that will captivate the audience, evoke laughter, and leave a lasting impression on the couple and their guests.
However, such a result requires effort. The steps in this guide will help you craft a fascinating engagement toast or speech that will become delible in the memory of everyone. If you need more help, watch some videos or read books on premarital counseling to know what to do.
Share this article on
Want to have a happier, healthier marriage?
If you feel disconnected or frustrated about the state of your marriage but want to avoid separation and/or divorce, the marriage.com course meant for married couples is an excellent resource to help you overcome the most challenging aspects of being married.
You May Also Like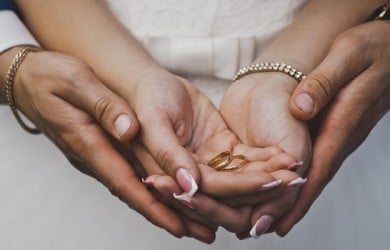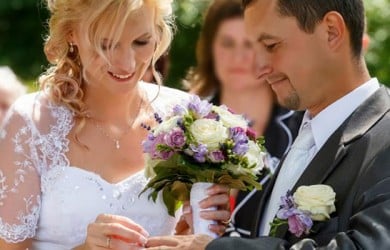 Popular Topics On Getting Married