Getting Married? Here's 1 Must-Know Secret for Success
Getting married? That's no small thing.
As short as life is, there is a whole lot that happens during it, and deciding to get married means that you are deciding to go through all of the twists and turns of life's journey together—no matter what.Getting married means that even when it gets hard, and it will get hard, that even when you don't like each other very much, and there will be times, even when you are feeling crushed and alone and hopeless about your relationship (and as terrible as that sounds, such moments aren't uncommon)… you won't leave one another. You will not give up on your love.
Getting married means you have closed the door to leaving. For better or for worse, you two are in this together.Now I don't mean this to be a gloomy or scary perspective of marriage. In making this commitment to one another, you can be assured that you will never have to go through life's challenges alone. You have a lifetime partner, teammate, best friend, companion, and lover. You have someone with whom to share all the good, beautiful, and life-changing moments as well. And that is something to truly celebrate. In one another, you have found what I believe each and every human being searches for. Congratulations!
Yet I want to be realistic, because getting married is a big deal
As much as we aspire to be like the couples of generations past—to stay in our marriages for a lifetime, to grow old with the love of our life—the reality is that we live in a culture where, by the time most couples reach their mid-fifties, nearly half of them will be divorced or separated (Kennedy & Ruggles, 2014). Given this stark statistic, the thought of making it through your entire lifetimes together might seem daunting. But never fear, you CAN make it.
Recommended – Pre Marriage Course
A Secret for Success
I'd like to share a little secret that I have learned about marriage, and that I think will strengthen the sacred bond between you and your soon-to-be spouse even further. Pay attention, because I don't think many people know this.
Marriage is a people-growing machine: In your relationship, you will encounter exactly the challenges you need in order to grow and in order to polish your edges. Your marriage will give you ample opportunity to become your best version of self. Knowing this, you can recognize the hard times for what they are—opportunities to clean house and shine.
Consider that in our generation, we expect a lot out of marriage, perhaps more than previous generations did. These days, marriage is not just about having a companion, or about raising children, or about finding financial security, like it once was. Marriage, now, is about growing our souls, connecting with another human being on a level of intimacy and safety rarely achieved. It is about being known completely, and knowing another completely, and being accepted and adored in all of our complexity and messiness. We expect marriage to be an experience of deep love, compassion, passion, adventure, safety, and oneness in the context of remaining a separate, beautiful, respected, and appreciated self. But to accomplish this kind of relationship is hard work! It's scary, vulnerable, sometimes even painful work… and, I believe, it's also the most rewarding and fulfilling work we can do.
I think, perhaps, that one of the reasons that so many marriages end is because people do not understand this secret before they get married. They enter the marriage with all of the beautiful expectations of what a marriage can bring, but have little awareness of the way marriage forces us to grow or how hard it can sometimes be. We grow up with a romantic notion that love and marriage is happiness and bliss forever, and when it's not, people quit. Or we go into marriage expecting that the spark will fade and resigning to the idea that this is normal, and there is nothing we can do about it. Then, when that gets too lonely to tolerate, people leave the relationship. And in today's society, leaving a marriage is easier than ever.
Don't settle for 'normal
I often remind couples that "normal" marriages are not so great, and don't always last. To really set yourself up for success, you have to aim for better-than-normal. Don't fear the hard work when it comes up for you two, but don't settle for it either. Seek premarital counseling or couple enrichment, go to a sex therapist, attend couples counseling, a workshop, or a retreat. Do your own work of growth and healing. (Hey, we all have baggage that we bring to our relationships!)
Above all, don't quit. Even when your marriage has its downs, it will come up again, especially if you remember my secret—that these challenges are gifts, resources, and opportunities to grow. So as you choose each other on your wedding day, trust that you have made the right choice. Then, choose each other again, every day, in how you love each other, and choose one another especially when this marriage is challenging you to grow. Remember, getting married is a big deal—a big, beautiful, wonderful, people-growing deal.
Share this article on
Planning to get married?
Just engaged or contemplating marriage? Discover how to transition smoothly into the next phase of your relationship with Marriage.com's Pre-Marriage Course. Begin your incredible journey with this guide designed by experts and lay a strong foundation for your path of togetherness - forever!
More On This Topic
You May Also Like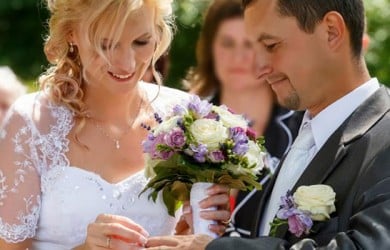 Popular Topics On Getting Married