6 Reasons Why Both Spouses Should Be Involved in the Wedding Planning
Why is it that one spouse typically takes over the bulk of the wedding planning process?
According to WeddingWire's 2019 Newlywed Report, in heterosexual relationships, brides take on 54 percent of the wedding planning, while grooms only handle about 25 percent (the rest is left to parents and others).
So, yeah, if you're a bride, you're much more likely to be doing a ton of the heavy lifting, and we commend you for it!
But, hear us out: The guys should really be more involved. Why? There are a ton of different reasons why you and your fiancé should plan that wedding together, but first and foremost: It's his day too.
It may take a little convincing, but it will be well worth his while when he shows up at the venue on the wedding day and sees part of his vision executed.
Here are some more reasons why both spouses should take a hands-on approach to planning the nuptials, from the food to the music, to the chair covers and wedding rings.
And, also some tips for getting your partner involved with planning your wedding
1. The wedding reflects both spouses' personal style
According to the aforementioned report, about 20 percent of couples pick out the engagement ring together.
As unromantic as it may sound, we're proponents of the collaborative ring-shopping process (or at least some heavy hint-dropping). And the same goes for the groom's wedding band.
You're going to rock these rings for eternity, so you need to make sure you actually like looking at them day in and day out.
2. It helps smash gender stereotypes
Who says guys can't have an opinion about table settings, bouquets, and shoes? We don't know about you, but we know tons of traditionally masculine dudes who are pretty detail-oriented, and there's nothing wrong with that.
Telling them that they shouldn't have an opinion on any facet of the event—except for maybe the dresses, the bachelorette party, and your wedding ring—only strengthens outdated gender norms and squashes creativity.
3. It prevents one spouse from developing resentment
Look, wedding planning isn't easy. The constant barrage of little tasks and lingering decisions that seem to loom overhead perpetually can stress anyone out.
On top of that, the primary planner is forced to deal with the inevitable family conflicts and constant opinions, and that alone could make anyone go crazy. All while his or her spouse lives in a state of ignorant bliss?
That sounds like a recipe for resentment to us! Share the stress and have a happy marriage!
Recommended – Pre Marriage Course Online

4. It ensures that all guests are happy
Speaking of family conflicts … yeah, that's a thing, even in the most seemingly functional family dynamics.
No one understands the inner-workings of a family quite like a person who belongs to it, which is why both spouses need to be actively involved in the planning every step of the way.
This should be taken into consideration throughout the wedding planning process, but especially when you're formulating the guest list and creating seating assignments.
5. It helps you strengthen your relationship
Between the family drama, the constant decision-making, and the fact that you're about to drop a ton of money on this thing (the national average cost of a wedding in the U.S. is $29,200, FYI), weddings are a massive study in relationship-building, trust, and patience.
The fact of the matter is that all couples, even the strongest ones, will disagree about something along this process—especially if both parties are actively engaged in planning—and that will only help you learn more about each other and work out issues before you tie the knot.
6. It's fun, plain and simple
We're sending a message loud and clear to those not-so-involved future spouses: Wedding planning is actually kind of fun, as long as you have the right attitude.
You get to do really fun stuff like design custom wedding bands, taste food, and cake and come up with fun gifts for the people you love. And, hopefully, you'll only get to do this once, so lean in and enjoy it.
How to get your (Seemingly uninterested) spouse involved
This all sounds fine and dandy, but how to get your partner involved with wedding planning?
Here are a few tips that may help to understand how to get your fiancé on board with wedding planning:
Assign tasks that appeal to his or her interests. Got a spouse who's super into music? Give the task of coming up with some fun playlists or going to see a few live bands that you can hire to play the reception.

Let them choose how they want to help. Barraging your significant other with a list of tasks can make them feel like you're the boss, but there's no boss in marriage. Split up the duties equally, with both of you determining who gets to handle what.

Explain that it means a lot to you. At the end of the day, your spouse will (hopefully) do the thing that makes you happiest and helps support a strong marriage, so make sure to explain to him or her why your involvement means so much.

Take his or her taste into consideration. In addition to the nitty-gritty tasks, like putting together favors and writing thank-you cards after the fact, you can involve your spouse by incorporating his or her tastes into all the decisions.

Make lists, schedules, strategies, and plans. This way, your future spouse will be able to see what exactly needs to be done when, so he or she can start checking off some tasks without having to ask you what to do.
Creating an event that reflects your love
Ultimately, you want your wedding day to reflect not only the two of you individually, but the two of you as a unified force.
The mismatched playlist, compromised color scheme, and hodgepodge of dessert choices are reflective of the fact that you're two individuals who are willing to be flexible for one another, to make small sacrifices if it makes your spouse happy.
This is one of the best lessons in sustaining a long-term marriage, so you'll be well ahead of the curve when you plan together!
Share this article on
Want to have a happier, healthier marriage?
If you feel disconnected or frustrated about the state of your marriage but want to avoid separation and/or divorce, the marriage.com course meant for married couples is an excellent resource to help you overcome the most challenging aspects of being married.
Learn More On This Topic
You May Also Like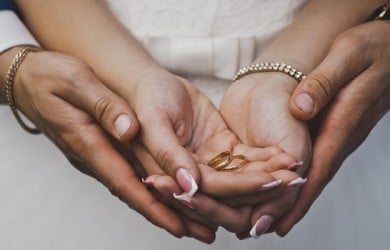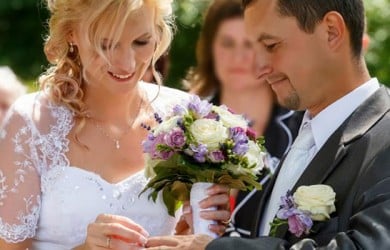 Popular Topics On Getting Married