10 Tips for Better Sex After Divorce
Sex after divorce is a often considered a taboo. Having sex with a new partner with sexual confidence and finding intimacy after divorce is not always easy.
Divorced dating may often come with a sigma too; especially for those with children.
If you are recently divorced, lack sexual confidence and want to find intimacy after divorce then you have come to the right place. Below, you are given 10 tips for sex after divorce as well as some insight into common thoughts surrounding sex after divorce.
Mental barriers, thoughts and feelings around sex after divorce
Divorced dating often comes with fear of sex after divorce. People often wonder how soon to date after divorce and how to practice sex post divorce.
It is normal to desire tips for having sex. It is normal to feel nervous about the first time with a new guy or girl. Dating and intimacy after divorce is an emotionally vulnerable space. Having sex with a new partner is an unknown experience, and an experience that can trigger a lot of thoughts interconnected with sexual confidence.
If a person had a particularly difficult marriage or difficult divorce that involved conflict or rejection throughout the marriage; they may have low self esteem and lack sexual confidence. This can really affect the timing of their first sex after divorce and new relationship after divorce.
It is common for people who are entering the dating world after divorce to not commit to a long term partnership immediately. This means they are often not rushing into a new relationship after divorce but may be having divorced sex.
However casual divorced sex means different things to different people. This difference in personal interpretations around sex after divorce, risks exposing people to feeling deeply hurt and losing their sexual confidence.
This is why it is important to gather the best sex tips, and provide guidance for sex after divorce.
Below we list 10 tips for better sex after divorce, that will give you tips for having sex and help you feel sexual confidence.
Related Reading: 

5 Tips to Relieve Your Anxiety During Sex After Divorce
10 tips for better sex after divorce
1. Practice honest self enquiry
Divorce often manifests from a series of short and long term relationship ruptures that have never been properly spoken about or resolved. This could be due to many reasons. For example, lack of time, overwhelm or clashing communication styles.
Self enquiry is the practice of having an internal dialogue with yourself and inquiring into your true nature. This means examining your behaviors, habits, and patterns so that you can cultivate self-awareness to find clarity.
This clarity supports you as you explore dating after a separation. As you explore your feelings and thoughts around dating after divorce, having sex with a new partner, intimacy after divorce, divorced sex, you may find you feel less nervous about the first time with a new guy or girl.
Self enquiry uplevels your discernment and connects you to your authentic self. As you develop awareness of your personal patterns and past experiences you may also worry less about divorced dating and divorced sex.
You will stand stronger in knowing who you are, what you like and dislike and what you need, enabling you to select a person for a new relationship after divorce with confidence and self trust.
The more you look within yourself for answers and choose actions guided by the wisdom found by asking these questions, the smaller the gap between who you are and how you should or are living becomes.
When entering into the world of dating it is healthy to ask yourself some things like:
"How soon to date after divorce?", "What do I want in a relationship after divorce?"
"What are my belief systems around sex and divorce?", " What is important to me for my first sex after divorce?"
In addition to reviewing the work of relationship experts Dr Gary Chapman and m.d Amy Levine, it's very important to ask, "What are my primary love languages?" and"What is my relationship attachment style?"
Personal development influencer Tracy Hensel also shares 10 important questions to ask yourself on the subject of dating after divorce in this video.

2. Be realistic whilst open to possibilities, deal with your trauma
Post divorce trauma and post traumatic stress disorder (PTSD) are real things. The loss of a significant relationship is one of life's most difficult challenges.
You may notice at times that you feel paranoid, irritable, or negative about sex and divorce. Having sex with a new partner in a relationship after divoice can trigger a lot of emotions.
Having a strong social support group, and a therapist to help you with tips for having sex after divorce, will help you feel less nervoucse about first time with a new guy in addition to minding your mental health.
Dealing with your trauma is highly important if you want to be intimate with someone after divorce, and need sexual confidence.
It is sometimes overlooked but is one of the best sex tips for women and men, especially because there are many faces of trauma that sex post divorce can trigger unexpectedly.
Don't use sex post divorce or a new relationship after divorce to fill a void, take dating after divorce slow and allow yourself time to grieve so that you have the emotional space for healthy intimacy after divoice and sexual confidence.
Being realistic, but open and dealing with your trauma will enable you to ride the wave and react better while dating after divorce.
3. Communicate desires, drop expectations and make agreements instead
It is very common to unconsciously slip into old patterns in dating post divorce. Many people have unrealistic expectations about their first sex after divorce. However, expectations in a new relationship after divorce can cause problems.
This is because many of our expectations are likely to have been formed by your previous relationship before you started dating; a relationship that ended.
Sometimes, expectations harm your relationships in intimacy after divorce as they leave less room for trust, acceptance, patience and agreements.
Developing confidence to speak your desires and ask questions after divorce is a very important skill that could not only negate problems in intimacy after divorce but also help you feel less nervous about the first time with a new guy or girl.
Related Reading: 

Common Intimacy Issues in Marriage That Cause Discord Between Couples
4. Fill your life with multiple things, maintain your hobbies
You are a multifaceted person, and dating post divorce gives you an opportunity to embody this principle.
One of the positives that comes from your marriage ending is that it creates the perfect opportunity for you to try new hobbies and reinvent yourself.
It's a great time to reconnect with your old hobbies, and rediscover lost parts of yourself that help you feel more alive.
In Thriving After Divorce, author and relationship coach Tonja Evetts Weimer offers readers a grounded approach to developing daily habits including hobbies growing during divorce dating and relationships after divorce.
5. Safeguard yourself
Another one of the best sex tips for women and men, often overlooked is the use of sexual portection and communication to others of where you are.
Both of these things will help you feel more sexual confidence and less nervous about the first time with a new guy or girl. Sex and divorce can be fun when you safeguard and take sensible precautions.
You are likely to feel more relaxed and free within intimacy after divorce and divorced sex knowing that you have protected yourself from an unexpected pregnancy and that someone who knows you well, knows where you are.
It is also recommended creating a dating pool of people and getting to know them, noticing how they make you feel during your dating journey before choosing to engage in having sex with a new partner.
6. Set sex goals and do sex experiments
Sex and divorce doesn't have to be a negative taboo. Dating after divorce gives you the opportunity to rewrite your life's sexual story and intimacy after divoice.
You can practice new things, setting sex goals to increase your sexual confidence with having sex with a new partner.
Another one of the hot and best sex tips for women and men having sex post divorce is to create a sex bucket list.
Give yourself permission to write a new sexual story. This is a great opportunity to ditch the idea of a type and focus on alignment of values, morals and shared fun in sex and divorce.
Related Reading: 

Relationship Sex Goals You & Your Partner Need for a Better Sex Life
7. Keep fit and healthy- eat well and exercise, dance
Exercise is something that will definitely increase your sexual confidence. As you take care of your body, sex and divorce and all the feelings around itimacy after divorce become easier to manage.
This is because exercise and good nutrition release endorphins that boost mood and mental health. Fitness can also be a social activity where you meet new people.
Dancing is a particularly great exercise, because it can allow you to play with intimacy after divoice without having sex with a new partner.
8. Confide in a trusted friend /coach or mentor
Sexual shaming in divorced sex is real. It is beneficial to have someone you trust that you don't have to hide anything from and that can give you personalised tips for having sex.
It is easier to get better sex tips when you build a regular communication habit with someone to explore your experiences around sexual confidence, intimacy after divorce in general.
9. Learn Tantra
Tantra helps us experience this interconnection with ourselves and our partner. Doubt's around how soon to date after divorce fade when you lean into the theories of Tantra.
In tantric practices you learn how to bring the unconscious conscious during sex post divorce and in general and release suppressed emotions,. As you release, your body starts to relax and feel safe.; from this place you feel more open to experience connection, freedom, and pleasure with a new relationship after divorce.
10. Buy new underwear and clothing
You deserve to have strong sexual confidence after divorce and good underwear and clothing that is not linked with past romance can be empowering lead to amazing experiences having sex wih a new partner.
Related Reading: 

11 Stages of Physical Intimacy in a New Relationship
Conclusion
This article has considered the best sex tips for women and men who are desiring intimacy after divouirce or who are nervous about the first time with a new guy or new relationship after divorce.
Sex and divorce are not often spoken about despite it being normal to desire intimacy after divorce. Inevitably the divorce process involves a lot of vulnerability and fluctuating emotions, which intensify the desire for intimacy after divorce for many.
Divorce is always a metamorphic life transition, even if it has been years in the making.
A life transition that deserves and benefits from self reflection and inquiry in order to leverage positivity and wellbeing. Applying these 10 tips for having sex, and intimacy after divorce will revolutionise your life during your journey and beyond.
Share this article on
Want to have a happier, healthier marriage?
If you feel disconnected or frustrated about the state of your marriage but want to avoid separation and/or divorce, the marriage.com course meant for married couples is an excellent resource to help you overcome the most challenging aspects of being married.
More On This Topic
You May Also Like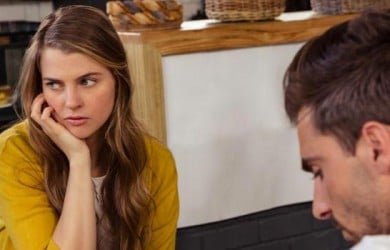 Popular Topics On Married Life