15 Signs He Doesn't Want You Sexually
No one wants to feel unwanted in a relationship, and it can be incredibly upsetting when you start to feel like he doesn't want you. Your self-esteem probably takes a hit, and you wonder what you've done wrong.
Sometimes, it can be hard to tell what he's feeling. Below are signs he doesn't want you sexually, so you can identify when there's really a problem. If you notice these signs, there are steps you can take to rebuild the spark.
How do you know when a man doesn't want you?
When relationships go through rough patches, or it feels like there is a distance between you and your partner, you may struggle to identify whether or not your partner wants you. Some general signs he doesn't want you might include a lack of physical affection, disagreements over intimacy, and failure to initiate intimacy.
If your husband used to be incredibly physically affectionate, or he initiated sex quite often, but he's gradually or suddenly stopped, he may be losing interest sexually. When you start to notice these signs, you may be in denial because it hurts.
Instead of living in denial, you can look for some sure signs he doesn't want you sexually. When you pick up on a few of these signs, you'll know it's time to address the issue.
If you're looking for information on signs he's not attracted to you anymore, see the following video:
Signs he doesn't want you sexually: 15 ways to identify
When a guy is not sexually attracted to you, he will begin to show some pretty predictable behaviors. If you understand that he doesn't want you, look out for the 15 signs below.
1. There is zero physical contact
Physical touch isn't always about sex, but when two people are sexually attracted to each other, physical contacts, such as a pat on the shoulder or a kiss on the lips, comes naturally.
One of the signs he's not attracted to you anymore is that he seems to avoid all physical contact. He's creating distance between the two of you because the interest isn't there.
2. He doesn't want to spend time alone
Quality time spent together is important for a relationship to thrive; sometimes, it leads to physical intimacy. If he doesn't want you sexually, he'll start to avoid spending time alone because he doesn't want it to lead to sex.
Maybe the two of you used to have regular date nights or time alone at home, but now he makes every excuse not to be one-on-one with you.
3. He never compliments your physical appearance
When a man is sexually attracted to his partner, he will compliment her physical appearance. This could mean telling you that you look great in a certain outfit or commenting about how sexy you are.
If these compliments have gone out the window, it's one of the top signs he doesn't want you sexually.
4. He doesn't want to talk about sex
If he's not interested in sex, he won't want to talk about it. Maybe you try to bring up the topic of your sex life, but he quickly changes the subject or only gives vague responses.
This means he's probably lost sexual interest, but he's afraid of hurting your feelings or simply doesn't want a fight. The truth is that conflicts about sex are quite common in relationships, but he probably wants to avoid them.
5. Flirting is off the table
Flirting is healthy between partners and can become an important part of their sex life, but he'll stop flirting altogether if he doesn't want you. When you try to be flirty or playful, he'll either change the topic or remain very serious.
For instance, if you make a flirty remark and smile at him when the two of you are together, he will keep things very business-like rather than making a flirty jab at you in response. He may even change the topic of conversation to something boring, such as upcoming bills.
6.Sex feels forced
Another one of the signs he doesn't want you sexually is that when he is intimate with you, it feels forced. He may seem incredibly distracted, as if he's not actually present with you, or sex may be very boring.
When he's sexually attracted to you, you'll feel the chemistry, and he'll make an effort to please you. Once the attraction is lost, you won't feel the effort anymore.
7. He doesn't use terms of endearment with you
When your husband is sexually attracted to you, he'll probably have endearing pet names for you, like baby or sweetie. If he stops using these terms, that's a pretty clear sign something is amiss.
He may begin referring to you the same way that he would a friend or a brother. For instance, he might call you "dude."
8. He makes excuses to avoid sex
One of the signs he's sexually attracted to you is that he will want to have sex any time you're in the mood. If you initiate, chances are that he's happy to be along for the ride.
However, when he doesn't want you, he'll have numerous excuses for why he doesn't want to have sex. He might say that he's too stressed at work or he's just not feeling well any time you try to be intimate with him.
9. His hygiene isn't up to par
One of the signs someone is thinking about you sexually is that they go out of their way to look nice for you. When your husband wants you, he'll be sure to be showered, shaved, and looking his best.
When he stops putting effort into hygiene, he's probably lost his sexual attraction. He just can't be bothered with looking his best for you.
10. He always seems irritated with you
When he doesn't want you anymore, it will seem as if he's always annoyed with you. Something as simple as you leaving dishes in the sink can result in a snide remark from him.
He doesn't care about being sweet and patient with you at this point because he's losing interest.
11. He won't talk about anything, even remotely sexual
If he's avoiding any conversation related to sex, this is an indicator he doesn't want you sexually. You might try to have a general conversation about celebrities you find attractive or what turns you on, and he wants no part of it.
He simply doesn't want to address sex at all, even if it's just talking about other people, because he's totally avoiding the topic with you.
12. He's picking fights
If he's starting fights at the drop of a hat, this is one of the top signs he doesn't want you sexually. He's doing this to push you away, so there's no chance of a sweet or intimate moment between the two of you.
Things may seem to be going well, and he will start an argument over the smallest of things, such as what you made for dinner or the show you choose on TV.
13. You feel like he doesn't even notice you
When your husband is showing signs he doesn't want you sexually, you can start to feel as if you are invisible to him. Maybe you try to freshen up and dress nicely for him, but he doesn't even make a comment.
Or, perhaps you go out of your way to make him happy by making his favorite dinner or scheduling a fun date night, and he simply doesn't say a word.
14. He's going to bed at a different time than you
This can be a sign he doesn't want you, especially if you normally go to bed together. When he loses interest sexually, he'll be sure to go to bed at a different time, so there isn't a chance to be intimate with each other.
This could look like him going to bed much earlier than usual, so he's already asleep when you come into the bedroom. On the other hand, he may stay up late, waiting for you to fall asleep before he sneaks into bed.
15. He's making negative comments about your appearance
In extreme cases, when he doesn't want you sexually, he may go so far as to insult your appearance. This can be as direct as him telling you that you've let yourself go or that you could stand to go to the gym.
He might also make indirect stabs at your appearance, but stating that he wished you looked more like someone else or by pointing out examples of people he finds to be more attractive than you.
What to do if he doesn't want you sexually
If your spouse shows signs that he doesn't want you, there are things you can do to rebuild the spark in your relationship. Consider the five tips below:
1. Talk to him
Open communication is important, and you cannot address the issue unless you have a conversation about it. If you want to get to the bottom of the issue, sit down at a time when he's in a good mood, and express that you're concerned that he might not be sexually attracted to you.
Be prepared to provide specific examples of behavioral changes that have led you to believe this. For instance, if he avoids physical touch or he no longer compliments you, point this out to him.
Related Reading: 

50 Best Things to Talk About With Your Boyfriend
2.Try something new
Sometimes attraction and passion fade over the course of a long-term relationship, but the spark can be reignited. If your husband seems to lack sexual desire, reconnecting through something new could be the solution.
You might try purchasing some new lingerie or exploring new sexual fantasies together. Incorporating some novelty can introduce some passion into the relationship again and increase his attraction to you.
Related Reading: 

25 Romantic Things to Do as a Couple
3. Explore if there's something going on with your husband
Sometimes, when a man loses interest in sex, it has nothing to do with his partner and is instead a result of a problem he is experiencing. For example, depression, anxiety, or erectile dysfunction may lead him to avoid sex.
If this is the case, having an open conversation, and supporting him in getting help, is the first step toward resolving the lack of sexual intimacy in the relationship. When the underlying issue is treated, sexual functioning often returns to normal.
4.Consider counseling
If your relationship is full of conflict, it may be that ongoing disagreements are leading to reduced sexual desire. If the problems in the relationship are more than you can manage on your own, you might benefit from working with a couple's counselor.
In counseling sessions, you'll be provided with a safe setting where you can explore relationship issues in the presence of a trained counselor, who serves as a neutral party. This objective and professional perspective can help you to get back on the right track.
5. Know when it's time to leave
In many cases, relationship problems like loss of sexual desire and attraction can be resolved, and it's worth putting forth the effort to repair the relationship.
However, if his lack of sexual desire continues, and your self-esteem is suffering, it may be time to consider whether this is a relationship you want to be in.
You should never tolerate inappropriate behavior, such as emotional abuse or infidelity, just because he doesn't want you sexually.
How do you tell if a guy wants you to leave him alone?
When you're in a long-term marriage, you can definitely begin to notice signs he's not attracted to you sexually, but what if you're in the beginning stages of a relationship or you're just starting to develop an interest in someone?
In this case, you may have feelings for a man, but you notice that he just doesn't seem interested.
Here are some signs that a guy would prefer that you leave him alone rather than pursue something with him:
When you text him, he either doesn't respond, takes hours to get back to you, or gives one word responses.

You invite him to do things, and he always has an excuse for why he cannot hang out with you.

You try to be flirty with him, but he keeps things very serious.

It seems like he's irritated with you.

He keeps all of your conversations short and sweet.

He hasn't clearly expressed any interest in you.
Common question about signs he doesn't want to sexually
Here is the most asked and discussed question related to the signs if your partner doesn't want you sexually.
Why doesn't my husband want to have sex with me?
You may be asking yourself, "Why doesn't he want me sexually anymore?" If you're asking this question, there could be a number of reasons your husband seems to have lost sexual attraction.
It could be that the passion and romance have faded over time, but you can take steps to rekindle them. Or, he might be bored and looking for you to change things up a bit in the bedroom.
Finally, he could also be coping with personal issues, like stress or some sort of sexual dysfunction, and these factors can interfere with his sex drive. It's also possible that marital conflict is leading to a reduction in sexual attraction.
The good news is that all of these things can be fixed!
Final thoughts
When you notice signs he doesn't want you sexually, your first instinct is probably to panic or to feel hurt. While these feelings are normal, you may find comfort in the fact that, in many cases, a loss of sexual attraction and desire is a problem that can be fixed.
You can get to the bottom of the issue and take steps to fix it by talking through it. Suppose you're having trouble resolving the problem on your own. In that case, you and your spouse may benefit from going through relationship counseling together, where you can learn to improve skills related to communication and building intimacy.
Share this article on
Want to have a happier, healthier marriage?
If you feel disconnected or frustrated about the state of your marriage but want to avoid separation and/or divorce, the marriage.com course meant for married couples is an excellent resource to help you overcome the most challenging aspects of being married.
Learn More On This Topic
You May Also Like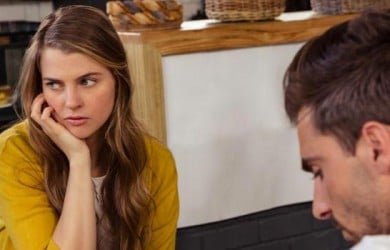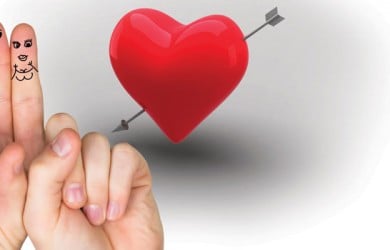 Popular Topics On Married Life