What Is a Postnuptial Agreement? 5 Benefits
If you're married and considering entering a postnuptial agreement, it's important to understand whether or not you need a postnuptial agreement and what should be included in one if you decide to move forward.
What is a postnuptial agreement?
A postnuptial agreement, or "prenup for married couples," is a contract entered into by spouses after they are already married. This agreement can govern various aspects of the marriage, including but not limited to property division, alimony/spousal support, and distribution of assets in the event of a divorce.
Who needs a postnuptial agreement?
A postnuptial agreement is a legal contract that married couples can enter into to define their rights and obligations in the event of a divorce. While some couples may view a postnup as an admission that their marriage could someday end in divorce and subsequently avoid them, the truth is that everyone can benefit from having one in place.
For example, postnuptial agreements can address financial concerns that arise during a marriage or provide clarity on financial matters in the event of a divorce.
While no one likes to think about the possibility of separating, it's always better to be prepared for a worst-case scenario. A postnuptial agreement can give you peace of mind and help protect your interests if there is a marriage breakdown.
Benefits of a postnuptial agreement
There are many good reasons to consider signing a postnuptial agreement, and they include the following:
1. Protect your assets
If you or your spouse has significant assets, a postnup can help to protect those assets in the event of a divorce. For example, if you own a business, you can use a postnup to stipulate that your business will remain yours in the event of a divorce.
2. Protect your children
If you have children from a previous relationship, a postnup can help to ensure that they will inherit what you intended for them to inherit. Without a postnup, your spouse could potentially claim all of your assets in the event of a divorce, leaving your children empty-handed.
3. Avoid lengthy and expensive litigation
By setting forth rights and obligations in advance, couples can avoid the time and expense of going to court if they later decide to divorce. Therefore, leading to more amicable divorce proceedings.
4. Establish ground rules for your marriage
A couple may use a postnuptial agreement to define each spouse's rights and responsibilities, set financial goals, and create a plan for what will happen if the marriage ends in divorce. By clearly defining their expectations for the marriage, couples can help avoid conflicts and misunderstandings within it.
5. Peace of mind
A postnuptial agreement can provide peace of mind. For couples who have been through a previous divorce or who have significant assets, a postnuptial agreement can provide reassurance that their interests will be protected in the event of another divorce.
Watch this video to understand how to build a happy marriage.
Downsides to a postnuptial agreement
While postnuptial agreements can be beneficial in some situations, there are also some potential drawbacks to consider.
One downside of postnuptial agreements is that they can foster an environment of mistrust within a marriage. Especially if the decision is made separately. If one spouse feels they need to protect their assets through a legal contract and the other doesn't, it can create tension and potential communication problems.
In some cases, postnuptial agreements are not always enforceable in court, which means that couples who sign one could still end up battling over money in the event of a divorce. This is especially true if children are born after an agreement has been signed since you cannot address child support and custody in the postnuptial agreements.
Differences between prenuptial and postnuptial agreements
The biggest difference between prenuptial and postnuptial agreements is that prenups are signed before the marriage, while postnups are signed after the marriage. Other than that, there are very few differences between the two types of agreements.
Both prenups and postnups can cover the same topics (e.g., property division, alimony/spousal support, etc.), and both types of agreements are legally binding in most states.
Another type of related relationship agreement is a cohabitation agreement. This legal agreement covers the same topics but is aimed at unmarried couples who live or are planning on moving in together.
How to make a postnuptial agreement legally valid?
For a postnup to be legally binding, it must meet certain requirements. First and foremost, both spouses must sign the agreement voluntarily and without coercion. It must also be fair and reasonable, meaning it can't unfairly favor one spouse over the other. If so, it could be contested in court.
Once the postnuptial agreement is drafted, it must be signed by both spouses in front of a witness. Sometimes, a notary or lawyer must be the witness to make the document legally binding, but this changes from state to state.
Do you need a lawyer to create a postnuptial agreement?
While some couples may feel comfortable drafting their postnuptial agreement, it is generally advisable to consult with an attorney to protect your interests. They will ensure the agreement is legally enforceable and does not violate state or federal laws.
Each spouse should have different lawyers who advise them on the agreement. This is to ensure no conflict of interest might invalidate the agreement.
Is a postnuptial agreement right for you?
Before signing a postnup, you might want to ask yourself some of the following questions:
1. What are our motivations for creating a postnup?
One of the most important things to consider is why you want a postnuptial agreement in the first place. For example, one major motivator is the thought of what would happen in the event of a divorce.
2. Are you hoping to protect assets that you bring into the marriage?
If so, what kind of asset protection do you and your partner need? Ask yourself what types of assets you hope to protect with a postnuptial agreement and which you will keep together.
For example, if you own a business or have significant savings, consider keeping those assets separate from your joint property.
On the other hand, if you want to establish financial boundaries within your marriage, a postnuptial agreement can help to do that as well.
3. What are our long-term goals?
It's also important to think about your long-term goals for your marriage when deciding whether or not to create a postnuptial agreement.
No matter what your reasons are for considering a postnuptial agreement, it's important to weigh all of your options carefully before making any decisions. By asking yourselves these key questions, you can ensure that you're making the best decision for your marriage – and your future.
Takeaway
While postnuptial agreements are not right for every couple, they can be a valuable tool for couples who want to protect their assets and establish ground rules for their marriage. Talk to your partner today to see if one is right for you and your significant other. Even if you are married, there is still time to create a legally binding agreement for your marriage.
Share this article on
Want to have a happier, healthier marriage?
If you feel disconnected or frustrated about the state of your marriage but want to avoid separation and/or divorce, the marriage.com course meant for married couples is an excellent resource to help you overcome the most challenging aspects of being married.
More On This Topic
You May Also Like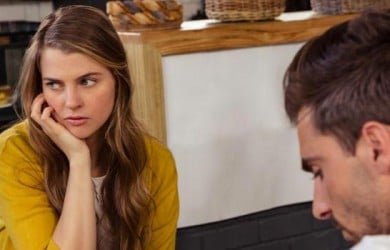 Popular Topics On Married Life