Love Will Never Be Enough for a Great Relationship – Wake up Call
Love those you are with. With love, we can accomplish anything. All the world needs is love.
By the sounds of it, if we just love others enough the world will be a better place.
But is this true at all?
For last 28 years, number one best-selling author, counselor and life coach David Essel has been helping people understand the true meaning of love, self-love, and love in the world.
Below, David talks about the concept of loving someone, in a relationship, in order for it to be a healthy one.
If you were to scour the book stands today, about the topic of love, you would eventually find people talking about the need to love others more deeply. And with enough love, we can save even the worst of relationships.
Unfortunately, this is not true.
For the last 28 years, we've been teaching our clients, and the world via our radio interviews, television interviews, books and articles that love is not enough to have a great relationship.
If you ask me, it's actually several attributes down the list.
But it's such a cliché term, love is enough to heal the world, that we all buy into it. I wish it was so simple.
Breaking through her facade
A number of years ago, a woman who had betrayed her husband many times over, came in and tried to convince me that she loved her husband more than any man in the world.
And she thought she did, even with actions that were despicable, she convinced herself and others that this was the man she was supposed to be with the rest of her life because she had loved him more than anyone else.
It took about six weeks of one on one counseling, for me to break through her facade: she loved him but in a totally unhealthy way.
When she finally understood what I was talking about, she was shocked. But on top of being shocked, The greatest thing that happened was that she finally understood why he was filing for divorce.
Transforming from an angel to a maniacal beast
Two or three days a week she was an angel, then she would turn in to this maniacal beast, who would lie, steal money from him when he wasn't looking, and talk to her girlfriends behind his back like he was some kind of a devil.
But in reality, she was the devil. She just could not understand why if she loved him so deeply, he didn't love her back. It was easy for me to see, but it normally is.
Love has been blown up as this most incredible force that's going to help couples heal, get people to drop their addictions, and even create world peace.
But has any of that really happened on a regular basis? I haven't seen it, and I've been doing this work almost 30 years.
Let's take a look at where love should be on the scale, of a healthy relationship
Friendship
Without friendship, you're screwed.
You might have great sex, or maybe she has a lot of money and you have a great body, but if you don't have friendship it doesn't matter how much you love someone the relationship is going down the tubes.
Respect
If you don't respect your partner, I don't care how much you say you love them, maybe you're going to tell me you love them more than anyone in the world, but if you don't respect them, and if they don't respect you?
The relationship is dead.
Integrity
If you both don't follow your words in the relationship and do the things you tell your partner that you are going to do, love will never be enough to save the relationship.
Integrity means you're walking your talk. Integrity means if you tell your boyfriend or husband that you're going to be at the movies on time, you're actually on time.
If you tell your girlfriend or wife, that you're going to pick up her dry cleaning, you don't come up with some excuses, you just pick up the damn dry cleaning. Integrity is everything, and it's missing in most relationships today.
Honesty
If you can't be honest with your partner, which goes hand-in-hand with having integrity, the relationship is going to die down the road
I don't care how much you love them, I'm going to say that a million times during this damn article, I don't care how much you love someone if you're not honest with them then your lying.
This whole thing about love irks me, can you tell? LOL.
It sounds so simple. Just love people enough and they will love you back. Nonsense. Look at the list of attributes I'm talking about, these are all much more important than love.
Ability to communicate
The ability to communicate, the ability to listen, the ability to disagree without anger, passive-aggressive behavior or resentments.
If you can't communicate, if you can't sit and listen to your partner's opinion, and agree to disagree on many topics, it doesn't matter how much love you have you're going to sabotage the relationship.
Love
For all those wondering where the hell this attribute is going to be listed in regards to a healthy relationship or marriage, here you go.
Down the list is love. Love meaning that you look into someone's eyes and you melt.
Love meaning that when they're gone you miss them. Love meaning that when you have sex you're totally into that person for the sexual experience. Love meaning that you're proud to introduce them to your family and friends, because of the person that they are.
Love obviously plays a factor in healthy marriages and relationships, but look how far down the list it is?
In our fantastical thinking world, our simplistic thought processes create this image that love is enough to work through any boundaries, barriers, addictions etc.
But it's not true. Love is amazing. Love is powerful. But only, if it's followed by the other attributes before we even get to talking about love in this article.
If you need help, understanding the principles that I outlined here, contact me today at the website below, and I will help you to understand the keys behind a powerful, loving, long-term relationship.
Stop reading those articles in the women's magazines, romance novels, that try to convince you that love is all you need. That with enough love you can save any relationship in the world. It's just not true.
David Essel's work as a counselor and life coach has been highly endorsed by individuals like the late Wayne Dyer, and celebrity Jenny McCarthy says "David Essel is the new leader of the positive thinking movement."
His 10th book, another number one best seller is called, Focus! Slay your goals – The proven guide to huge success, a powerful attitude and profound love.
Share this article on
Want to have a happier, healthier marriage?
If you feel disconnected or frustrated about the state of your marriage but want to avoid separation and/or divorce, the marriage.com course meant for married couples is an excellent resource to help you overcome the most challenging aspects of being married.
Learn More On This Topic
You May Also Like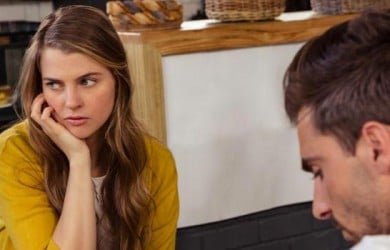 Popular Topics On Married Life