15 Reasons to Marry Your Best Friend
Have you ever doubted whether you should marry your best friend?
If you did, this article would surely help you with that decision. Married people experience better health, higher life satisfaction levels, and a more fulfilling life, as many studies have demonstrated.
But, these effects of being hitched are even more prominent among those who married their best friends.
Is marrying your best friend actually better?
Since you are reading this article, you obviously wonder why you should marry your best friend. Read on to know what research has to say about being married to your best friend.
A study by Helliwell and Grover began with recurred findings that marriage generally appears to be correlated to subjective well-being.
Some researchers and theoreticians were somewhat doubtful of such association. They postulated that these positive effects were either momentary or that it was the other way around – that originally happier people were more likely to get married.
Helliwell and Grover examined all these likelihoods. The researchers found that the positive effects of being married on our well-being were not fleeting and extended over the entire course of the marriage.
Also, marriage promotes greater well-being in general, but the participants in this research who said their spouses were also their best friends were twice as satisfied with their lives as those who separated these roles.
In other words, happiness is marrying your best friend!
What makes friendship in marriage a potential benefit is that you will need to have someone you can talk to and fight alongside when life gets tough.
And, the ideal combination has a spouse with whom you share your life plans and the best buddy all in one. Best friends can talk about everything together, consolidate each other, support one another, and help find solutions.
Related Reading: 

Secrets to Becoming Your Spouse's Best Friend
What percentage of people get married to their best friend?
While we are contemplating why one should marry their best friend, it is apparent that you wonder how many people actually end up marrying their best friend?
In a study conducted by Bravo Media, more than a thousand people in the age bracket of 18 to 54 were surveyed to confirm if the risk of dating your best friend is worth the probability of finding true love.
It was found that one-third of the people who tried to find true love with their best friends could make their way to the altar. These are quite encouraging statistics.
Now, just like every romantic relationship, every friendship is unique. The possibility of you walking down the aisle with your best friend and the future of your marriage depends on your equation with them.
Related Reading: 

How To Make Your Spouse Your Best Friend
15 reasons to marry your best friend
So, should you marry your best friend?

Check out the fifteen irrefutable reasons listed below on why you should marry your best friend. These reasons will help you to make a guided decision.

1. Your best friend knows you the best
Your best friend already knows you to your core. And, what is more, they adore you just as you are.

If you are thinking about marrying someone you consider your best friend, this should be on top of your list of pros – they know you!
You can be yourself with your best friend. And, it is your best friend who will know exactly how to comfort you when you need support.
2. You and your best friend share values
It is not a novelty to say that the spouses need to share values and beliefs for a marriage to be successful.

The initial passion and infatuation will inevitably wear off, and you will get to know each other in a way that leaves little to discover about each other. It is your values that will then serve as the main glue that holds the marriage together.

Friendships are necessarily based on mutual core values.
And when you intend to spend an entire life with someone, the healthiest foundation for your relationship are principles you both believe in.
3. You can be yourself with your best friend
You don't have to fake yourself when you are with your best friend. They know you in and out. And that is the best part of this relationship!
You can be yourself and speak your mind. You don't have to worry about being judged.
Even if you throw tantrums, your best friend will know the best way to handle that and bring you back to being normal. Imagine yourself having this equation with your spouse; isn't it comforting?
4. Fights won't last for long
Have you ever been angry with your best friend for too long? Or, have they held onto any grudge for ages?
If the answer is a big 'NO,' you already know it too well that the struggles hardly last when fighting with your best friend.
On the other hand, you might have heard of couples who often fight over silly reasons and drag their tussles till hell freezes over!
If you are married to your best friend, you are more likely to wind up your issues sooner than later.
5. You can avoid the distressing emotional dramas
Friendships are based on respect. They are void of the opportunity to engage in endless arguments, insults, or psychological games.
Although friends do fight, they do it constructively. When it comes to true friendship, you do not engage in emotional blackmail to prove your point.
You know that you can speak your heart out, so there's no reason for you to get into those insane melodramatic commotions. So if you decide to marry your best friend, you are actually buying yourself a lot of peace!
Related Reading: 

Reasons Why You Need to Build Friendship Before Relationship
6. You can communicate well with your best friend
So, if you decide to marry your best friend, you will be marrying someone with whom you already learned how to express your needs and emotions assertively.
Best friends know how to communicate, how to listen, and how to speak up. All of these are skills that are essential for any marriage to last and thrive.
7. You and your best friend know how to have fun together
One of the most fun facts about best friends – they know how to enjoy the time they spend together!
Since friends know each other well, they share values (thus, interests as well) and know-how to communicate all their thoughts. They also know how to have fun, which is one of the most important, although often disregarded, aspects of every successful marriage.
Most who marry their best friends enjoy hobbies together, travel together, go out together, or watch movies together. Best friends know how to make the best of the time they share, which indeed is a valid reason to marry your best friend.
8. You can spare yourself the unsolicited surprises
Since you know your best friend too well, you know the good as well the bad. So, you definitely won't be facing any nasty surprises later in your life.
You don't have to worry about your as well as their Exes. Also, even if there are any other issues, you two would already know how to tackle them in the best possible way.
9. They will be your eternal support
If you marry your best friend, you can always rely on them to be your perpetual support.
You would never have to worry about sharing your problems or seeking help during tough times. They would already know how to handle your lows and bring you back to your best self.
And, you too would do the same for them. So, it's a win-win situation!
10. You don't have to bother about your darkest secrets
Nobody's life is a clean slate. We have our deepest secrets that we usually are not comfortable sharing, even with our spouses.
Nevertheless, the best friend is that one person who you end up telling your bottled-up secrets. And, the best part is they not just hear you out. They accept and love you with all your flaws.
So, if you marry your best friend, they would already know it all, and you won't have to ever worry about them being overcritical.
Also Try: 

Am I In Love With My Best Friend Quiz 
11. They can make you laugh the best
Has anyone tickled your funny bone better than your best friend?
Best friends are 'best' because they are wonderful in every way. Even if they fight with you, nobody can make you laugh as they do.
Life will be full of unadulterated joys and laughter if you say the vows with your best friend at the altar.
12. You don't have to worry about looking your best
Of course, everyone appreciates good looks and well-dressed people. But, your best friend has chosen to be by your side even after seeing you on your messiest hair day and when you have dressed your worst.
So, you really don't have to worry about looking attractive always to make sure they don't get swayed away. Your best friend will make you feel special even when you don't look your best!
13. They know you better than you know yourself
There might be times when you feel helpless or dismayed for no plausible reason. Even if you try hard, sometimes you can't fathom why, and upsetting you so much.
But, when you have your best friend around, you don't have to worry a bit. You might miss out on certain aspects of your own personality, but they won't.
They would definitely know what and why something is bothering you. They are even likely to know the best way to help you out. And, in case they don't know, they will make sure that they do everything possible to make you feel alright.
14. You are happy doing nothing together
When you are in the company of your best friend, you do not have to always indulge in some activity to entertain them or yourself. You can be happy and at peace even when you do nothing.
Usually, the comfort level is so much that only their presence matters. It is self-sustaining! You don't have to even bother or plan out things to keep the spark alive in your relationship.
15. You don't have to worry about transitioning to married life
You can be married to your best friend with utmost ease and comfort. You would not only know them but also know their family well.
You won't have to worry about making a transition from being single to married. Apart from the legal aspect, everything is likely to be much the same as before marriage.
Related Reading: 

Is My Best Friend in Love With Me Quiz
What marrying your best friend doesn't mean?
By now, you definitely know what it is to marry your best friend.
You must also know what 'marry your best friend' doesn't mean!
Marrying your best friend doesn't mean you have to forcibly end up marrying someone who you consider to be your best friend at the moment.
As you grow up, your best friends change, your definition of friendship changes. So, you can't end up thinking of marrying every best friend that you come across!
Sometimes, friendship evolves even after you begin dating. So, you need to give time, analyze, and discover the person who makes you feel happy, valued, safe and respected.
You need to discover your 'true best friend' with time and then decide if the two of you wish to get married.
Related Reading: 

Best Friends for Life – A 4-Step Guide for Husband and Wife
Takeaway
Marriage can get stressful or challenging, even when you are married to your best friend.
And although every successful marriage is established on healthy communication and teamwork, many people find that having a best friend to talk to helps solve the marriage issues at times of hardships.
In essence, you should never feel compelled to adhere to any set form of human relationships. Whether having your spouse and your best friend separate or in one person, both these relationships should essentially feel natural and come with ease.
Whatever works for you and your partner is the best way to go!
Also Watch:

Share this article on
Want to have a happier, healthier marriage?
If you feel disconnected or frustrated about the state of your marriage but want to avoid separation and/or divorce, the marriage.com course meant for married couples is an excellent resource to help you overcome the most challenging aspects of being married.
You May Also Like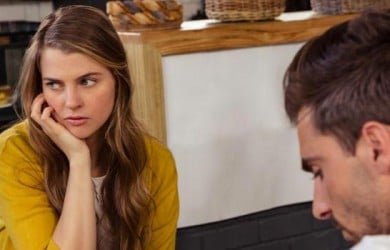 Popular Topics On Married Life