15 Ways to Buy a Promise Ring for Her
Are you about to get down on one knee and pop the big question to her? Getting the best promise rings for her should be your top priority if this is the case.
Although they don't always signify marriage or long-term commitments, promise rings are a great way to show someone that they are on your mind and that you'll do anything to keep the words you've given them.
Considering how symbolic they can be, you don't want to get just any promise ring for her.
In this article, you will discover what a promise ring is and what promise rings are used for, and you will also discover the best way to go about getting her one of her dreams.
What is a promise ring?
A promise ring is a special type used to show that you and your partner are exclusively dating, not open to any external relationships, and intend to be committed to yourselves for a long time.
The ancient Romans first used Promise rings to sign that they were willing to marry the person they presented those rings. Over the years, this practice began to spread to other parts of Europe after which it got into America.
Over the past few decades, buying a promise ring for one's lover has become an increasingly popular activity in America. It is now used as a sign of devotion and commitment, especially for partners who aren't ready to get engaged and married immediately.
Away from these, promise rings can also be used as a token of a person's decision to keep any promise they've made. Hence, you can give it to yourself, a spouse/partner, or any friend/loved one.
Promise rings can depict a million things, and the true meaning of a promise ring can only be communicated by the one who presented it.
How do you ask someone for a promise ring?
Promise rings are some of the first rings to get your girlfriend when you become serious about keeping her for a long time. While this can be exciting, it can be stressful to keep hoping that your partner will soon give you a promise ring.
What if they don't make that big move?
Is there anything you can do to make them give you that ring soon enough?
First, remember that the ultimate decision to give you a promise ring relies on your partner. If they are serious about making that commitment, they will do so at some point.
That said, it is not up to you to force a commitment out of someone who isn't ready to do that. If your partner isn't willing to give you a promise ring yet, you should be more patient.
Effective communication is another tip that can help you get a promise ring out of your partner. Your partner may love you and be willing to commit. However, they may only take steps if they are sure that you are on the same page.
Start by dropping tiny hints that you may be open to the idea. One way to do this is to pull up the picture of pretty promise rings and ask them what they think about them.
Finally, you can come clean about the subject and let your partner know you are ready for commitment. Having honest conversations about these subjects removes the ambiguity and ensures that you are on the same page.
Finally, another way to get your message across is to show your partner the best place to get promise rings. By dripping these obvious and subtle hints, you let them know you are open to a longer-term commitment.
How long should you be together before getting a promise ring?
Like many other questions relating to timing, there may be no easy answer to this. Before getting promise rings for her (or him, as the case may be), ensure that you have been together long enough to know the type of person they are.
Also, ensure they love you as much as you love them and that they are willing/ready for a long-term commitment.
Feel free to go shopping for the perfect promise ring for her when you have thought about all these factors.
15 tips for buying a promise ring for her
Follow these top 15 tips to purchase her the best promise ring bands:
1. Make sure both of you are on the same page
As sweet as this gesture is, gifting your partner a promise ring when they aren't ready for that level of commitment can be spooky.
Before walking down this road, ensure you have conversed with them to understand their physical, mental, and emotional needs in a relationship.
Then again, you don't want to gift her a promise ring when what she wants from you is an engagement ring.
2. Talk about what happens next
Promise rings are sweet, but only a few people want to wear them forever (except they do). Let's start by talking about what wearing a promise ring means to you.
How long do you want to wait before you get engaged and married?
Do you even want to get married?
Having a clear picture of what happens next will help you manage expectations, so you don't ring a partner who expects you to wed them in a few months when you plan to do that in the next few years.
3. Which finger will the ring be placed on?
Usually, promise rings are placed on the same finger as engagement and wedding rings (the ring finger). However, you should make an exception seeing as this is a promise ring. In that case, decide the finger you'd be placing the finger on.
4. What ring size is perfect for the chosen finger?
Now that you have decided on the finger to use, the next step is to discover her ring size.
The easiest way to do this is to ask her. However, if you'd rather keep her in the dark, you can measure her ring size using a ring sizer or take the dimensions off a ring she already wears.
The idea behind this step is to ensure you don't spend your hard-earned money on a ring that she won't use because it isn't her size.
5. Decide on the materials to be used for the ring
Considering the symbolism of this ring, you want to make sure that it comes as close to "perfect" as possible, and this entails using the right materials for the ring.
Talk to her about her preferences in a ring. Does she want a golden ring instead of silver? Does she want diamonds in place of rubies?
There's no hard and fast rule about what a promise ring should look like, but it should be gorgeous nonetheless.
When thinking about the materials for the ring, consider the message each of them will send. Considering that diamonds are usually used for engagement and wedding rings, consider other stones.
6. What will you say when you present the ring?
As we have already mentioned, promise rings are used for many things, so you want to be sure that you are on the same page as you present the ring to her.
Take some time to brainstorm about the words you'll say to her. This is meant to be a romantic moment, so you want to ensure that your choice of words is perfect for the occasion.
Here's a quick hack. When you're done writing out your words, practice them with a trusted friend. They'll listen to what you have said, provide unbiased feedback, and help you adjust your message in the right places.
7. Your promise ring must not look like an engagement ring
Here's where many people tend to make mistakes. Don't give your partner a promise ring that looks like an engagement ring. Both are different and should be easily distinguishable once a person looks closely at them.
Here's a typical example. Diamond rings with single silver bands are mostly used as engagement rings.
While they can also make the perfect promise ring, using them can send the wrong signal to your partner and make them think you are looking for more commitment than you originally intended. Prevent this by evaluating different options with your jeweler.
8. Create the conducive setting
You didn't go through all the stress of getting a promise ring only to deliver it the next time you're in a traffic jam. Factor in your partner's preferences as you decide on the most appropriate setting.
For example, don't present your promise ring before an audience of dozens of people if you know that your partner is a rather private person. They may react negatively if they feel pressured.
Usually, promise rings can be presented during an intimate dinner with your closest friends and family, or they may be between you.
Related Reading: 

6 Different Ways to Propose That Are Perfect for All Couples
9. Think about your budget
You're going to move from presenting a promise ring to getting an engagement ring and then planning a full-blown wedding sometime in the future. Hence, please don't get yourself into unnecessary debt now because you want to get her a 32-carat gold ring.
For expert advice, consider speaking to your jeweler and bringing them up to speed about your budget.
10. Consolidate your gesture by gifting yourself a similar ring
One way to spike up the emotional aspect of things is to give yourself a similar promise ring. By doing this, you send them the signal that you're committing to them as much as they're committing to you.
Also, is there anything sweeter than intertwining your fingers and admitting the similar rings you both wear?
11. Make it fun
One of the best ways to give a promise ring is to make it fun. The ring presentation doesn't have to be the boring and traditional way of getting on one knee and popping the big question. You can create a fun activity out of it.
For example, hide it inside a bouquet, create a treasure hunt that ultimately leads to this ring, or serve it in a tray of breakfast in bed. When it comes to presenting your promise ring, the options are limitless.
12. Ask another person to help
Make sure she doesn't see this coming by enlisting another person's help. You can get a delivery man to drop off the ring at your doorstep, ask her friend to deliver it, or talk to your boss (depending on the type of person they are).
Present your promise ring for her in a way that leaves her speechless.
Related Reading: 

20 Ways on How to Propose to a Girl
13. What if she doesn't wear rings?
Some people may prefer to avoid wearing rings. If that's the case, she can make hers into a necklace and strap it to her neck. This works fine as well. Ensure you talk to her about her preferences, so you don't feel like she dumped the ring aside.
14. Reassure her
One of the sweetest things you can say to her after presenting the promise ring is, "I love you, and I am here for you." Every woman wants to be reassured of her partner's love, and that's what you do when you use these words immediately.
Refrain from assuming she already knows. Reassure her of your love for her once you have presented the promise ring. You can also seal it with a romantic kiss.
To know the 14 things girls love hearing, watch this video:
Will the presentation be a surprise or anticipated?
There is a myth that the ring presentation must be a surprise for the recipient to be excited. This may be different, as both come with their perks. Statistics have shown that one in three wedding proposals is a surprise.
This implies that more people are beginning to appreciate keeping their partners in the loop even when they want to pop the big question or present promise rings.
The best way to make this experience memorable is to go by her wishes. If she wants a surprise, give her one to die for. If she prefers to be in the know, you can still give her a pleasant experience.
Seek her opinion by asking the one she prefers during your many conversations. Listen to how she responds and plan your ring presentation with the information you gather.
Don't forget about him: Promise rings for men
Although men are the ones who typically give promise rings to their partners, don't feel ashamed to take the bull by the horn and give him a promise ring if you'd rather do that.
Follow the steps we have discussed, pick out the perfect ring, decide the setting you would use to present the ring, and place it on his finger already.
Some men want to be chased too, and that's fine. Don't be deterred by societal constructs.
FAQs on buying promise ring for her
Check out the important notes on buying a promise ring for her:
1. What are the rules of a promise ring?
Ans: As far as presenting a promise ring is concerned, there are no rules. Ensure you're on the same page as your partner, understand the symbolism of promise rings, and are willing to be committed to a longer-term relationship before you present one.
2. Do you kneel for a promise ring?
Ans: The decision to kneel or not is totally up to you. What matters here is your ability to communicate your emotions to your partner, and you can do that even when your knees are far from the ground.
The takeaway
Delivering the perfect promise ring for her is also a part of spicing up your love and relationship lives. Ensure you're on the same page before you present a promise ring.
If you want to get married soon enough, check out this 100% online pre-marriage course that has been designed to help you enjoy your new marriage.
Share this article on
Want to have a happier, healthier marriage?
If you feel disconnected or frustrated about the state of your marriage but want to avoid separation and/or divorce, the marriage.com course meant for married couples is an excellent resource to help you overcome the most challenging aspects of being married.
More On This Topic
You May Also Like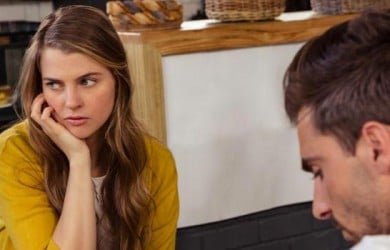 Popular Topics On Married Life