Choosing a Perfect Wedding Florist: 12 Tips
Planning a wedding is a significant endeavor that involves a multitude of choices, each contributing to the overall atmosphere and aesthetic of your special day.
One of the most crucial aspects of wedding planning is selecting the perfect florist, as flowers play a profound role in enhancing the beauty and meaning of any wedding celebration.
This article will discuss a specific aspect of wedding décor that requires careful planning: the flowers.
Consequently, selecting the right professional to create these floral moments for your big day requires careful consideration. This blog will give you expert advice on how to choose a wedding florist, which encompasses everything from discussing budget concerns to addressing negative reviews.
By following these insights, you're bound to connect with a vendor who can turn your wedding dreams into reality.
Discovering your unique style
When it comes to how to choose a wedding florist, unveiling your personal style can often prove challenging, especially if you're drawn to a diverse range of aesthetics. Begin your journey by immersing yourself in Pinterest.
This platform serves as a treasure trove of inspiration, allowing you to unearth elements that resonate with you.
As you embark on this visual exploration, not only will you refine your style preferences, but you'll also grant your chosen florist for wedding a valuable peek into your tastes. If a specific designer captures your imagination, delve into their portfolio to effectively convey your envisioned ambiance for your momentous day.
Crafting your floral wishlist
When entering consultations, entering with a blueprint in hand will empower you to gauge the ideal match.
Enter these meetings equipped with comprehensive insights. Having a surplus of information is more beneficial than being underprepared, so come equipped with a detailed list of your requirements. This comprehensive list will facilitate the florist's creation of a precise quote tailored to your floral aspirations for your big day.
Advance a step further by categorizing your list into essentials and desires. For choosing your wedding flowers, envision bouquets, centerpieces, and boutonnieres as indispensable components. The supplementary register of floral dreams may encompass a verdant ceremony backdrop, an ethereal suspended floral chandelier, or a contemporary twist on the classic bridal bouquet.
Ideally, your chosen florist will actualize your essentials while incorporating a selection of your aspirations into your wedding decor.
Seek recommendations from your network
Some individuals gather wedding inspiration long before becoming engaged, while others initiate the planning process after receiving a ring and little else. Both approaches are valid, but it's wise to consult your local resources first if you're starting with a blank slate.
Do you have friends or colleagues who have tied the knot in the same area? Reach out to them for recommendations. Even better, if you've already chosen your venue, request their list of preferred vendors.
The floral designers on this list will be intimately familiar with the space, enabling them to enhance its beauty while staying within your budget.
Moreover, if you're collaborating with a wedding planner, trust their recommendations. After all, it's their responsibility to bring your wedding vision to life.
Distinguish between floral designers and florists
A floral designer specializes in curating designs and excels at collaborating with a team of vendors.
Conversely, a florist typically operates from a physical shop, offering standalone arrangements. A florist can meet your needs if you only require a few small components that can be obtained in advance (such as bouquets, boutonnieres, and a limited number of table arrangements).
However, a floral designer's skill set will align better with your requirements if you're seeking someone to provide expertise in transforming a space or bringing a theme to life – including larger on-site creations like floral arches or chandeliers.
Align with your aesthetic preferences
Floral designers are inherently creative individuals. They entered the industry because they derive joy from crafting beautiful creations, although the definition of "beautiful" can vary from person to person.
Your wedding theme needs to be coherent, from your wedding card to the flower arrangements you choose. To achieve the best results, avoid attempting to fit a square peg into a round hole when selecting your vendor.
If you adore ethereal, loosely arranged designs, it's best not to hire someone with a portfolio predominantly showcasing tightly structured, traditional styles.
Compromising to meet in the middle often leads to disappointment for both parties – an outcome no one desires on such a momentous occasion as a wedding.
Exploring the social sphere
The contemporary landscape of social media, including platforms like Facebook and Instagram, proves invaluable in your quest for best wedding florists.
Social media instantaneously gratifies your curiosity, with numerous vendors showcasing images from their recent weddings once photographers share their captures. Therefore, it's prudent to explore the current work exhibited on your preferred florist's social media channels.
Instagram notably offers a unique advantage in the form of hashtags. Leveraging hashtags allows you to pinpoint floral designers in your vicinity. While browsing their official website for further insights remains a logical next step, initiating your search on social media can yield fruitful results.
Look beyond instagram
Once you've discovered a floral designer whose style resonates with you, it's time to dig deeper. While an Instagram feed serves as an initial reference, it mainly showcases carefully selected highlights and styled shoot outtakes, which might not accurately represent what's achievable within a budget.
For a more comprehensive perspective, explore their "tagged" photos to gain insight into a less curated portrayal of their work.
Subsequently, peruse complete galleries of weddings they've contributed to. If you were captivated by a specific bouquet, this process helps you visualize their style across various wedding elements and comprehend what they can create within different budget ranges.
Engage in candid budget discussions
Budget considerations play a pivotal role in selecting your floral vendor. Costs for floral services vary significantly and can surge based on factors such as guest count, flower preferences, seasonality, and design choices.
This variability makes it challenging for designers to provide fixed prices, which is why they're seldom publicly listed. To estimate your potential expenditure:
Begin by allocating around 10 percent of your overall budget.

If you envision a particularly lush look, incorporating off-season blooms, or featuring major statement displays, consider increasing this amount to 15 or 20 percent.

Share this figure with your chosen floral designer, along with your guest count and essential requests.
They can then honestly assess what they can achieve within the available funds.
How much do wedding centerpieces and tablescapes cost? See three centerpiece breakdowns and tablescape design breakdowns in this video:
Transcending the price tag paradigm
Commonly, couples initiate their vendor selection journey by outlining a budget—a sensible starting point.
Nonetheless, don't prematurely dismiss florists who appear to surpass your financial limits. The realm of floral design thrives on individualization, making it plausible that an ostensibly lavish floral artist might align with your budgetary constraints.
Moreover, during your consultations with prospective florists, candidly discuss your budget parameters and any non-negotiable elements on your wish list. By fostering this transparent dialogue, you pave the way for a harmonious collaboration yielding remarkable outcomes.
Address additional practicalities
Beyond budget considerations, several logistical aspects require clarification.
How many weddings does the vendor handle in a single weekend? Will they personally oversee the installation at your event, or will a team member be responsible? Who manages the post-event cleanup?
An experienced designer should provide answers upfront.
Additionally, these initial conversations are an opportunity to discuss communication preferences and the level of influence you'll have over the final vision. Couples booking a vendor well in advance might have the option to arrange a real-life mockup of a table design or bouquet, albeit at an extra cost.
While collaborating with a floral designer doesn't require as frequent interaction as working with a wedding planner, clearly defined expectations significantly contribute to both parties' satisfaction with the result.
Evaluate reviews thoughtfully
However, treat reviews as indicators rather than sole determinants of your decision. They don't always evaluate a vendor's work objectively or truthfully. While predominantly negative reviews are cause for concern, what should you make of one or two dissatisfied clients amidst a sea of positive feedback?
Directly inquire about the circumstances behind those instances. A vendor with nothing to hide will readily explain; reluctance, however, could be a red flag.
Lastly, prioritize sustainability
Florals, along with catering, present considerable opportunities for waste on your wedding day. If reducing your environmental impact is a priority, consider a few additional factors when choosing your floral designer.
When it comes to how to choose a wedding florist, choose a professional who primarily works with locally sourced blooms. If this isn't feasible, explore ways to mitigate additional energy consumption. Inquire about their bloom disposal methods – composting is ideal – and the materials they employ in their designs.
While chicken wire and floral frogs can be reused, floral foam is generally a single-use product. You might also discuss the possibility of donating the blooms after the event. By taking sustainability into account, you contribute to a greener, more responsible celebration.
Takeaway
Selecting the right wedding florist is a vital step in crafting a memorable wedding. From discovering your style to considering budget and sustainability, this article has provided valuable insights for this important decision.
For instance, if you are planning an Islamic Wedding ceremony, then specific aesthetic choices need to be made. From Islamic wedding invitations to culture-specific wedding attire, you will choose everything considering your cultural leanings and the established aesthetic norms of Islamic Weddings.
Flowers assume a profound significance in Islamic weddings, much like in other cultures. While the core values and religious beliefs of Islam shape the essence of these ceremonies, the inclusion of flowers adds meaning and beauty to the celebration.
Not only do they infuse the space with romance, but they also convey the excitement and joy of your special day.
By following these guidelines, you can ensure that your floral arrangements harmonize with your cultural preferences and personal vision, adding beauty and significance to your special day. With the right florist, your wedding will bloom with love, joy, and lasting memories.
Share this article on
Want to have a happier, healthier marriage?
If you feel disconnected or frustrated about the state of your marriage but want to avoid separation and/or divorce, the marriage.com course meant for married couples is an excellent resource to help you overcome the most challenging aspects of being married.
Learn More On This Topic
You May Also Like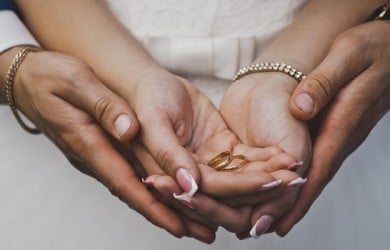 Popular Topics On Getting Married