Your Handbook with 4 Tips to Working Successfully With Your Spouse
What if your work wife and your actual wife were the same person? Not many married couples share a bed and a business, but for those that arrangement, navigating the day to day can be challenging.
When your life at work and your life at home blend into each other, it's hard to assess the boundaries that may or may not be there. Should you yell at your husband for a work-related issue, or are you just mad about the laundry that he's let stack up at home?
Should you give your wife the evil eye as she prepares dinner in your kitchen, or are you irritated about something she messed up during work hours? Since there aren't a ton of couples that work AND play together, there isn't exactly a handbook out there.
Consider this article your handbook. We'll dive into what to do, what not to do, and what you should look out for as you try to make your business and marriage thrive.
1. Keep work at work
This one seems pretty obvious, but it's a good place to start. In reality, it's hard to turn off your work brain when you get home. Think about anyone else that you know that doesn't share a place of business with their spouse. If they have a rough day at work, they'll likely come home and vent their frustrations to the person they trust the most—their spouse. You don't have that luxury.
You both have to do your very best to keep your work conversations within the confines of your workspace. If there's something weighing on you, pull your wife aside before you walk out of the door and do your best to settle it before you go home. It's much better to get it out in the open in a neutral place than to let it fester and blurt out your issue over dinner.
I'm sure this won't happen all that often, but when you (or your spouse) feel like there's something to be said or done in the context of your work and business, do it before you go home.
2. Keep home at home
The reverse is just as true! If you and your spouse have a tiff about some dirty dishes or issues in the bedroom, it's going to get ugly, awkward, and uncomfortable for you and your coworkers.
You know the old adage, "Never go to bed angry"? You and your spouse need to practice this more than your friends that aren't married to their business partner. If you shut your eyes at night knowing all is right in your marriage, you'll be less likely to wake up and pour some resentment in your morning coffee.
The more sacred you can make your work relationship and your home relationship, the better your marriage and business will be because of it. Home at home. Work at work. Got it?
3. Make date night a weekly ritual
As much as you'd love to follow the basics listed above, there are going to be times when the line between your work and marriage get blurred. You might bring some work home and, because you work with your spouse, think that it's alright to work through dinner. They'll understand, right?
If there's a large deadline looming, the two of you may forget to spend any quality time on the weekend and step back into the building Monday morning without giving any time to your marriage on Saturday or Sunday.
By implementing a weekly date night, you can count on that time to reconnect and worry solely about each other. No talk of spreadsheets, payroll, or casual Friday. Just the two of you sharing a glass of wine and light conversation.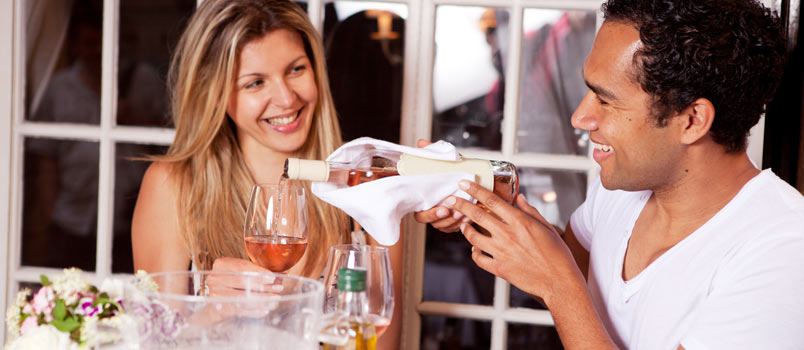 4. Over-communicate
Resentment is a relationship and marriage killer. With the two of you sharing space both at home and at work, you can't let things go unsaid for too long and expect them to smooth over.
You never get a break from them, so there often won't be space for dust to settle if there's an issue between you. Again, think about friends of yours that are married but don't work with each other. They always have the buffer of work to give them space if they need it.
They might both leave in the morning to go to work and be upset from a fight that just occurred, but it will dissipate as the day goes on. They'll have some time to see their mistakes and mentally forgive their spouse. Then, by the time they get back home and see each other at the end of the day, they're ready to reconnect and move on. You don't get that luxury.
Since you don't have the ability to step away from each other and have the time and space to cool off, you both need to be open and honest about how you're feeling within all phases of your relationship. If you don't communicate at a high level, you're just going to stack issues on top of more issues, and before you know, your connection will spiral out of control.
Every relationship has their problems. Every business has their off days. By over communicating, you can be sure that you're always connected to your partner and how they're feeling.
Conclusion
Your love and your business can dance together, but you have to be willing to lead the way. You can't sit back and hope that everything will work itself out. The more that you are proactive with the boundaries of your relationship and communicate how you're feeling along the way, the more beautiful this dance between career and couple will be.
Share this article on
Want to have a happier, healthier marriage?
If you feel disconnected or frustrated about the state of your marriage but want to avoid separation and/or divorce, the marriage.com course meant for married couples is an excellent resource to help you overcome the most challenging aspects of being married.