Importance of Zodiac Signs While Choosing Your Husband
Everyone desires for the best and perfect spouse. We can look up our mate online, at a minibar, or even consult horoscope for where to look for a spouse.
In terms of what ladies want when they think of a husband, we can take help of different categories of zodiac signs. Your husband's zodiac sign can reveal whether you will be happy or heartbroken in a marriage.
Being married doesn't suit everyone, and astrology can help you discover if you are a traditionalist, devoted to your family or if you have to compromise and make some little or minor adjustments to your personality in order to be married happily.
Related Reading: Husbands Ranked From Best to Worst According to the Zodiac Signs
You need the perfect husband to be happy in a marriage. Below are the zodiac signs that make the best husbands:
1. Aries
Aries are compassionate lovers. They are the bold and confident ones who like to dominate. Not only that, they are committed to all their promises and commitment.
Aries will never stop being interested in you or admiring you. They will always want to have new experiences with you. They're practical, which also makes for a great partner.
If you always have dreams of having a husband who takes bold action and is confident when it comes to your feelings, then marrying an Aries is will be the choice for you.
2. Taurus
Taurus is very down-to-earth, independent, mature, intelligent, and strong-willed, yet, muggy. You will be drawn to his romantic scent or may find that his voice gets you hot and bothered.
Taureans are lovers of material items. You will be well taken care of, if you marry a Taurus. They make sure that they enjoy the finer pleasures and comforts of life their spouses, such as fine food and music.
Taurus may or may not be the most handsome fella, but that's okay if you do not give much preference to looks.
3. Gemini
Nothing will be more fascinating to you than someone who matches your intellect and also entertains you at the same time. Geminis are the kind of guys who stimulate you mentally and peak your curiosity.
Life with a Gemini can be so beautiful, fascinating, exciting and at the same time relaxed, but only if the partner won't weigh him down.
Related Reading: Zodiac Matches That Make the Best Married Couples
4. Cancer
According to researches, Cancer can provide you with an emotionally satisfying relationship.
Cancer tends to be sympathetic and sensitive to your wishes and needs, they find family life to be the most important thing in life. Cancers are generally known for their emotions and their homemaking skills.
5. Leo
These are the protective kind of husbands.
In case you are looking for a passionate person to spend the rest of your life with, you will definitely want to be with a Leo. He is a playful role model and a father who easily laughs, supports, and communicates with his children.
6. Virgo
They are always looking for perfection in everything.
Virgo always wants to be the best, but in the same context, he also wants you to be the best also.
Also Try: What Zodiac Sign Will I Marry Quiz 
7. Libra
Libra guys are known for their open-minded character, they are also very charismatic and alluring. Sometimes Libra plays too kind to other people outside the relationship.
Libras love beauty, stability and peace, and they are willing to do anything to ensure that your home is harmonious and orderly.
8. Scorpio
Scorpios are best described as the very possessive and jealous types of people but whenever Scorpio chooses a partner for life, he will do everything in his power to justify his decision, even if it might not have been the best one.
Scorpios will want to know every single part of you, so you should be prepared for clearness in your relationship.
9. Sagittarius
Sagittarius guys are very adventurous and they also like being with a spouse who is eloquent, fun and self-dependant. Sagittarius male is extremely romantic and he is willing to go out of his way to make you happy.
Related Reading: How Compatible Are You and Your Spouse-To-Be?
10. Capricorn
They are known for being grounded, practical and future oriented.
Capricorn is usually dedicated to his career goals, and often enters marriage later when he is sure that marriage becomes a major concern to him.
11. Aquarius
Aquarius men need love like anybody else, but they are the most independent ones of all the zodiac signs.
They are committed to a life of compassion, humanitarianism, and they try to make the world a better place. Aquarius doesn't care like the other zodiac signs for marriage that much though.
Related Reading: According to Zodiac Signs: the 3 Best Women to Marry
12. Pisces
The Pisces husband tries his possible best to take his role of a husband very seriously in terms of finance and emotions.
A Pisces man is willing to do all it takes to fulfill all the wishes his partner and makes fending for the happiness of his family, his lifelong mission.
Share this article on
Want to have a happier, healthier marriage?
If you feel disconnected or frustrated about the state of your marriage but want to avoid separation and/or divorce, the marriage.com course meant for married couples is an excellent resource to help you overcome the most challenging aspects of being married.
You May Also Like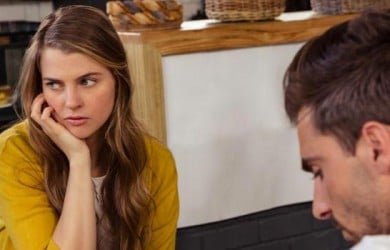 Popular Topics On Married Life