6 Tips on How to Deal When You and Your Husband Have Different Eating Habits
When you first envisioned spending the rest of your life with someone, you probably envisioned someone who loves all the same foods are you.

They could eat ribs every night, perhaps they're vegan, plant-based, paleo, gluten-free, or are a total carb-o-holic. Unfortunately, finding your food soulmate isn't always as easy as saying "I do".

It can be difficult to be in a relationship where your spouse doesn't have the same eating habits as you do, especially if you are the one cooking dinner every night.

You may love stretching your culinary creativity, but that doesn't mean you want to cook two entirely different meals every night.

Here are 6 tips for what to do when you and your husband have different eating habits:
1. Communicate about your diet woes
Whether it's regarding your feelings, your sex life, or what goes on in the kitchen, communication is the key to a thriving marriage.
A lack of communication is often cited as one of the most common reasons for unhappiness and even divorce in a marriage.
Of course, we're not saying a disagreement or misunderstanding about what to have for dinner is going to be the downfall of your marriage, but it will certainly cause a lot of frustration.
After all, there is nothing quite like the sting of putting all your energy into cooking your husband a complicated dish only to have him move half of it to the side of his plate with disinterest.
Bottom line – You are not a mind-reader.
You do not know the foods your husband likes or dislikes unless he tells you so. Sit down together and have an open, honest talk about what foods you do and do not like so you can avoid any mealtime mishaps in the future.
2. Set a good example
Has your husband gained weight or is he practising unhealthy eating habits that make you worry about his health? Perhaps he has a family history with diabetes, but can't seem to stay away from sweets.
If you want your husband to eat healthier, you have to be there to encourage him and set a good example. You can't expect him to eat a clean diet if you're sitting across from him with a bag of potato chips, can you?
Research shows that couples who practice healthy habits together, like exercising, are more likely to stick with their healthy habits for two years or more so long as they are doing it together.
One way you can come together if you and your husband have different eating habits is to set a good example. If you want to encourage him to eat healthier meals, take the first step.
This also means watching what you buy at the grocery store. If you want to make an effort to cut back on sweets, start baking at home using sugar-free recipes or using sugarless alternatives.
Don't bring home processed snacks from the grocery store. Instead, make sure there is a healthy abundance of delectable treats readily available in the fridge.
3. Find a happy medium
Spouses who have different eating habits are encouraged to come together and find a way to meet in the middle.
Say your husband is a super healthy eater. His ideal dinner is a lean chicken breast with a heaping side of veggies, whereas you love your carbs. Meet in the middle by making chicken and veggies for both of you, but throwing a baked potato into your meal to get those carbs you crave.
Or perhaps you stick to a strict healthy eating lifestyle and he's into eating take-out.
Meet in the middle by following the 80/20 rule of dieting. Eat healthy for your body eighty percent of the time, and use the weekends to splurge on takeout or alcohol.
4. Cook two different meals
This isn't exactly the ideal solution, but it is a solution.
One way you can deal when you and your husband have different eating habits is by cooking two different dinners. This may sound complicated, but once you get the hang of it – it's simple as pie.
Add and subtract things as you see fit. Make him spaghetti with a side of garlic bread, while you have zucchini noodles with pasta sauce and a side salad. This fulfils the basic concept of a "spaghetti dinner for two" without going out of your way at all.
5. Take turns making dinner
Another great way to ensure you're both getting the most of your mealtime is to take turns cooking dinner.
This way you're guaranteed to get a meal you love at least half of the week, and the other half you're trying something new with your spouse and displaying great compromising skills.
Date night is a great opportunity for couples to get closer. Research shows that couples who have a regular date night are less likely to get divorced and have better communication skills.
Cooking is fun and has the potential to be a date night in and of itself if you do it as a couple, so don't be afraid to include your hubby in preparing for mealtime.
This way he can also have a bigger say in what he likes and doesn't like. Maybe he watches you chopping onions and says, "Can you leave that out of my dish, please?" By letting him be a part of the process, you're giving him a bigger voice to express himself.
6. Don't judge
You love Mexican food – Enchiladas, guacamole, pozole, chilaquiles – you can't get enough! The problem is, your spouse can't stand it. Any of it. Not even tacos! "How can anyone in their right mind hate guacamole?" you may want to exclaim.
Hold back. It's not nice to judge, especially when the person you're judging is your husband.
Complaining that your spouse doesn't like the same foods as you can give them a food complex. For example, say you prefer clean eating while they occasionally indulge in pizza, burgers, or other take-out foods. You say, "I can't believe you eat that stuff. It's so bad for you!"
A wry tease or even a well-meaning comment can make your husband feel self-conscious about himself.
He may wonder if you're warning him about fatty foods because you think he's overweight. It may even make him feel uncomfortable eating around you.
Whatever the outcome may be, remember to try and be respectful of your husband's food preferences – even if you have drastically different eating habits.
If you and your husband have different eating habits, don't fret. It isn't the end of the world. Communicate openly about your dietary preferences, set a good example with your eating habits, and take turns making dinner. This will help you and your spouse come together about your different eating habits.
Share this article on
Want to have a happier, healthier marriage?
If you feel disconnected or frustrated about the state of your marriage but want to avoid separation and/or divorce, the marriage.com course meant for married couples is an excellent resource to help you overcome the most challenging aspects of being married.
More On This Topic
You May Also Like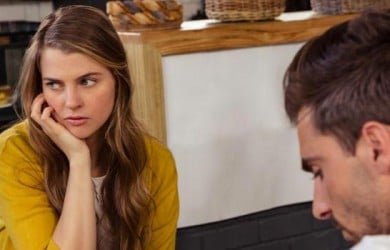 Popular Topics On Married Life