Battling with Eating Disorder in a Marriage
I met the love of my life at my tenth high school reunion in 1975.
The problem was I had a secret lover already – Eating Disorder (ED). He was a lover who had cost me my first marriage; a lover whose seductive clutches were fierce. Heedless of the peril, I rushed headlong into this new relationship and within a year, Steven and I were married.
Threatened by dual allegiances
Steven didn't know he had married an addict – someone who was binging and purged regularly. Someone who was slavishly addicted to the needle on the scale as her barometer of appeal and worth. With ED (that's Eating Disorder, not Erectile Dysfunction!) by my side, I thought I had found a shortcut to self-empowerment, confidence and consistent, enduring attractiveness. And to a happy marriage. I was deluding myself.
Unable to break free from ED's grip, I doubled down on keeping Steven out the loop of my bizarre behavior. It was a subject I wouldn't discuss—a battle I wouldn't let him help me wage. I wanted Steven as my husband. Not my gatekeeper. Not a fellow warrior against my great adversary. I couldn't risk making ED a contender in our marriage because I knew ED could win.
I was coping all day and binging and purging in the evening hours after Steven went to bed. My dual existence continued until Valentine's Day 2012. Fear of dying in a pool of my own vomit and fear of doing irreparable damage to my body finally outweighed my reluctance to seek help. White-knuckling it, three weeks later I entered outpatient therapy at an eating disorder clinic.
Keeping our distance
I've never purged since that memorable Valentine's Day. Nor did I let Steven in even then. I kept assuring him that it was my battle. And that I did not want him involved.
And yet, I noticed—as did he—in the months following my release from treatment, I often replied to him in a snippy tone, regardless of the topic of conversation. Where was this bitchiness coming from?
"You know," I burst out one day, "During the six months your dad battled pancreatic cancer, you micromanaged every doctor's visit, monitored his chemotherapy treatments, scrutinized all his lab reports. Your rigorous advocating for him was in stark contrast to your laid-back behavior when dealing with my bulimia," I spat out angrily. "Who was supposed to be there for me? Who was supposed to be there for me when I was addicted and stuck?
He was shocked by my anger. And my judgment. But I wasn't. Annoyance, irritation, and impatience had been growing like rampant poisonous weeds in my belly.
Seeking safe passage
As we huddled together that rainy Saturday afternoon, we shakily agreed we both needed to find out why he dropped the ball and why I had been so willing to fight my battle with ED alone. Figuring out how to stay together while resolving our past disappointments was the wisest course of action. Were we strong enough to seek wisdom? Spurn blame? Cast off bitter regrets?
We began poking at the embers of our angst.
I embraced the concept of clarity—the importance of being clear in my articulation—not only about what I didn't want, but how to implement what I did want. I reiterated to Steven that I had not wanted him to be my warden. And I emphasized that I had wanted his support and caring, his interest, his researching the topic of disordered eating, his talking to professionals and his offering me both his findings and his point of view. These were points I had never expressed directly before. And I both admitted and apologized for shutting him out of the entire process of my treatment and recovery.
He learned to not to take me so literally. He learned to deflect my ambiguity and probe for clarification. He learned to be firmer in his own convictions of what his role as a husband was and is. And he learned to offer out loud what he was willing and not willing to do, so that, together, we could forge a workable plan.
We owned that we were victims of our own faulty assumptions. We owned that we failed to probe and establish what acceptable levels of participation we truly desired. We owned that we were not mind readers.
Finding our way
He's forgiven me for telling him to butt out. I've forgiven him for not butting in. And we've pledged to push through our fears of rejection and vulnerability to honor and give voice to our genuine feelings and needs.
Share this article on
Want to have a happier, healthier marriage?
If you feel disconnected or frustrated about the state of your marriage but want to avoid separation and/or divorce, the marriage.com course meant for married couples is an excellent resource to help you overcome the most challenging aspects of being married.
Learn More On This Topic
You May Also Like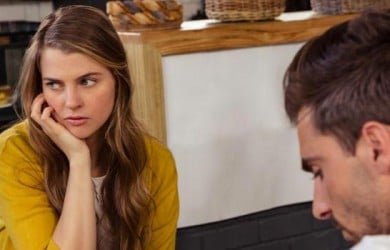 Popular Topics On Married Life