3 Reasons Why My Military Marriage Makes Me a Better Person
Here's a Jeopardy factoid for you (you can thank me later…)
Over time and under intense heat and some serious amounts of pressure, a simple element like carbon can grow and transform into an unbreakable diamond. You're welcome. I'm a regular Bill Nye, you know?
A diamond, then, is formed out of significant pressure and force, enough to form an indestructible bond.
Would you believe me if I said that's what my military marriage has become?
SPOILER ALERT.
It takes time, pressure, and power to strengthen marriages. It takes trials, tests, and burdens of considerable force that help us grow. And I really mean days, weeks, months, and years of what may be insanely or critically hard chapters of our lives.
Those who have been married to a service member like me, aren't strangers to difficult chapters. Oftentimes, we have felt an added pressure of absent or injured spouses. And, sometimes, with all the independence we've gained from the copious amounts of time we spend apart, marriage to a service member doesn't quite feel like a marriage but, rather, an agreement with a traveling roommate.
Both my spouse and I have felt the pressure and the heat increase as the duties of the military have left us feeling heavy, labored, and slowed down. Our military marriage has been wrought with tangled webs of frustration and fear, uneasiness and anger. Blame and loss.
Yet, these experiences aren't trash-worthy, set on the curb for immediate pick-up. They are not worthless. They're priceless.
Just like beautifully imperfect diamonds, military spouses don't get crushed by the weight of these hardships.These are incredible building and shaping experiences that mold us and form us. Transform us into the unbreakable. We are tested and pushed so we can grow and learn, so we can become better people. We're just being handed heavier weights, which will help increase our strength and our staying power.
Here are four ways that my military life and marriage have made me and my family better people:
We know about compassion
My family needs help, quite literally.
Often, my own little family depends on the service of others. Our marriage and family is hit daily by emotional turbulence and we need the graciousness and love of others. The most (un)fortunately bittersweet part of marrying into the military is the possible global relocation to duty stations, many times without want or warrant, with mere months or weeks to plan, prepare, and bid adieu. With those (many, many) moves arrive the deepest need for friends — and, quite frankly, I don't mean acquaintances posing as fair-weather friends. I mean your people. Your tribe. Your friends-turned-family who see you and know you and feel what you feel.
We deeply value friendships. For some of military spouses like me, it's all we have. Neighbors and community members who pay attention the best they can to understand our plights, who show up with dinners and treats (always welcome, always welcome), who offer physical and emotional support as we try to navigate our own harried paths. We need companionship, love and assistance.
And we need other military people, too.
There's a sense of belonging in the military. Connections with other spouses, friendships forged by understanding and the need for familial relationships, pressed together under intensity and strain. This combination of pressure transforms us, just as those unbreakable diamonds are formed from the deepest and roughest of earth's elements, and we become cared for instead of careworn, hopeful instead of hurting, loved instead of lonesome.
We see each other. We are each other. Spouses with deployed soldiers who weep together at farewells. Who weep together at homecomings. Who weep, period. Military children who bond together with invisible ties of camaraderie, loyalty, and support. We have babies (aptly named "war babies") who grow up together, time waging its own war as deployed parents watch them grow from the confines of a computer screen.
We share experiences and holidays, happiness and shattering grief. We share food, clearly, and many, many drinks of all forms and sizes. We share an overabundance of advice and, quite often, too much information. We throw baby showers and tout anniversaries. Together we spend nights out and game nights in, park dates, Oreo dates, and ER dates.
These are the people who know about blistering absences and unsuccessful reintegrations. Who know about the dire stresses of battle-worn spouses, about the painful and beleaguered bits of a military marriage.
Who just know.
And bear the brunt of torrential downpours and effects of situational hurricanes.
We have needed compassion and have been shown such, especially when my spouse has been absent due to deployments and training. Our yards have been taken care of, our driveways shoveled. Neighbors have rescued us with plumbing help (because there has always been a leak somewhere), our cities have supported us with utility abatements, notes of appreciation, letters and packages, both at home and when deployed. Countless dinners have topped my table, courtesy of a community who sees a need and fills it. I've been buoyed up by thoughtful notes, treats, and friendly faces checking in.
We've never felt alone.
Here's the thing: We know and have seen just how compassion builds up communities. We know the work that goes into lightening the loads for others. It saves those in distress. It lifts the weary and the burdened. It breaks barriers and opens doors and fills hearts. We know because we've received them ourselves, those generous acts of service and genuine love and concern.
We know. We've felt the love. And we are undeniably thankful.
And so we serve. Our little family has received so much, and we hope to do so much. To show real love and genuine kindness and friendship. We have so much work to do, but I hope my little babes see the impact that compassion has made on our family, the permanent impression it has left on our lives. I hope they feel the goodness emanating from every act of service, that they recognize the happiness in every portrayal of genuine kindness.
It changes people for the better.
That's the effect of love in a community. It spreads like a flame, burning others with a desire to spread the good, to be the change. Globally, the world needs more you: the you who burns with a passion to implement real and substantial change. But your communities need you as well, military spouses and civilians alike. They need you to reach inside and evaluate your past experiences, both positive and negative. Take them, adapt them, and apply them.
We all need more love and compassion in our lives.
We are prepared for disappointment
That's cheery, eh?
Unfortunately, it's completely and utterly and downright (and etc.) all types of truth. I'd never have believed it until, of course, I married into the military myself and (melodrama alert!) became crushed under the truth of it.
Military spouses live by (at the very minimum) two mantras: "I'll believe it when I see it" and "Hope for the best, expect the worst." Surprisingly, these are some of the most optimistic in the bunch.
We are ten years into my military marriage and those mantras are still tattooed on my ahem, and I, grumbling with incoherent swear words (lest my children hear and repeat to their teachers), am forced to apply said mantras to every possible promotion, deployment, school date, paycheck, vacation plan, and time off. Oh, and all paperwork. Even nights and weekends are at the mercy of, well, not us. In short, our entire existence may be subject to change at the drop of a military-provided pin.
But here's the hard truth, the pill with the daily dosage that we are (okay, I'm) constantly swallowing.
We know because we've been there…
We know about deployments with an eight-day notice. We know about having babies alone, relying on compassionate nurses and doctors. We know about lost weekends and impromptu night duty and cancelled plans. We know about pay problems, about the eradicated parts of our financial livelihoods due to budget cuts. We know about missed anniversaries and birthdays and cancelled plane tickets to a Hawaiian vacation.
We know about broken promises and broken hearts and broken words. About the goodbyes, those painfully sacred farewells. We have felt the palpable silence, the kind present in empty beds, empty chairs at the dinner table. It exists around us, swollen and suffocating and painful to the touch…
Yet, although we are prepared, sometimes we are never ready. We're not naive; we know the possibilities, the statistics. We know we will never be ready for ultimate sacrifices. For the pain of the lost and the broken. For the unimaginable grief that burdens the shoulders of the bereaved.
We will never be ready for that loss.
But we know about other kinds of loss, and those experiences prepare us. They prepare us to move on through the disappointment and the sorrow to find higher ground. We won't stay stagnant. We can't. We can't exist on those lower planes.
Because even in our disappointment, we also know real, impenetrable joy.
We understand joy
Opposition: It's important to understand it correctly. It can be tricky to navigate, to really see why it's so heavily important.
We know joy because we've known sorrow.
Because we've known grief, we can know that joy comes in different shapes, different sizes. Like pennies found in pockets, joy can come from the smallest moments, the seemingly insignificant.
Yes, I definitely mean that we have known and can know joy, pure and unadulterated. The kind that comes after arduous trials and tremors, after emotional earthquakes and quakes of grief. The joy that is the sunrise at the summit of a mountain, seen only after clambering along steep edges and maneuvering tricky footholds, after getting lost and finding your way again.
That joy that comes from the trial. Joy can be bred from sadness, happiness from despair.
And so we find it in simplicity.
Joy is soldiers who arrive home hours before a baby's birth. For a graduation. For birthdays. It's surprising children in classrooms, in auditoriums, in living rooms across the country.
Joy is airport homecomings. Little faces searching with impatient glances, waiting to see moms and dads, waiting to get letters, video calls.
Joy is seeing redeployed dads holding new babes for the first time, grateful to breathe in traces of childhood before it slips away.
Joy is the wave of patriotism that sweeps me over in watching my husband retire a flag. In spending hours, even minutes together.
We understand that joy is found in mere moments.
This joy, this product of hardship and intense trials, is the reward for the struggles. The beauty of family. Of friendships. Of marriages. We can raise our marriages from the dust, and see it for what it is: priceless and unbreakable. It's worth it.
Share this article on
Want to have a happier, healthier marriage?
If you feel disconnected or frustrated about the state of your marriage but want to avoid separation and/or divorce, the marriage.com course meant for married couples is an excellent resource to help you overcome the most challenging aspects of being married.
Learn More On This Topic
You May Also Like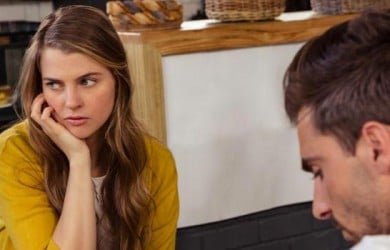 Popular Topics On Married Life