15 Reasons Why Women Leave Men They Love
Marriage is considered a heavenly union between a man and a woman. The two people promise to be with each other through thick and thin. But, in some cases, a woman asks for divorce even after a seemingly successful marriage. Why do women leave men even after being married?
Similarly, you may have come across couples when a woman ends a relationship after years of steady courtship. The couple may have been living together or even engaged.
As per the research of the Statista Research Department, the divorce rate is growing in Europe. In 2019. Nearly 42.8% of marriages in Europe end in divorce. In many cases, the women end the relationship.
But why do women leave men? There are different causes like emotional neglect, spouse, mental compatibility issues, and even other issues that cause such breakups.
Women often try their hardest to save a relationship or marriage. But, if they do not get satisfaction in marriage or feel the marriage is beyond repair, they leave. In this article, you will get a clear picture of why women leave men even after loving them.
What does it mean when a woman leaves a man?
The answer is they do not see a future together with their present partner. When a woman decides to leave, she may have already tried to do everything possible to save the marriage. They may have lost all their hopes about being happy.
Some women may also have issues related to emotional satisfaction. If they are not getting enough emotional support and compassion from their companion, it is a common reason for leaving a relationship.
It means that the woman has lost every hope for the relationship and wants to start afresh. They may even cut off all ties with you. Usually, women decide on emotional detachment after closely inspecting and calculating each possible outcome. Many women instead shift their focus on their children or a career.
The woman has finally found that it is the right time to part ways to maintain her own emotional and personal well-being instead of wasting their energy on a falling relationship.
When a woman leaves a man, how does he feel?
Interestingly enough, men could have a different perspective on why women leave any relationship. Most husbands or partners might think that the demands of their female partners are unrealistic. Many men believe that the demands of their wives are not justified.
In some cases, the men become emotionally exhausted when their female partners decide to leave them. Till now, many men are the sole breadwinners of their families. So, they could feel that their partners are impossible to please.
The main reason why women leave is that their partners could also have financial issues. This is quite a true fact indeed. Many women could leave their present relationships to find men in better financial conditions.
Many men may also consider that their wives or girlfriends have become nagging. They might not give any heed to the emotional needs of their women. In the end, the woman leaves when she feels unappreciated.
Such men often do not find any fault in their own behaviors. Men who are emotionally distant and are often busy in their own world have difficulty grasping reality.
In many cases, the men either become sadder or ruder. Some men may look for their mistakes to find out why women leave men. Others may not think twice and move on as they feel they have done nothing wrong.
Related Reading: 

12 Things You Need to do When a Woman Gives Up on a Relationship
15 answers to why women leave men they love
Here are the top fifteen reasons why a woman leaves a man she loves-
1. Her man may have lost interest
He may have fallen in love with her in the past, but the spark is gone now. The woman has realized that her man does not love her the same way anymore.
He is investing his energy in different things and has taken the relationship for granted. In such cases, the woman may feel emotionally neglected and dejected. She may end up leaving him for good. Growing out of love is one of the main reasons why women leave men.
Related Reading: 

11 Things That Happen When a Woman Loses Interest in Her Husband
Check out for these signs that tell that your man has lost interest:
2. Allegation of cheating
For any woman, the news of her husband's cheating is a nightmare. As a woman with self-respect, no one will like to live with someone who has cheated on her. The woman has done everything to make her man happy, yet he found love in someone else.
Cheating is the main reason why wives leave their husbands. After all, she feels neglected, betrayed, and thrown away like garbage in his life.
3. Both have grown out of love
In some cases, growing out of love is one of the modern causes of why women leave men. Despite once being madly in love, the two do not feel any attraction. The woman may have realized that the man he fell in love with has changed into a different person.
There is nothing left to move forward, and both need to part ways to lead a good life. In such cases, the woman may part ways amicably. The couple may even continue co-parenting and remain good friends after the breakup!
Related Reading: 

10 Signs of Falling out of Love
4. A co-dependent relationship
A codependent relationship often becomes toxic and stressful. The woman may become codependent, or the man can become too dependent on his wife. The woman feels emotionally drained and develops anxiety and stress in these cases.
Some women end their long-term relationships if the co-dependence becomes unbearable.
5. The husband is abusive
As per research, women in abusive relationships often have PTSD and anxiety. A man may abuse his partner physically, mentally, or psychologically. Such cases of domestic abusers often make a woman's life a living hell. The woman may initially put up with the abuse and even try to correct the husband.
Abuses and domestic violence are common causes of why women leave their husbands.
Most women will not tolerate unnecessary abuses to lose their emotional salinity and wellness. She may have decided to live life without the negative impacts. This is the time when a woman leaves a man she loves.
6. There are trust issues
Trust issues may also cause a woman to leave her man. Trust is the base of any successful relationship. When a woman is unable to trust her man, it affects everything. The relationship loses its spark, and there are more fights.
While a woman may develop trust issues if her husband has a history of cheating, other causes are also. Some women often develop trust issues due to their past experiences as well. Whatever the underlying reason is, trust issues can compel a woman to leave a relationship at any time.
7. The in-laws are not supportive
In-laws are often the indirect cause of why women leave men. A woman may feel suffocated and emotionally rejected if her in-laws are not supportive. Often the relatives of the groom may end up putting some unnecessary pressure on the wife.
In some cases, the controlling parents of the husbands cause the rift between a loving and happy couple. They may judge the woman in even the smallest situation and have unnatural expectations for her. In the end, the woman files for divorce to maintain her emotional sanity.
8. There is no intimacy between the couple
Intimacy, both physical and emotional, keeps a relationship alive and going. For women, small gestures of intimacy often mean a lot.
With time, the intimacy often dwindles. If one of the partners starts to reject intimacy, the other can suffer badly. A woman may leave a relationship if she does not get the desired intimacy from her husband.
On the other hand, a woman may be forced to leave her beloved partner if he puts excessive pressure on her for more physical intimacy without giving her emotional intimacy.
9. The differences are too much
One of the common causes of modern divorces is the inconsolable differences. At a point in life, two people may share different life goals. While couples, especially women, sometimes adjust, it is not possible.
The differences related to child planning, raising the children, and new job opportunities may cause the relationship to be damaged beyond repair. In such cases, the woman may try to find solace by seeking a divorce or breaking up.
10. The men are not ready to get married
For long-time couples who cohabit, this is a common cause. For most women, marriage becomes a priority after a certain age limit. But, in many cases, the man in the relationship may not be ready to get married and may seek some more time.
In such cases, the woman first waits, and they becomes frustrated as her dream of having a good and stable life is devastated. This is also a leading cause of why women leave men even after having a long-term relationship for years.
Related Reading: 

10 Signs You Are Not Ready to Get Married
11. The husband doesn't appreciate the efforts of the wife
As a wife, one may desire some appreciation for the efforts she puts into the relationship. But men often fail to notice this desire and take the relationship for granted. Hence, he neglects her desire. In turn, the woman feels alienated and may seek separation to find emotional peace.
Related Reading: 

6 Ways to Appreciate and Value Your Spouse
12. The woman feels too pressured in a relationship
Despite moving forward, society remains gender-discriminative. A woman is often forced to leave her career and dreams to become a good partner. On top of that, the demand for becoming an "ideal wife" can become extreme in many situations. In such cases, the women often seek divorce to retain their emotional well-being.
13. The man is too controlling
No woman loves a controlling man. If the man tries to control each aspect of the relationship, it becomes fatal. Often men force their wives or partner to mold in a distinct way while in the relationship.
That extreme control causes the woman to become emotionally distant and stressed. She may break off the relationship or marriage if the partner is too controlling.
Related Reading: 

25 Signs You're in a Controlling Relationship
14. Long distant relationship
Often, long-distance relationships are a cause of divorce and breakup. If the man spends way too much time away from home and does not show care while being away, the woman will leave. The emotional strain of being away without any support from the partner can lead the woman to live alone altogether.
15. Career differences
Career differences may be a reason why women leave good men. Ambitious women who want to pursue a career besides a successful marriage often divorce their husbands. Such women are successful mothers and good wives, but the damage is inevitable.
Many men often feel uneasy around a more successful partner. Such husbands often hurt their male ego and end up damaging the relationship. This is a red flag when a woman leaves a man. The woman may leave this marriage to ensure she is happy emotionally.
In many cases, the woman is often forced to compromise with her career to fulfill her wifely duties. A modern woman may not budge down, and she may leave the relationship altogether.
Wrapping up
There are many reasons why women leave men even after a seemingly stable and successful relationship. If you are seeking to end your relationship with your man, you can always seek some professional help.
In many cases, couple therapies can help mend the gap or end the relationship amicably. Whatever the reason, if a man wants to keep the relationship strong, they need to avoid the above fifteen causes.
Share this article on
Want to have a happier, healthier marriage?
If you feel disconnected or frustrated about the state of your marriage but want to avoid separation and/or divorce, the marriage.com course meant for married couples is an excellent resource to help you overcome the most challenging aspects of being married.
Learn More On This Topic
You May Also Like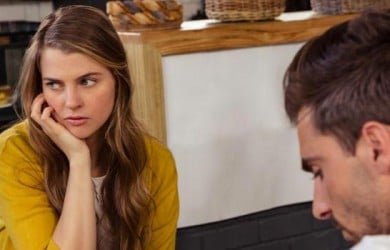 Popular Topics On Married Life