10 Reasons Why Did She Leave You & What to Do
One of the most upsetting experiences a man can ever have is an unexpected breakup from the woman he loves and cherishes.
When your girlfriend cuts the cord, you go from feeling on top of the world to being thrown into a deep abyss of sorrow. The journey back up can take a while, but the plunge is usually swift and gut-wrenching.
During this lonely walk, you may ask yourself some questions.
Why did she leave me? Why did she leave me if she loved me? Why did she leave me for another guy?
Most times, a relationship ends for many reasons. However, one thing is always true: no matter how quickly you think it happened, it was never sudden.
What caused it, then? Do you want to find the answer to the question, "why did she leave me"
In this post, we will examine 10 reasons why your girlfriend broke up with you and suggest practical solutions to help woo her back or prevent a repeat in the nearest future.
What does it mean when a woman leaves a man?
Statistics have shown that a man is likelier to be dumped by a woman, as 30% of women would rather exit a relationship than stay with a man who doesn't give them peace and happiness.
One major reason for leaving a relationship might be that she believes she can never be happy with you. When a woman decides to leave, she may have previously made every effort to keep things going and have come to the point of completely giving up.
Some women could also struggle with problems relating to emotional fulfillment. A typical reason for her to end a relationship is when she feels you aren't providing her with adequate emotional support.
Women typically choose emotional separation after carefully examining all the potential outcomes. Instead of being stuck in a loveless relationship, she might concentrate on her career, business, or children.
When she leaves you for another guy, she has deciphered that she would be more satisfied (physically, mentally, and emotionally) with the other guy and has decided to give him a chance.
5 reasons why women leave the man they love
It's interesting that men could view why women end a relationship differently. Many men might even think their spouses' requests to end the relationship are unreasonable.
There are many reasons a woman can want out of a relationship she used to enjoy. Many times, the reason for leaving a relationship may not be all the fault of the man. It could be that she is in search of some more fun and adventure.
We have curated a quick list of 5 Reasons Why Women Leave the Men They Love.
Perhaps, these will help you better understand why she may want out of a relationship she used to enjoy.
10 reasons why she left you
Have you been asking this million-dollar question, "Why did she leave me?" Here are 10 typical reasons why that may have happened.
1. She thinks the relationship is pointless
Everything feels fantastic in the early stages of a relationship. You met in a coffee shop, hit it off right away, and the rest is history.
This "honeymoon phase" soon ends, leaving you to face reality. Physical attraction and the novelty of the relationship will only take you so far. Many other elements are required to keep a relationship strong for a long time.
After a while, inevitable questions begin to arise. You may find her asking questions like, what are we doing? When are we getting married? Are we settling down together?
Things may start to go wrong if you can't give her a satisfactory answer. Petty disagreements escalate into full-fledged arguments, and a once-promising relationship devolves into shambles. This is because ladies prioritize emotional stability in their relationships.
They want to be sure that the relationship is heading somewhere that makes logical sense. Hence, the reason why she left you might be because she felt the relationship wasn't headed anywhere.
2. Domestic violence
Research has revealed that women in violent relationships frequently suffer from anxiety and depression. Frequent domestic abuse makes a woman's life a living hell.
At first, she may tolerate the violence and even attempt to correct you. However, many women will not put up with domestic violence indefinitely. At some point, she would step away from the relationship – for good.
Domestic violence is one of the major reasons why a woman may leave the man she loves.
3. She found a better person
This is one of the most devastating reasons why breakups happen, but it begs to be said nonetheless. If she leaves you for someone else early in a relationship, it's most likely because she wasn't truly interested.
Your girlfriend's initial interest in other men is usually an indication of your failure to meet some of her expectations.
Just like any other breakup, this does not happen suddenly. It might take a while for her to accept that she's met someone better. However, if she decides to go, that may be the end.
To avoid this, you must constantly reinvent yourself and do your best to keep her excited in the relationship.
4. She feels too pressured in the relationship
Despite progress, society continues to discriminate against women. A woman is frequently obliged to give up her profession and goals to be a good partner.
Furthermore, in certain instances, the pressure to be a "perfect wife" can be overwhelming. In such circumstances, women frequently seek divorce to maintain their emotional well-being.
To prevent this from happening, you have a role to play as her partner. This involves constantly reminding her that she is enough and being vocal about your support. Then again, set up physical measures that protect her (for example, limiting the way your friends harass her).
5. She thinks you've lost interest
This is another major reason she might call off the relationship. You may have once been in love with her, but the spark is no longer there. Now, she has recognized that you no longer love her as you used to.
Considering their emotional sensitivity, women are more likely to quickly identify when their partners begin taking the relationship for granted. In such situations, they may feel emotionally abandoned and decide to leave him for good.
One of the biggest reasons women leave men is because they feel the men no longer love them as they used to.
6. Cheating
To the average woman, nothing hurts more than the revelation of her partner's infidelity. Infidelity is one of the leading causes of breakups in America, as over 40% of adults who have ever cheated on their spouses are either divorced or separated.
Cheating is the most common reason women call things off with their partners. It makes her feel ignored and betrayed and can have a devastating effect on her self-esteem.
Some women can decide to keep up with the relationship even after a partner cheats. This decision is totally up to them.
Related Reading: 

10 Most Common Types Of Cheating In A Relationship
7. You are not compatible
A rapid end to a relationship is frequently the result of your girlfriend's abrupt understanding that you two are compatible.
She may consider religion, cultural differences, or personality traits significant enough to end the relationship.
This can be devastating for a man. In most cases, the best you can do is recognize that your values are different and find a way to move on with your life. This can be difficult but understands that incompatibility can become a major reason for leaving a relationship.
8. When you've fallen out of love
Falling out of love can be one of the reasons why she left you. This can quickly happen after the honeymoon stage of the relationship or when responsibilities and pressure begin to increase.
In these cases, both parties may agree to part ways peacefully. Even after their divorce, the couple may continue to co-parent and be excellent friends.
9. No intimacy
For a more significant percentage of ladies, lack of close intimacy can be a serious reason for leaving a relationship.
Long-distance relationships are frequently the cause of divorce and breakups. She may end things if you spend too much time away from home without showing concern for her. The emotional burden of being separated from you can cause her to end things entirely.
Related Reading: 

How Important Is Intimacy in a Relationship
Suggested video: Bring back intimacy with these 10 simple habits:
10. When you don't know how to celebrate her
Women love to be celebrated and appreciated by their partners. However, it is easy to overlook this desire and take the partnership for granted. As a result, the woman feels alienated and may seek separation to find emotional calm.
This might just be the reason why she left you.
5 things to do when a girl leaves you
It's not just enough to ask, "Why did she leave me?" What matters, even more, is to know what to do to win back her love, admiration, and respect. Here are some things you can try out right now.
1. If you love her, get her back
If you believe you've learned from your error but still don't want to give up on this relationship, it may be time to win her back.
One of the most agonizing feelings is knowing you lost her due to your shortcomings.
But what if you can still get her back? What if things don't have to end this way?
It's sometimes preferable to let her go and concentrate on things you can control, such as avoiding toxic relationships in the future and recovering your self-esteem and self-respect.
However, there is a time for pursuing it. This may be one of those times. Pick up your phone and give her a call. Send her a heartfelt message and apologize for how you caused her pain. Ask her out on a date, and if she accepts, ensure you make a killer impression on her.
Ensure you make her see how sorry you are about your shortcomings. Be sure you communicate to her that you are also in the process of becoming a better person. The decision to come back or not is up to her.
2. Move on
It might be difficult now, but moving on may be the best course of action in the long run.
Perhaps this relationship wasn't meant to be, and it's time to find someone with more similar life goals. Besides, trying to improve something can sometimes make it worse.
Before moving into a new relationship, take some time to analyze what made this one go wrong and extract the lessons from it. Avoid using a rebound relationship as a coping mechanism because it may just end up worse.
3. Do the things you love
Following a breakup, you may have more free time than usual. Try to make the most of this time.
Perhaps you spent less time reading during the relationship and now have a stack of unread books beside your bed. Perhaps you've always wanted to try your hands at gardening or knitting. You may even start studying a new language or organize a solo trip.
Take this time to explore your interests. Pick up new skills. Meet new people. Have fun by yourself.
4. Book a therapy session
Therapy sessions provide you with a safe space to unbundle your emotions and get professional help post-breakup. During these sessions, you explore the emotional/psychological impact of the breakup and how it ties to other areas of your life and work on a strategy for what comes next.
Therapy helps you understand what is going on and prepares you to seize new opportunities.
Start by finding someone with whom you connect and who you feel understands you. Take your time.
Related Reading: 

7 Effective Counseling Characteristics of Experts
5. Fix your physical appearance
Even though you are no longer dating or in a relationship, you still need to work on your attractiveness. Improve your chances of getting a suitable partner by relearning how to look good. Then again, looking good boosts your self-esteem. It's not all about getting the most eligible spinster.
Some women find it most attractive when a man works out. Some women prefer more creative guys, such as musicians. Even if you are in a relationship, identify your naturally attractive masculine attributes and work on developing them.
More questions on why a woman could leave a man and what to do
Check out more questions on the topic and find further solutions:
A. How do you tell if she wants to leave you?
Apart from the signs we covered in this article, other warning indicators exist. If any of them exist in your relationship, you may want to sit up. They include
There is no emotional tie

Communication is non-existent, aggressive, or belligerent.

There is no attraction, and physical intimacy has flown out the door

She doesn't believe the things you say to her

She is now openly flirting with other people
B. How do you know if a girl is done with you?
Here are some cues a lady is done with you and the relationship.
She easily gets irritated around you

She is putting in more hours than normal. Usually, she does this to minimize the time she spends around you

She no longer considers you her friend and doesn't treat you as one

She doesn't care what you think

Your sexual life is mechanical or non-existent
Takeaway
After experiencing a painful heartbreak, you may find yourself asking the question, "Why did she leave me?"
There are many reasons she can demand a breakup, and we have considered some of them in this article. The good news is that this can be avoided.
Couples' therapy, reading relationship books, and staying in support groups can help you prevent heartbreaks in relationships.
Then again, remember that it is not always about what you did wrong. Know when to let go and when to fight for the woman you love.
Share this article on
Want to have a happier, healthier marriage?
If you feel disconnected or frustrated about the state of your marriage but want to avoid separation and/or divorce, the marriage.com course meant for married couples is an excellent resource to help you overcome the most challenging aspects of being married.
More On This Topic
You May Also Like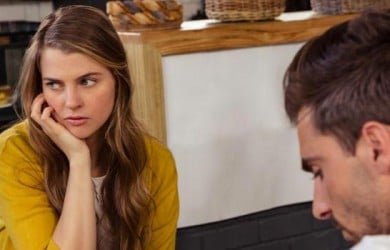 Popular Topics On Married Life