Why Do People Kiss? Let's Understand the Science Behind It
You might not have thought much about why do people kiss, but this can be an important aspect of keeping the intimacy within your relationship. Keep reading for information on the science of kissing and what it may mean for couples. These details may also help you decide if you are kissing your partner enough.
Why do people kiss?
There has to be something behind a kiss. Otherwise, it wouldn't be a universally accepted form of endearment that survived the rise and fall of empires in all corners of the world.
So why do people kiss? Scientists that study the past, such as sociology, archaeology, anthropology, and other '-ologies' agree that humans have been doing it in some shape or form for a long time. So, it begs the question, why?
No one knows the exact reason for why do people kiss. This may be something that has been learned over the years, depending on your culture, where it now has several different purposes. Perhaps it is something humans have passed down to their offspring for many years without much thought being put into it.
If you think back to your own life, you may have wondered why do people kiss but just accept it as a part of life. You probably saw people kissing on television, noticed couples in real life, and waited for the day that you could kiss someone the same way.
One possible purpose for kissing is to help you understand if you are compatible with someone. You can detect a person's major histocompatibility complex when you kiss an individual. MHC is a section of our genes that lets our immune system know if something is good or bad for the body.
You can consider this their personal smell since it is present because of their genetic makeup. It may also dictate whether the kiss feelings you have after kissing a certain person are good or bad. According to science, if this person is a good mate for you, it may make kissing more enjoyable.
This may also mean when you don't enjoy kissing a person, they might not be the right one for you. Just be sure to take the time to determine if you need more practice with your partner or if you would rather explore other options.
Kissing in a relationship may also occur because you want to show someone you care. In some cases, this kissing can let your mate know that you want to continue to be intimate with them in several different ways.
Even a sweet morning kiss before work could let your partner know that you care for them and are happy to be in a relationship. Try to sneak in a kiss when you can, even if you are in a hurry.
This is why you should kiss each other when you both feel like you want to. It could strengthen your bond and help improve your intimacy overall.
On the other hand, if you are kissing a loved one or parent, you are likely kissing them to show them that you love them. Think about how you feel when you kiss your parents or child; it is likely much different from when you kiss your spouse.
What happens when we kiss?
If you have found yourself kissing for hours, you may wonder what happens when we kiss. The answer is that many things happen in your brain. One is that you will be able to feel the sensation of your lips and mouths touching each other, which might lead to you wanting to continue kissing.
This could be one answer to the question, why do people kiss. It feels good, so people may want to keep kissing each other.
While the answer may be as simple as that, other things happen within your brain when you kiss someone.
Something else that happens is that the body releases hormones, which can make you feel better. One of the hormones that is present when it comes to kissing is called oxytocin, also known as the love hormone.
This hormone is thought to be present when you trust a partner or have romantic feelings for them.
Dopamine is also released when you are kissing. This is another hormone that improves how you feel. If you don't have enough dopamine in your life, this could cause you to become depressed or be unable to feel happiness.
Related Reading: 

Kissing During Sex: Is Kissing Important for Good Sex
For more information on why do people kiss, check out this video:
How to kiss better
If you are wondering how you can kiss better, there isn't a kiss science that you must learn. However, there are a few things to consider. You should make sure that your lips are soft, be gentle, and check to ensure that the other person wants to kiss you. These things can go a long way in improving the way you kiss.
Additional techniques to consider are to keep trying and ensure you are thinking clearly. When you are comfortable with your partner, kissing them shouldn't be difficult, even if you are a bit nervous. Chances are, they may be nervous sometimes too.
Consider the acronym KISS, which can also help you learn how to kiss better. The KISS's full form is 'Keep it simple, sweetie.' Try your best to remember this when you are concerned about whether you can kiss the way you want to.
If you want to learn more about kissing or the proper protocol for kissing in your relationship, you might want to consider couples counseling. This type of therapy can help you and your mate learn how to communicate and show your love for each other effectively.
FAQs
Is kissing natural or learned?
No one knows for sure if kissing is natural or learned. It is something that is learned since not all cultures take part in it, and some animals do not as well. The consensus is that if it were a natural trait within our DNA, all people and all animals would kiss. In the case of animals, something like a kiss may be noticed.
Of course, some animals show their affection to each other. Perhaps you have been licked by your dog when they are happy to see you. This form of kissing may have been learned from you or other animals.
Why do we kiss with our eyes closed?
Many people think we keep our eyes closed when we kiss because that's what we are taught to do. It is considered to be a kiss problem when you are thinking about what must be done when you are kissing someone important to you.
If you think about how you kiss your partner, you may lean in, close your eyes, and lock your lips. Have you ever opened your eyes when you kissed them? This could give you a completely different feeling. It is up to you to determine how you would like to kiss, as keeping your eyes closed is popular, but it isn't the only way to do it.
Is kissing good for health?
Kissing is good for health in several different ways. For one, kissing someone you care about may help you get their germs, which can boost your immune system. In other words, you may be able to fight illnesses better or it could improve your allergies.
Since kissing can make you happier, it may also be good as a stress reliever. When you experience too much stress, this could lead to health problems, both mentally and physically. However, when you have regular kiss practice with your mate, this is an aspect of your life where you won't have to worry about stress.
Conclusion
If you have ever wondered why do people kiss, the answer is rather straightforward. It is likely something humans learned how to do, and since it feels good, they decided to keep doing it. Hormones are released in your body when you kiss, making you feel happy and excited.
While you can read more information on the subject of why do people kiss, you may also refer to the article above for a description of the things you likely want to know about the most related to this subject.
Make sure to address kissing in your relationship if this needs to be improved. You can talk to your mate about what they expect, how they feel about kissing, what they feel comfortable with, or you may talk to a therapist for more advice.
Share this article on
Want to have a happier, healthier marriage?
If you feel disconnected or frustrated about the state of your marriage but want to avoid separation and/or divorce, the marriage.com course meant for married couples is an excellent resource to help you overcome the most challenging aspects of being married.
More On This Topic
You May Also Like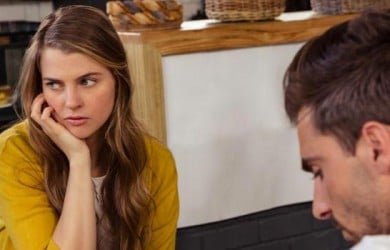 Popular Topics On Married Life