Why Am I Jealous in Relationship: 5 Possible Reasons
There are likely many feelings and emotions you experience when you are in a relationship. However, you may be surprised when one of them is jealousy. You may wonder why am I jealous and want to know if this is something that can be changed.
Keep reading this article to learn more about this topic and how to deal with jealousy within a relationship.
What is jealousy in relationships?
Jealousy occurs in a relationship when there is a trust issue, even if it is minor.
For example, if your mate wants to know where you are and who you are with all the time, this could be because they are jealous, feel like they are losing you, or someone is trying to take you away from them.
There are several reasons why you or your partner may end up feeling jealous in a relationship, and it isn't always something that will negatively impact your bond. In some cases, this type of jealousy will subside as you become more comfortable and trusting of each other.
Make sure that you ask yourself why am I jealous, so you can reevaluate how you are feeling and if it is something you are comfortable with.
Signs of jealousy in a relationship
There are a few signs of jealousy in a relationship that you may want to look out for. One is when you must insert yourself into your partner's social gatherings. In other words, you likely don't want them to go anywhere without you.
Other signs you may be experiencing jealousy in love are when you get upset when your partner compliments anyone and you question everything they do.
You may even accuse them of cheating. All of these are indications that you are feeling jealous. If these things sound familiar, consider pondering why am I jealous and think about why this may be the case.
On the other hand, if your partner is doing these things to you, they feel jealous.
How jealousy can manifest in relationships
There are several ways that jealousy can manifest itself in relationships. Here's a look at 4 ways you may see this occur in yours. These situations may happen regardless of the reasons for jealousy that you or your partner have.
1. Trying to control your partner
One reason you may experience jealousy in your relationship is when you are trying to control your partner. Do you want to be controlled? If not, then your partner likely doesn't either. If you tell them where they can go and who they can hang out with each day, this can cause strife in your relationship.
Instead, you may want to learn more about them and their routine so you don't have to worry about what they are doing and who they are talking to. Do everything you can to build trust with one another, which can ease your jealousy.
Related Reading: 

15 Tips on How to Let Go of Control in a Relationship
2. Being angry with them often
Another way jealousy may show its ugly head in your relationship is when you often feel angry with your partner. Do you fuss or yell at your mate regularly because they did something without you or because you didn't get to hang out with them all day?
They may have things to do that keep them from spending as much time as possible with you. If they are a devoted partner, they likely don't want to have to do these things and are simply going about their daily tasks.
Again, if you talk to them about their day and how they spend their time, you may start to understand that there is little reason to be jealous.
3. Wanting to know everything they are doing
You might feel like you need to know everything your partner does while they are away from you. However, it would help if you understood that this doesn't make you feel better.
Trying to make your partner account for every second of their life and explain these moments may make them resent you. It will likely cause them to experience negative feelings about the relationship.
A 2021 article explains that when individuals felt a need to snoop on their partner's phones or social media pages, this sometimes led to volatile situations, including intimate partner violence. This is something you should avoid at all costs.
If something is bothering you about the time that you aren't with your mate, it is okay to ask them questions. Of course, you need to trust that your partner isn't doing anything to hurt you.
When you don't have this type of trust, you may want to work towards it or consider whether this is the right relationship.
4. Not wanting to be around your mate
There may be situations where you feel like, why am I so jealous, and even when you don't know the exact reasons, it may create a divide between you and your partner.
You may not want to be around them or hang out because you have pictured multiple scenarios where they have been unfaithful or hurt you. Remember that simply because you imagined something doesn't mean that this event has happened or will happen.
Related Reading: 

25 Ways on How to Attract Your Soulmate
Why am I jealous in relationships: 5 possible reasons
Besides wondering why am I jealous in your relationship, you may also want to know more about why we get jealous. There are a few reasons why you may feel jealous, and here are five that may be relevant to your situation.
1. Your past relationships
You might find yourself being jealous in a relationship because other relationships in your past have caused you to have this tendency.
If you have been cheated on or hurt by someone you trusted, it may cause you to rethink everything your mate does, even if they haven't given you a reason to think they will hurt you.
If you think that past trauma has caused you to be unable to trust others, you may want to consider relationship counseling. Talking to a therapist may help you learn how to let your guard down a little bit and learn how to place your trust in others.
2. You are afraid of being alone
Another reason related to what causes jealousy is that you may be afraid of being alone. When this happens, it could make you want to hold on tightly to your partner, even if you tend to overstep certain boundaries.
You may have to check in with them regularly when you are apart or need to know when they will be back every time they leave the house. If you are afraid that you will be alone, there are ways to address this with your partner.
You can visit with a therapist to work on this issue together or sit down and talk about how you feel together. Your partner may be willing to reassure you that they care about you and they don't intend to hurt you.
Related Reading: 

How the Fear of Being Alone Can Destroy Potential Love Relationships
3. You think that you need to control your mate
There's a chance you may think you need to control your mate. This could be because you don't trust them or think they must be told what to do. If you feel like you are the dominant figure in your relationship, you may not even notice that you are always bossing them around.
However, if you are trying to control your mate, you need to take some time to think, why am I jealous?
Has your partner ever done anything to make you rethink their loyalty? Are they capable of making their own decisions without disrespecting you? Consider the answers to these questions and do what you can to address controlling behaviors.
If you need help with how to do so, you can also work with a therapist.
4. You have an issue with self-esteem
You may be jealous in your relationship because you have an issue with your self-esteem and self-worth. You may not think that you are worth much or that people will like you. If you are affected by these things, consider improving how you see yourself.
Do you get upset if your partner talks to someone that you think is more attractive than you? A 2020 study suggests that jealousy may be provoked when a person sees people they think are better looking than them, which could lead to certain problems in a relationship.
One way to improve your self-esteem is to address your overall wellness. Start a new workout routine and start practicing mindfulness. These activities can go a long way toward building confidence.
Watch this video to learn more about self-esteem:
5. You aren't treating your partner fairly
Think about how you are treated in your relationship versus how your partner is treated. Are they the same? If they are not, it may be because you are jealous.
For example, you may be able to come and go as you please but your mate has to tell you where they are going, who they will be with, and when they will be back.
If there is an unevenness in the relationship, this can lead to more arguments and cause you to lose your fondness for one another.
Take some time to think about how you treat your partner and determine if things need to be addressed so that they can be fair. It is likely that your mate is trustworthy and doesn't have any ill will toward you.
Related Reading: 

6 Virtues That Will Make You Treat Your Partner as You Want to Be Treated
How to stop being jealous in your relationship
Once you feel like you are experiencing jealousy issues in relationships, you may want to know how to stop these feelings. This can be difficult to do, but not impossible.
When you want to stop being jealous of a partner, you need to determine why you are feeling jealous. This can help you alleviate these feelings. Moreover, it would help if you tried to think about things from their perspective. Would you like someone to question everything that you do?
Additionally, it would help if you trust your partner and yourself. You should speak with a therapist for further help if you cannot do that.
Some commonly asked questions
Jealousy can harm the relationship, so here are the answers that can help answer some of the questions about this:
How common is jealousy in a relationship?
Jealousy is rather common in relationships. Most couples will experience jealousy at one point or another. This can harm or strengthen the relationship, depending on the jealousy causes and how they are acted upon.
Always think about why you are jealous and whether you trust your partner. Have they given you a reason not to? If they have always been above board with you, this may allow you to ease some of the jealous feelings you have.
Can jealousy ruin a relationship?
Jealousy can ruin a relationship, especially if a person's jealousy keeps getting worse. Also, if your partner is jealous and they are right to be jealous, this can be detrimental to a relationship.
If you or your mate are jealous, you should sit down and talk to each other. Try to determine why am I jealous. Communicating effectively may allow both of you to build trust and improve your bond, so jealousy doesn't drive a wedge between you.
Final takeaway
There are a handful of reasons to consider when you are wondering why am I jealous. Some of the most common reasons are listed above. Additionally, there are suggestions on what to do when experiencing jealousy in your relationship.
Be sure to always talk to your partner about your feelings, keep communication open, and work with a therapist when you feel this will help you. You don't have to keep questioning why am I jealous when there are ways that you can fix this and hopefully improve your relationship.
Share this article on
Want to have a happier, healthier marriage?
If you feel disconnected or frustrated about the state of your marriage but want to avoid separation and/or divorce, the marriage.com course meant for married couples is an excellent resource to help you overcome the most challenging aspects of being married.
More On This Topic
You May Also Like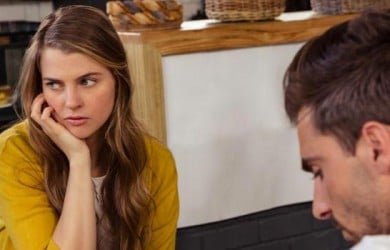 Popular Topics On Married Life