How Do Women Flirt: 8 Flirting Signs From a Woman
Women usually like being chased by men of their choice. It is a general perception that women like being approached, and that women love to make men come after them.
All the things stated above are surely true to a T. Though there is no full stop to it, the matter is not closed at this point. There are some closely connected facts concerning this subject.
Women often get mesmerized by men, and they try to let them know of it through flirting signs from a woman. When a woman is interested in any man, she doesn't shy away from letting him see the truth of her heart with female signs of flirting.
When a woman gets captivated by some man's charm, she expresses some gestures to exhibit her feelings for that man. However, the gestures women show or flirting signs from a woman, and the gestures a man extends are poles apart.
But how do women flirt with men?
To understand women better, let's see how women flirt-
1. A prolonging and intense eye-contact
If she prefers looking into your eyes while talking, she might be trying to apprise you of her interest in you. Women who flirt usually look into your eyes while conveying their thoughts and feelings. In that case, she might be trying to find your consent.
If a woman makes direct eye contact for a long time, she might be interested.
Eyes do the talking when it comes to flirting signs from a woman.
Women are more expressive through their eyes than they are with their words.
2. Hair-flip is a strong signal
What are married woman flirting signs?
Women give out signals when they like somebody.
Married or unmarried, they impart non-verbal signals to let the other person know that they want to flirt, and this is how women flirt mostly. If a woman runs a hand through her hair while exchanging a word, this could be flirting signs from a woman.
Women are accustomed to playing with their hair, but they have a reason for that when they are doing so. They never do it without some compelling reason. When you see a woman doing things to her hair while being with you, she is prompting her notions.
3. Blushing, broad smiles, and laughs
There is something fishy if her cheeks turn pink, and she blushes throughout the conversation. If things you say make her blush, she's certainly interested in you. It happens to be one of the crystal clear flirting signs from a woman, ensuring her affection and interest.
Girls blush more often when they are with the man of their preference.
Sometimes, they get to blush without an apt context in the company of the right man. That is the most natural way of disclosing the likelihood of women flirting.
If she smiles more than the usual, it is a strong expression. If she laughs at your jokes more than you expect somebody to laugh, she really likes you.
Smiles and giggles guarantee that she's flirting.
4. Pretending to avoid
Men are from Mars, and women are from Venus.
If a girl is highly interested in you, she would still try to hide it from you. This might sound strange to men, but it is absolutely normal for women and one of the flirting signs from a woman.
If she does strange things to conceal her feelings, she might be trying to avoid you. When a woman tries to avoid a man, she actually wants that man to ''notice'' her avoidance.
5. Attention seeking attempts
When a woman makes efforts to grab your attention, she is definitely attracted to you. She is excited to see you around and does not want to lose a chance of catching your eye. You will know this is her style and how she flirts with the one she has her eyes on.
If she desperately seeks your attention, she makes every possible effort to notify you of her intentions, which acts as one of the flirting signs from a woman.
6. Mimicking your likes and dislikes
How to know when a woman is flirting with you?
If a woman takes a deep interest in what you like and dislike, she might be trying to stand in your shoes. She might be willing to see things through your optics.
If a woman implies that she does what you do, and she avoids what you don't opt for, she is merely trying to fit in.
Meanwhile, if she advances towards your preferences and tries to relate, she is surely flirting.
7. Touch during conversations
One of the flirting signs from a woman is that they will touch your shoulder or hand while having the conversation. Light or accidental touches, while you both are sitting or having a walk, can be the way for them to show that they are interested in you.
Such touches are also a signal that is sent to the brain that shows attraction. Not just this, they also do not shy away from moving closer to you.
Women usually shy away from being physically close, but when they are interested in you or want to send flirting signals, they will move their body closer to yours.
If she is the first one to like or comment on your posts on social media, she is seriously interested in you. Liking one or more posts can be normal, but take it into account if she is liking all your posts in a row without missing any.
Digital flirting makes it easy for people behind the screens to approach each other and test the waters before making a serious move.
In the video below, Aaron Marino shares how to initiate flirting through texts. The way that we communicate has changed the game. He presents ten tips for flirting while texting. Take note:
Notice this pattern, and you may show your interest to her, too, by commenting and liking her posts and thereby starting some conversations out of the blue.
Share this article on
Want to have a happier, healthier marriage?
If you feel disconnected or frustrated about the state of your marriage but want to avoid separation and/or divorce, the marriage.com course meant for married couples is an excellent resource to help you overcome the most challenging aspects of being married.
More On This Topic
You May Also Like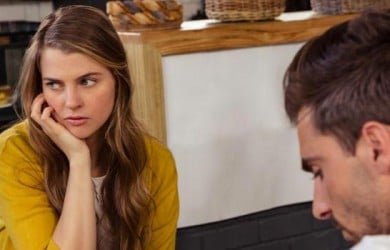 Popular Topics On Married Life