Characteristics of a Toxic Person and Relationship
Your relationship started great. You met a terrific guy, and everything seemed to click. You looked forward to your time together, he made you laugh, made you feel special.
But, as the months progressed, you started noticing some changes in his personality. The compliments he used to give you have become more like criticism.
Instead of arriving early to your dates, he now shows up late or sometimes texts you at the last minute, saying he can't make it at all.
You begin to dread spending weekends with him because you go back to your place on Sunday night feeling…well, just bad about yourself. You feel like you are settling. Why is this?
You might be involved with a toxic person.
Characteristics of a toxic person
Toxic people are those who consistently bring you down instead of building you up. Their negative energy seems to penetrate your well-being, making you feel depressed and drained by being around them.
Some examples of toxic behavior include
Selfishness.

Toxic people take, take, and rarely give anything to their partner: not time, not support, empathy, or even a listening ear. It's all about them.

They are draining to be around.

One of the traits of toxic people is their Debbie Downer personality. They complain a lot and never see the positive in any situation. Your

mental health suffers

because being around this type of negativity can pull you into a downward spiral.

They are untrustworthy. Lying is a toxic trait. If you discover your partner consistently lies to you, this could be a sign you are in a toxic relationship.

Another characteristic of a difficult person is that you feel their

constant judgment.

Toxic people need to belittle or criticize others. It's a way for them to feel better than you. No one wants to be in a relationship where they feel not good enough, right?

They lack empathy.

Toxic people are unable to put themselves in another person's shoes. As such, they have no pity for those less fortunate and allow themselves to freely mock, criticize, or denigrate people.
If you are in a relationship with a toxic person, don't expect them to take care of you, should you become ill or lose your job. They are not capable of being generous.
Also Watch: The traits of a self-absorbed partner.
Is being toxic a personality disorder?
Some might say yes. How do you deal with toxic people if this is a personality disorder? One way is through communication.
Toxic people have very bad communication skills. If you are in a toxic relationship, you probably have noticed how poorly you and your partner communicate.
You might feel that opening up a conversation is immediately perceived as threatening by your toxic person.
They may even walk away when you try and talk things out. So you must approach this with determination, specifying that you need to communicate openly and honestly with them.
Characteristics of a toxic relationship
If you are asking yourself if you are in a toxic relationship, there is a good chance you are if:
You avoid spending time with your partner because

your time together is not uplifting.

Why stay in a relationship that is not life-enhancing

?

There's always some drama happening in their life.

Your toxic person never has it easy. There's always someone who is cheating him, or not recognizing his greatness. He is misunderstood at work (if he has a job) and accuses you of not understanding his plight in life. Do you want a relationship that is always on rough seas, never having a moment of peace and calm?

You find yourself accepting behavior from your partner that goes against your ethics and principles.

For instance, your partner stole something from a department store. When you told him that that was wrong, he laughed and said, "oh, they make so much money off of us; it doesn't matter." You don't challenge him. And by staying silent, you feel awful.

You have a sense that you are settling for this relationship because you don't want to be alone.

You know in your heart that this toxic person is not right for you, but you fear being single, so you overlook his toxic personality until your well-being starts to breakdown.

Your toxic partner undermines your sense of worthiness.

He tells you you would be so much prettier if you lost a few pounds. He never says he is proud of you. He denigrates your friends and family. He tries to separate you from them. He tells you only he knows how to love you, and nobody else will. You have

lost your own identity

to this toxic person.

You are unhappy.

Healthy relationships booster your happiness quotient. A relationship with a toxic person reduces your happiness. Not only do you feel unhappy when you are around your toxic partner, but this general unhappiness is seeping into other parts of your life. You rarely laugh anymore or feel silly and light. It's like this toxic person is constantly there, a dark shadow cast over you.
How to deal with a toxic relationship
What can you do when you find yourself in a relationship with so many toxic traits?
If you recognize any of these toxic people signs, try and avoid them at all cost., that is a good first step to restoring your own identity and mental health.
It would be helpful to pull back and take a good look at your life. Your well-being is too precious to have it destroyed by engaging with a toxic person.
Let them be them, and you be you. You are worth much more than the toxic person is giving you. Spend some time on yourself and take stock. You deserve better than this.
Share this article on
Want to have a happier, healthier marriage?
If you feel disconnected or frustrated about the state of your marriage but want to avoid separation and/or divorce, the marriage.com course meant for married couples is an excellent resource to help you overcome the most challenging aspects of being married.
More On This Topic
You May Also Like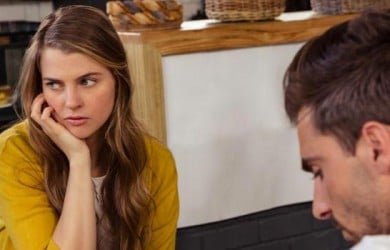 Popular Topics On Married Life