4 Ways to Overcome Dating Anxiety and Fear
With recent events, many single folks have been experiencing isolation and loneliness. A global pandemic doesn't exactly set a helpful tone for romantic relationships. But you want to date. You want to find love – and you deserve that love you're seeking.
However, you may be struggling with dating anxiety and fears. What do you say? How do you stop giving up on this one thing you've always wanted? There's a way. It starts with understanding yourself.
Keep reading to know a little more about anxiety when dating someone new and learn some tips on how to overcome how to overcome dating anxiety. It's called sarmassophobia.
What is sarmassophobia?
Sarmassophobia is a big word with a big meaning. It basically means fear of wading in the waters of love. This could be traced back to childhood or even a traumatic event in adulthood. It involves extreme anxiety around situations that could lead to a meaningful, loving relationship.
It is basically dating anxiety disorder.
This dating anxiety can present itself through shortness of breath, rapid heartbeat, and excessive sweating. Those are just the physical symptoms. Behaviorally, you may self-sabotage by initiating contact and quickly reverting to your comfort zone and ignoring text messages and calls, even blocking the person you're so interested in connecting with. It can be confusing and painful.
You're not alone. 15 million people in the U.S. are affected by dating social anxiety, according to sources. Exposing yourself to another person can feel completely overwhelming.
What if they don't like you?
Or worse – what if they outright tell you they don't like you? What then?
It's not easy. This fear can prevent you from being open and willing to share about yourself. Dating anxiety can make you appear awkward to others, and it can inhibit your ability to form relationships.
So, how to deal with dating anxiety? Let's find out.
1. Start with yourself
To truly connect with another person, you must be honest. While there are plenty of gimmicks and pick-up lines available to try, they are not sustainable for long-term relationships. For overcoming dating anxiety, practice being truthful and vulnerable.
This is a thousand times easier said than done, but the rewards are endless. For example, if you're on a first date and feeling nervous, instead of pretending you're not nervous, say, "I'm Nervous!"
This vulnerable act levels the playing ground and shows who you are. There is no need to present a false persona while dating. Certainly, don't divulge all your secrets on a first date but keep it as real as possible.
Your date, who is also probably hiding some nervousness and anxiety, will feel relieved and more connected if you're honest about how you're feeling.
While it is difficult to be "seen," it is the kindest and most intentional act you can engage in. Does your date look stunning? Tell them! Disclosing who you are, what you think, and how you feel is the best way of dealing with dating anxiety and engaging with a new partner.
2. Everybody judges
It's true. Every single person is constantly making up their mind about others. Some people click, and some people clash. This is a reality you must accept. However, just as you tend to be preoccupied with your thoughts and assessments of others, most people are doing exactly the same thing.
When you disclose bits and pieces of who you are, you are offering yourself up for judgment. Judgment is not a bad thing, though. It is the way humans determine who is and isn't aligned with their own values and perceptions.
So, how to calm dating anxiety?
You may feel excessive fear about being misunderstood or perceived negatively by your date– the beauty of being honest is the ones who are aligned with you will stay. Honesty provides a space for you to determine who is with you and who isn't. Some people will fall away, and that is always okay.
3. Know who you are and what you offer
If you haven't taken the time to jot down all your amazing qualities, do that today! Maybe you're an artist, a whiz with math, or the kindest friend in your group.
Take time to acknowledge how remarkable you are and realize that you're not auditioning for love when you go on a date. You're only looking for who is compatible with you. You have gifts and talents that the right person will acknowledge – and here is the most important part: when that person sees what you have to offer, they will reciprocate.
It's a dance.
You'll both be engaged and active, and you'll experience harmony together. If you walk into dating without knowing who you are and all the killer abilities you have, you'll feel insecure and unworthy. But you are worthy.
The video below discusses tips that will help you realize why you are good enough. It's not so much about what you feel but what you do with that feeling that matters more.
So, if you have anxiety from dating, take that time now and write down why you're worthy so you can feel strong and secure when engaging with others.
4. Gentle reminders
Overcoming fear and dating anxiety is no easy task, especially when you put your heart on the line.
If you are dating with anxiety, remind yourself of your worth. When your brain interjects with a thought that spells catastrophe, realize it's just a fear-based defense mechanism. You can rewire your mind with positive affirmations.
When you're thinking, "They won't like me; I'm so scared," replace that thought with "I am worthy whether or not they like me; I am proud of myself for being courageous." You have to be your own best friend.
These thoughts and feelings that overwhelm you can be combated with awareness and self- love. Notice when you're spiraling and make a conscious effort to be kind to yourself. Connection is a vital part of the human experience.
Brene Brown, a shame and vulnerability researcher and author, describes the phenomena of connection:
"True belonging does not require you to change who you are; it requires you to be who you are."
Who you are is enough right now. Ground yourself into this understanding and be willing to see others as they are as well. Dating isn't meant to be a performance; it's a chance for true connection. Be yourself, laugh at yourself, and laugh with your date. You already know how to be you – dating is just a chance to share who you are with another.
Share this article on
Want to have a happier, healthier marriage?
If you feel disconnected or frustrated about the state of your marriage but want to avoid separation and/or divorce, the marriage.com course meant for married couples is an excellent resource to help you overcome the most challenging aspects of being married.
More On This Topic
You May Also Like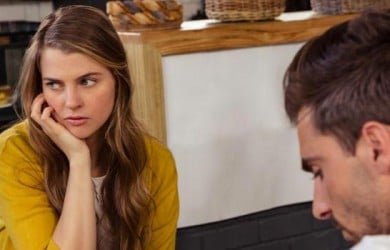 Popular Topics On Married Life