20 Ways a Guy can Turn His Love Legendary
From his upcoming book: Marriage Advice from a Divorced Guy / 50 Ways to Woo your Lover / With Notes from his Ex-Wife
Marriage books are full of sage advice: How to love, cherish, respect, impress, and satisfy your partner. None of them will tell you what NOT to do and definitely none of them will mention things men do that make women fall deeper in love with their men.
Here are a few things a guy can do to make a girl really happy and things they should stay away from, at any cost!
Do not forget anniversaries, birthdays, and special occasions – Remember these even if you have to tattoo them on your wrist.
Do not lose attention to her – She could be talking about a new dish for dinner, what one of the kids did at school, why do we need to buy a different car, why we must enroll the other kid in music lessons, or why her purse is too small and she needs to buy purse number one hundred and sixty-four. Be engrossed, and be sincere.
Do not hide your feelings – Do whatever you can to cause her to say, "Guess what my husband did last night? He communicated his feelings." The statement will travel from house to house like wildfire. You will be smiled at, hugged, gazed at deeply, and invited to dinners where you will address those feelings in front of the local husband. You will become a show and tell, "Why can't you be like him? He COMMUNICATES his feelings."
Do not sit on the lonely chair in front of the department store – Embrace these sayings, "Yes honey, that looks divine on you," or "You seem to have lost some weight," or "Of course we can spend (Insert however many zero's here), what's important is you like (insert whatever she wants to buy here)".
Do not be aloof – We are still men with caveman behaviors like scratching, burping, spitting, working on cars, or anything having to do with tools. At the same time, be keen to her stories. It could be the one about her mother you have heard a hundred times. Look her in the eyes, and hug tightly.
Do not just love, but love passionately – How do you know if you love passionately? You want to get goose bumps, forget who you are, lose your balance, or feel an out-of-body experience. Dig deep and find the heat hidden in the folds of your being.
Do not own the remote control – You will enjoy that chick flick and discuss afterwards
Do not control who your dinner mates are – If she is crazy about her girlfriend, you HAVE to like the corresponding guy.
Do not reject what she likes to eat or drink – Brussels sprouts? Yum. Hot Jasmine and Lavender tea? Double yum.
Do not watch the rest of the game, but do the dishes instead.
Do not forget about her wishes. Tend to them before working on yours.
Do not hold laughter. Women love it when we take things lightly.
Do not only take, give passionately.
Do not do wrong, at least try your hardest. You don't have to be a saint, although being a near-saint is good. Much of sainthood is doing unto others.
Do not go out with the guys before she goes out with the girls. The night when she has fun with her friends will be delicious.
Do not dread songs like Song of Summer, Mermaid Net, Flamingo's Dream, Spirit Whisper, and Seduction; those are all paint names. Speaking of seduction, do not to ask for sex when she doesn't have the desire, and learn her subtle ways of achieving pleasure.
Do not let go of your physical appearance. Compliment hers several times a day.
Do not complain about the number of pillows on the bed. Not the ones you sleep with, but the pillows you move aside so you can get in bed. At one point during my marriage, I counted 12. Also, never discount the "cotton count" of the sheets. Buy 800 or higher; Egypt is legendary for more than the pyramids. These sheets make for scrumptious snuggling.
Do not be negative about anything she does, including what she wears, paints on her face, dresses the kids with, prepares for dinner, buys for the house, plants in the garden, listens to, reads, sprays the furniture with, or drapes over the windows.
Do not allow the Law of Entropy to mess with your love life. This law says that everything will decay without proper care. Love is a verb, it takes a lot of action to master its multi-fasciated chambers. Care for your love.
Little things men adore about the woman they love
Learn what NOT to do, and you will walk into the sunset holding hands on one side and canes on the other, and younger folks will ask about your secret. If you are that woman, you could speak about love, communication, trust, understanding, and all the other great attributes. If you're the man, you will get this dazed look in your eyes, "What secret? I just say, 'Yes, dear.'"
What's important is not what you want, or what she wants. What's important is you tend to what she wants, before addressing what you want.
Heeding the advice given here will transform your love from what is expected to what is unprecedented, and from one articulated with a peck on the cheek, to a marriage celebrated with steamy nights and foggy windows.
Share this article on
Want to have a happier, healthier marriage?
If you feel disconnected or frustrated about the state of your marriage but want to avoid separation and/or divorce, the marriage.com course meant for married couples is an excellent resource to help you overcome the most challenging aspects of being married.
More On This Topic
You May Also Like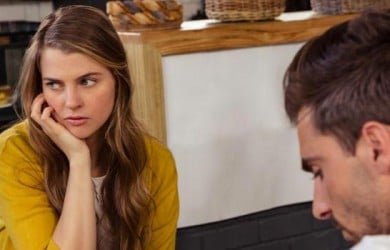 Popular Topics On Married Life