What to Do When Feeling Unwanted in a Relationship?
Amelia Earhart, the first female aviator to fly solo across the Atlantic, is best known for her aerial feats.
What is far less known is her quotation about relationship loneliness: "Being alone is scary, but not as scary as feeling alone in a relationship." The aviator expressed something most people fear – being alone.
Very closely related are the feelings of being unwanted in a relationship.
Let's look at a scenario. You are in a committed relationship and all is seemingly going well when one day a strange and unwelcome thought crosses your mind for no apparent reason.
It goes something like this, "I feel unwanted. I don't know why. I just have this strange feeling. This does not feel good." Hopefully, this scenario nor nothing similar ever happens to you, but what if it does and where has it come from?
Indicators that you may be becoming unwanted in your relationship
You go out less. Maybe you used to have a weekly date night, but your partner keeps postponing or canceling.

Your sex life has dwindled or has even ceased to be.

You no longer do special things for one another (the "for no reason" bouquet"), the surprise bottle of your favorite wine, the impromptu trip into the city, the unplanned weekend trip to the mountains or beach, etc.

Your partner is constantly reshuffling dates and/or times you were supposed to have met.

Your partner's friends and their concerns are taking up a good chunk of what used to be the time you spent exclusively together.

Your partner never texts first anymore.

Your partner is always busy or "special projects at work" suddenly appear.

Your partner's family members suddenly have illnesses which require your partner to attend to. (And if the "family" member is thousands of miles distant or in another country, you might as well write off this relationship altogether.)

Your partner is hesitant in letting you borrow his phone for any reason.

Pet peeves are forming part of your conversations.

Your partner is spending increasingly more time at work.

The long-range plans (trips, where to go for the upcoming Thanksgiving, Christmas or other holidays) you have discussed excitedly before, your partner either changes the subject or is very fuzzy about making reservations.

You have the feeling you have been downgraded to "friend" status from your previous status as a romantic partner in a committed relationship.
Looking for the proof
Natalie had started to see signs that perhaps she was becoming unwanted in her relationship with Gordon 28, an accountant.
They had been dating exclusively for over four years when all of a sudden it seemed to Natalie that something was wrong, but she was unable to determine exactly what it was. "You know like in movies where you see the character opening the door with the monster behind it and you're thinking 'Don't! Don't open that door! Run away as fast as you can!', well, that's how I was feeling as I looked at his wallet sitting on the nightstand when Gordon took a phone call out of our room," Natalie sighed.
The 26-year-old software developer continued, "I knew I shouldn't look, but I just could not stop myself. I found condoms. Now I'm on the pill, so why would there be condoms? She continued, "He had been acting differently, and I was sensing something was up, and I was getting the distinct feeling I was becoming unwanted, but I hadn't thought he had been sleeping with someone else.
That was it.
He returned from his call, and I asked him to leave. No playing second fiddle for me." While many times one's self-esteem can take a hit when one feels unwanted, Natalie demonstrated the self-confidence to get confirmation that all was not right with her relationship, and utilized her inner strength and self-value to leave the relationship.
One way to address rejection or feeling unwanted in a relationship
Every relationship is different, and everybody will handle feeling unwanted and rejection in their own manner.
That being said, Helen Claymer, offered up this advice. "I knew something just wasn't right, but I am not the sort to start looking for physical evidence, you know, receipts in pockets, searching through his texts and telephone numbers.
That is just not me.
I decided that we would talk uninterrupted and be honest with each other. We both talked clearly, and like that movie title, I found out he just wasn't into me. (Literally, too. We hadn't had sex in over a month.)
We discussed the emotional impact it was having on me, and he listened but clearly, this was the end. It would have dragged on forever unless I had asked for this talk. It wasn't resolved the way I would have liked it, but it allowed me to move on.
When I was feeling unwanted in the relationship, I thought it was better to have this over and done with, so I can move forward to better things." Helen's request for an honest conversation resulted in a breakup, but she also feels it was the right thing to do.
What happened to the future?
When you feel unwanted in a relationship, one of the most common thoughts you might have is wondering about the future.
You wonder if there even is a future with your partner. All those plans you had made, both talked about excitedly with your partner and not yet spoken about with your partner, well, all those plans now seem rather doubtful.
The future with your partner itself seems rather grim and hazy.
What to do
Again, everybody has a unique relationship, and dealing with the uncertainty of the future together should be addressed sooner rather than later.
Sooner because it is better to know the status of your relationship. It is time to get it back on track if you both are committed to it, or to end it so that you can start afresh and not have to deal with feeling unwanted and having a rather nebulous future.
Share this article on
Want to have a happier, healthier marriage?
If you feel disconnected or frustrated about the state of your marriage but want to avoid separation and/or divorce, the marriage.com course meant for married couples is an excellent resource to help you overcome the most challenging aspects of being married.
More On This Topic
You May Also Like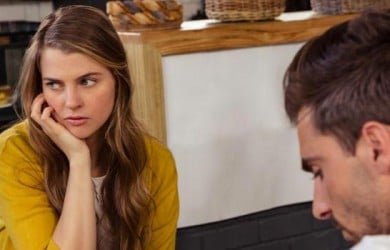 Popular Topics On Married Life