9 Effective Tips to Maintain a Relationship Under Quarantine
For the first time in the history of humankind, more than a billion people all over the planet found themselves enclosed in their homes isolated from their usual circle of friends. The reason for this is the rapid spread of the coronavirus, COVID-19.
Statistics say that the rates of divorces in China have spiked considerably during the quarantine caused by the notorious virus. Indeed, a vast number of people were locked up for a long time at home with all their relatives: wives and husbands, children of different ages, and sometimes representatives of the older generation.
Not every couple is capable of spending so much time together and maintaining relationships with each other and the family in the right way. Many people keep the relationship alive by communicating with their partners for several hours in the evening and on weekends. During the period of self-isolation and social distancing, the transition to round-the-clock contact without interruptions can witness relationship ups and downs, and any incompatibilities may be in the spotlight.
The world's psychotherapists have undertaken numerous researches to study the roots of the problem and come up with a list of useful tips to maintain relationships with your significant other.
1. Change your perception
First of all, change your perception of quarantine as forced self-imprisonment into the free time that can be used for personal growth and development, entertainment, and communication with family and friends.
This will help you lower stress and relieve tension, which in turn will definitely improve the quality of your life and the overall help overcome hard times in the relationship. It is essential to find and take your position in relation to what is happening. The best thing you can do on social networks is to choose the circle of people you'd enjoy maintaining relationships with. Cut off toxic characters, at least temporarily.
The common space 24/7 without the possibility of contact with the outside world, anxieties, and far-fetched fears, constant tension – all of these effects on mental health are transmitted to our relationships. As a result, it becomes easier to concentrate our anger on the person closest to us at this moment as we cannot express our emotions to the outside world.
But, think if it is reasonable to push your beloved one away on the edge of emotions instead of rallying together to survive hard times.
2. Do not devalue the quarantine time
Of course, you may take your time and dedicate it to the TV show you never could watch or take a short break from your work and rest in the lap of nature.
But it is essential not to waste all the quarantine period and take advantage of it. Take some professional courses, take care of your body, learn new languages, maintain relationships, and spend more time with your family via the internet, and so forth.
The thing is that the modern world has so much to offer to every self-isolated person, just find what suits your interests and needs best. It would be great if you found some activities that would be interesting for both of you and help sustain the relationship.
3. Keep challenging yourself
Three weeks without small victories is torture for an adult and completely unbearable for a child. At the time of quarantine, it is necessary to think over the goals that can be achieved and create for yourself and loved ones small difficulties that need to be overcome.
For a child, these may be new self-reliance skills. If you want to understand how to make a relationship work, forget about criticism and "instructing" each other in the family. On the contrary, keys to loving relationships include that you should work hard to get yourself (and give others) the recognition that we all need every day. Do not skimp on praise, even if they are a little upfront. It is important for all family members!
4. Be honest about your feelings
Honesty and sincerity is the key to maintaining relationships. Do not be silent. Share experiences, anxieties, and fears. Do not make fun of your partner's feelings. Do not expose him or her as a panic-monger or a fool. Support and attention are two essentials that give life to maintain relationships going through hard times.
How to maintain relationships in tough times?
Be patient and attentive to your partner. Listen to them. Keep the environment of your house positive. Share, negotiate, try to find a compromise and talk about yourself, without shifting resentment to the one next to you.
5. Devote time to your family
The psychologists recommend devoting time to family and relationships during quarantine, to get to know each other anew, to build joint plans, to do something that you have never had enough time to, and generally remember why and what for the two single hearts once decided to be together.
If you are always wondering how to maintain a relationship, know that this is a perfect time!
Organize romantic evenings just for two of you, take a little trip on your car to some remote places in nature, and have a romantic picnic. Do online shopping together or plan your next vacation.
6. Engage in common activity
Before planning something new, think of some household chores that you always postponed or didn't have time or desire to do, such as sorting out the wardrobe, painting the fence, or cleaning windows. Common work unites people and can turn into quite an enjoyable pastime.
These small indoor activities will help you maintain a healthy relationship, let you unwind, and get a sense of purpose and satisfaction from the results of your work.
7. Respect your partner's personal space
While enclosed in one apartment 24/7, it is always important to give each other personal time and space. Spending quality time together is very enjoyable.
However, all the people need some time to themselves. To read a book, to sort out thoughts, meditate, or quietly lay on the bed. That is why don't be very hard on yourself and your significant other, because in such a hard time, a lot of us will need some time to deal with the emotions in privacy.
If your loved one decides to spend time watching TV shows, don't start proving that online education would be so much more efficient for him/her. Instead, find something exclusive that pleases you. In the evening, you may discuss your different or identical days and keep the relationship healthy.
8. Outline the rules and responsibilities
What to do when you're going through a hard time?
This is a trying turn of events!
And if you seek an answer to how to make the relationship last, you must outline the rules and responsibilities of both of you and don't interfere with each other's zone. These may relate to the need for one of the family members to work from home. They may relate to the time you spend together.
The first rules that are easiest to agree on are household rules. Someone may take responsibility for cooking and choosing an evening movie. The other might be in charge of cleaning the house and doing grocery shopping. This will help you avoid a lot of conflicting situations because only one of them will be responsible for a certain sphere.
There should not be many rules. Five to six are enough to sustain the peace and maintain the relationship. But it is imperative to follow them.
Chaos does not even come because of people being in the same apartment, but because every day looks like a groundhog day, you think:
"I'll wash the dishes later."
"Lessons can be done after dinner."
But sooner or later, this will put lots of strain into your relationships. Everything should have a time frame.
9. Respect your partner
One of the relationship advice for couples is respect for the partner, for their interests and desires. As long as there is respect, there is love.
Remember this; constantly ask yourself,
"Do I respect my partner enough?"
"Will I like to be treated the same way?"
A deeper goal of all relationships must be to maximize positivity in the relationship and minimize the negativity.
Learn more about respect in the relationship here:
Conclusions
There are two variants of this quarantine ending:
Either you will get to know each other better, strengthen your connection and work out your relationship

Or conclude that the decision to live together was a mistake. It all depends on you two, and it is solely your responsibility to keep relationships on the positive level and not let unpleasant circumstances ruin your family.
The pieces of advice given in the article are useful not only for the quarantine period but also for everyday life as they promote efficient human communication fundamentals.
In other words, no matter what happens – always treat your significant other the way you would like to be treated in return, listen to your beloved one, communicate, and enjoy your time together.
Share this article on
Want to have a happier, healthier marriage?
If you feel disconnected or frustrated about the state of your marriage but want to avoid separation and/or divorce, the marriage.com course meant for married couples is an excellent resource to help you overcome the most challenging aspects of being married.
More On This Topic
You May Also Like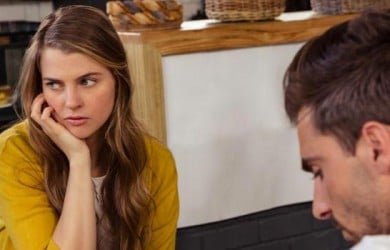 Popular Topics On Married Life