Sharing the Same Expectations in Marriage: Is it important?
When we talk about marriage, we imagine lights, flowers, and two people entirely in love. The picture is so beautiful, we seldom think about the things that make a marriage, the factors that we often overlook; but are so significant.
A lot of things can make or break a beautiful bond between two people who promise to part only after death; one such thing is having expectations in marriage
So the question is; is it important to have the same expectations in marriage? How to handle unmet expectations in marriage?
The answer to this age-old question put simply is very complicated. Many argue that two people who don't share the same view cannot be compatible in the long term; while some say otherwise with their own marriages as solid proof. The truth is, life isn't this or that; it's a delicate mess of both. Let me elaborate.
Why sharing the same expectations is important
Before we look at the other side of this, we must understand that when two people decide they want to spend their lives together, they must have some level of understanding along with healthy relationship expectations. This means that for many things, they share the same realistic marriage expectations. So, in essence, some expectations in a marriage are important.
Sharing what are healthy expectations in a marriage is important because they have numerous, important benefits. When you and your partner have a similar way of looking at life and expect the same things from each other, you respect each other more, and your interactions become more loving.
The crucial thing here is that expectations in marriage should evolve as your relationship with your spouse does as well; you change as you grow together; if you have the same expectations as before, that is where the problem starts.
What to expect in marriage
It is often hard to really understand what to expect in marriage from your spouse and what not to expect. So, we've made it easier for you. Read on:
Expect Fights!

This is a given, you're co-existing with another individual, but what you should expect is to always to discuss matters in a mature manner.

Expect disappointments and let downs

. Life happens to all of us, we all are human, and so is your partner. When you both decide to expect forgiveness, your marriage will be a happier one!

Expect differences. As we mentioned above, no matter how similar you both think; there are bound to be some differences and conflicts. Expect respect, and give respect.
Expect unrelenting loyalty and love!

We saved the best for the last, you're marrying the love of your life, and love is to be expected.
Common Expectations in Marriage
There are many common marriage expectations during the start of a marriage. Also, over the years, the couple develops new realistic relationship expectations while living together. Below are some reasonable expectations in marriage that most couples will relate to. Take note:
One of the marital expectations is responsible financial planning by the partner. Every partner has several questions running through their mind.
Is my partner a spender or a saver?
What are my partner's financial goals?
What are my partner's financial habits?
Some of the career-related realistic expectations in marriage include how the couple will manage home if both have full-time jobs. Also, one partner might also be having expectations in a relationship that their partner will willingly relocate with them in case of a job transfer.
Extended family expectations
Partners will have certain behavioral expectations from the other one in front of their family like spending certain hours with the family, the celebration of occasions, level of involvement and communication, etc.
Each partner might have reasonable expectations in a relationship in terms of romance. They might want some things in the bedroom while would not appreciate certain activities. It is important to communicate about these beforehand.
There could be some realistic expectations in marriage regarding kids like one parent might want to raise the kids in a particular way and would need the other one's support. There might be certain desires in terms of schooling.
How expectations can become problematic
It is normal to expect positive things from your partner. You're marrying them for all their good traits, promises of a better, loving future together, and prospering with each other. The problem arises when you have too many high expectations from a person, who at the end of the day can only do so much as a human.
The video below explains expecting that a romantic partner could answer all of our needs might sound very beautiful; but such idealism is in reality rather counter-productive, rendering us impatient, angry, and ultimately bitter and why it is important to expect less.
When we expect too much, we are often leading ourselves to disappointment, which turns into resentment and that is why many marriages often fall apart. One of the most destructive things people do is wanting more from the other person. "I wish you earned more," "You shouldn't eat that" wishes like these can really take a toll on the other person, and on your view of a problem-free life, you should not expect from your partner more than what they can give you.
If you expect your partner to act in a certain way, your life to pan out in a particular manner, then you are expecting too unrealistically, and you need to adjust, compromise, and learn how to forgive. Look at it this way, if your spouse expects too highly from you all the time, wouldn't you be aggravated?
Share this article on
Want to have a happier, healthier marriage?
If you feel disconnected or frustrated about the state of your marriage but want to avoid separation and/or divorce, the marriage.com course meant for married couples is an excellent resource to help you overcome the most challenging aspects of being married.
Learn More On This Topic
You May Also Like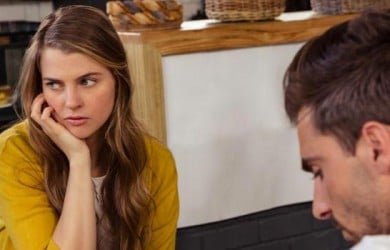 Popular Topics On Married Life