What Is Self-Gaslighting? Signs and How to Stop
Self-gaslighting occurs when an individual deceives oneself, warps their perception of reality, and casts doubt on his or her thoughts and emotions. It's a situation that can severely affect daily living; hence, addressing the issue is crucial.
This article discusses the phenomenon of self-gaslighting, provides some instances, outlines some indicators, and suggests ways to overcome it.
What is self-gaslighting?
When people engage in self-gaslighting, they distort or deny their reality, sensations, or emotions. Gaslighting yourself meaning entails casting doubt on one's senses, recollections, or emotions, causing one to lose faith in one's abilities to make sound decisions.
Unresolved trauma, poor self-esteem, or external factors that cause the individual to question their sanity or validity are common causes of this type of internal manipulation.
So, how to gaslight yourself? In self-gaslighting, individuals may invalidate their emotions, blame themselves excessively, or suppress their instincts. They may downplay their achievements and magnify their failures, fostering a negative self-image.
Recognizing self-gaslighting is crucial for maintaining mental well-being, as confronting and challenging these self-deceptive thoughts can restore self-trust and promote healthier self-reflection and understanding.
Examples of self gaslighting
There are several self-gaslighting examples. When someone succeeds or earns acclaim, they may be gaslighting themselves by telling themselves that it was all luck or the consequence of someone else's assistance, refusing to recognize their skills.
Another example is when someone is mistreated or abused and places all the responsibility on themselves, thinking they deserved it or were at fault for the issue. Their self-esteem is damaged, and this internalization of blame hampers their capacity to see their genuine worth.
Additionally, self-gaslighting happens when people conceal their emotions by persuading themselves that they are unjustified or illogical. They may try to hide their suffering, fear, or despair because they believe they need to be more challenging or less sensitive.
Unresolved conflicts and mental anguish may result from this self-inflicted emotional denial. Awareness of these self-gaslighting habits is critical to promoting self-compassion, healthy self-perception, and emotional well-being.
9 signs of self-gaslighting
Self-gaslighting, a subtle yet damaging psychological behavior, involves individuals deceiving themselves, distorting reality, and questioning their thoughts, feelings, and perceptions. These internal tactics can profoundly impact one's mental and emotional well-being.
Understanding self-gaslighting signs is crucial in addressing and countering this harmful behavior. Here are nine common symptoms to watch out for.
1. Dismissing your feelings
Consistently rejecting or downplaying your feelings might result in emotional repression, worsening your misery and cutting you off from your inner self.
2. Doubting your memory
It is possible to lose faith in your memory and perspective if you are constantly questioned about the events or conversations you remember, even while others validate your interpretation of the facts.
3. Blaming yourself
Shouldering blame not warranted for circumstances beyond your control or the mistreatment you get from others can result in low self-esteem and a mistaken sense of responsibility.
4. Minimizing achievements
Playing down your accomplishments and attributing them to chance or other outside influences restricts you from recognizing your skills and efforts, which stunts your personal development and keeps you from realizing your full potential.
5. Ignoring red flags
When you ignore red flags in relationships or situations, you risk your health and safety while trying to convince yourself that your gut instincts are incorrect.
6. Constantly seeking validation
If you base your sense of self-worth almost entirely on accepting others, you may find yourself caught in a never-ending loop of seeking that approval, which may leave you feeling empty and dependent on the judgments of others.
7. Creating false narratives
Constructing alternate explanations for unfavorable situations protects you from addressing unsettling facts, which impedes personal development and self-awareness on your part.
8. Engaging in harmful behaviors
Self-sabotage might include acting in destructive ways or impeding growth to keep oneself from realizing one's full potential. These actions result from low self-esteem or a fear of making errors.
9. Criticism to an extreme level
Anxiety, self-doubt, and poor self-esteem can result from excessively criticizing oneself, overanalyzing one's past behaviors, and engaging in negative self-talk. This can lead to a cycle of negativity in one's life, as each step feeds into the next.
How to stop self-gaslighting: 9 ways
Breaking free from self-gaslighting, a detrimental behavior that distorts reality and deceives oneself, is essential for nurturing mental and emotional well-being. Identifying and addressing this pattern is the initial step toward growth and healing. Here are nine empowering approaches to stop self-gaslighting
1. Practice self-compassion
Be kind and understanding to yourself as you would a friend going through a difficult time. Be kind to yourself during your self-discovery process and accept that everyone makes errors and goes through challenging emotions.
2. Engage in self-reflection
In your process of how to stop gaslighting yourself, take time out of your day regularly to assess your ideas, feelings, and beliefs. Investigate the possibility that self-gaslighting habits influence them. A diary may be an effective tool for a more profound understanding of one's cognitive processes.
3. Validate your emotions and experiences
Realize and accept that your emotions and experiences are genuine and deserve respect. It would help if you confronted such thoughts by saying positive things rather than rejecting or denying the truth of your feelings.
4. Seek support from others
It would be best to surround yourself with individuals who genuinely listen to you without making judgments, whether friends, family, or therapists. Participate in open discussions while proactively seeking out advice as needed.
5. Challenge negative thoughts
When you become aware that you are engaging in self-critical or self-doubting thinking, examine the evidence backing up those views. Try to reinterpret things constructively and realistically by considering their impact on your wellness.
6. Set healthy boundaries
Recognize when someone is gaslighting you or trying to manipulate your perception. Trust your instincts and distance yourself from individuals who consistently invalidate your experiences or feelings.
7. Educate yourself
Gain knowledge about gaslighting and self-gaslighting to understand the underlying psychological mechanisms. Armed with this awareness, you can effectively counter these destructive patterns.
8. Cultivate mindfulness
Embrace mindfulness to heighten your awareness of thoughts and feelings. Staying present in the moment reduces susceptibility to self-gaslighting thought patterns.
Seek professional assistance if self-gaslighting significantly impacts your mental health. Therapists or counselors offer valuable insights, coping strategies, and support for healing and self-discovery.
Watch this video to learn more about mindfulness:
9. Celebrate your progress
Acknowledge and celebrate even your most minor efforts. Recognize that breaking free from self-gaslighting is a gradual process requiring patience and perseverance. Focus on the growth achieved along the journey.
Escaping self-gaslighting necessitates dedication and self-awareness. By embracing self-compassion, self-reflection, and a support system, you can challenge negative thought patterns and foster healthier self-relationships.
Commonly asked questions
After reading this detailed article, you have understood the critical insights into self-gaslighting. In the section below, let's address some frequently asked questions about self-gaslighting.
What are the effects of self-gaslighting?
Self-gaslighting can have serious consequences, including mental anguish, separation from reality, and emotional repression. It negatively affects one's confidence, development, and state of mind. To gaslight oneself is conceivable, yes. This destructive approach entails skewing your view of the world, challenging your thinking, and criticizing your own experiences.
How does self-gaslighting differ from gaslighting by others?
Self-gaslighting and gaslighting by others differ in their origin and dynamics. Self-gaslighting is self-inflicted and arises from negative self-talk and self-doubt.
Individuals question their thoughts and emotions, leading to emotional suppression and disconnection. On the other hand, gaslighting by others involves manipulation from external sources, where someone intentionally distorts reality and undermines another person's perception to gain control or power over them.
Can self-gaslighting lead to anxiety and depression?
Yes, self-gaslighting may make depression and anxiety worse. A cycle of self-doubt and emotional misery can develop when people frequently doubt their ideas and feelings, repress emotions and well-being, and engage in negative self-talk.
Downplaying one's accomplishments, condemning oneself excessively, and excessively seeking external validation for one's self-worth are all instances of self-gaslighting.
Is self-gaslighting linked to low self-esteem or lack of self-confidence?
Yes, self-gaslighting and poor self-esteem and confidence are related. People's self-worth and self-trust are undermined when they criticize their ideas and feelings. Negative self-talk and the dismissal of accomplishments can hamper personal development and empowerment.
Gaslighting oneself is falsifying facts and challenging one's own experiences, which causes emotional pain and separation from reality.
Can you gaslight yourself unintentionally?
Is it possible to gaslight yourself? Yes, self-gaslighting can occur unintentionally. It arises from ingrained habits and negative thought patterns. To stop gaslighting yourself, practice self-awareness and recognize when you engage in self-doubt or negative self-talk.
Challenge these thoughts with constructive self-affirmations. Embrace self-compassion and cultivate a healthier self-relationship.
Conclusion
Self-gaslighting is a destructive behavior where individuals deceive themselves, distorting reality and questioning their thoughts and feelings. This subtle yet impactful pattern can lead to emotional distress and disconnection from one's true self.
Seeking professional counseling or courses that promote self-awareness and emotional well-being can be invaluable in breaking free from self-gaslighting and fostering personal growth and healing. Remember, self-gaslighting is not pleasant, so addressing it at the earliest is essential.
Share this article on
Want to have a happier, healthier marriage?
If you feel disconnected or frustrated about the state of your marriage but want to avoid separation and/or divorce, the marriage.com course meant for married couples is an excellent resource to help you overcome the most challenging aspects of being married.
You May Also Like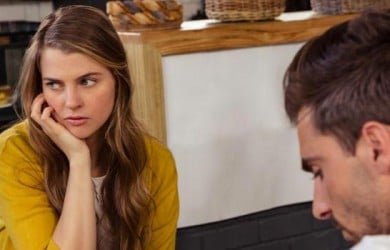 Popular Topics On Married Life