15 Reasons Why People Run Away From Love and How To Overcome It
It's almost like escaping to prevent something only that person recognizes when running away from love. In reality, there's a path that leads to perhaps being let down, a deep hurt, sadness, maybe fear, maybe the past.
In many situations, the individuals might not understand why they ran away from relationships.
While it's confusing even for them, especially when the person they meet is everything they dreamed of, still they choose to go back to someone less than favorable with little respect for their needs.
That could be something familiar to this person if previous relationships followed a similar pattern or someone from the past treated them this way.
Most people's desire when running from love is to overcome it. If you have a man who pulls away from love, this book by Matthew Coast speaks to how to try to get your mate to come running back.
Let's see why running happens and if there's a healthy way to stop running from love.
15 Reasons why people run away from love and how to overcome it
One of the most common reasons people find themselves running away from someone is fear; not that they're afraid of the person but how the relationship could affect them.
Let's look at why people run away from relationships and what they can stop.
1. Fear of rejection
Running away from love almost always has a basis in fearing you will be rejected.
That continuous worry leads to your running away from feelings, thus making your mate's needs unsatisfied and, therefore, ultimately ending the partnership. But it wasn't your mates doing; it was your own.
The only way you could have resolved the issue was to have communicated openly, "why do I run from love," and express your fears.
Being vulnerable and honest could have allowed your partner to calm those fears and saved the relationship.
2. Outside influences
Running away from love can often be rooted in outside influences. Allowing close friends and family to have opinions on what is ideal for your particular circumstances can instill doubt even if you know someone is suitable for you.
That means you're falling in love and running away, a sad situation.
You need to trust your judgment. When you feel in your heart, mind, gut that something is good for you, no one else should have the power to dissuade you from those feelings.
It's time to take control of your life and do what's better for you. Being away from the one you love will only hurt you, not those influencing you.
Related Reading: 

The Risks & Benefits of Friendships Outside Marriage
3. Failure could repeat itself
Once you fail, you're too afraid to try again, telling as to why do you run away from love.
No one knows if they will succeed with a partnership, but if you don't at least try to put in the time, work, and effort, you could end up with only meager relationships for the duration.
When you recognize the signs that you are running away from love and the reasons, it's time to talk with the person you feel you have a genuine connection with.
Perhaps, couples' counseling can help you work through the past to move forward with your future.
Related Reading:

 How to Let Go of the Past: 15 Simple Steps
4. Prevent failure
In that same vein, once you learn what caused the past mistakes, don't dwell on those. If these were related to a pattern with you, don't use the fact that you tend to repeat behavior as a reason to run away.
Instead, use the revelation as a lesson to help prevent those patterns with the person you want to maintain a partnership with.
5. Establish discipline
When you feel antsy because things are growing too close in the partnership, perhaps it's time to take a breath to avoid running away from love.
You can let your mate know that you'd like to take things a little bit slower.
That can allow you time to become disciplined from the habit of running and give you time to work through the fear so you can maintain what means so much to you.
6. Focusing on the end
When contemplating why people run away from love, one of the primary reasons is that they are so focused on how things will turn out and don't enjoy what's happening in the present.
Whether that's due to previous disappointments or trauma from the past could be a possibility. Still, the only way to handle that if it is the case is to get individual counseling to gain insight and work through those issues.
7. Validation instead of self-confidence
When you have little belief in yourself but expect other people to show that they believe in you continuously, that can prove exhaustive.
Eventually, you might find yourself running away from love because their effort is not sufficient. While a mate can support and encourage you, you have to be the one to believe in your efforts and follow your dreams.
A partner can't push you along with each tiny step, and no one should expect them to.
Related Reading: 

How to Improve Your Self-Confidence in the Relationships?
8. Commitment is scary
Those trying to discern why men run away when they fall in love will often see the responsibility of commitment too much to deal with.
The idea can prove overwhelming when considering the level of work involved with falling in love and maintaining that. Feeling apprehensive, running away from love seems the only solution.
The only real recourse if he does run is to let him have his space to think about the partnership and how effortless it might genuinely have been.
After some time, the man might come to his senses and return when there's a realization that it was the best relationship the mate has had and the commitment wasn't a challenge. "Overcoming the Fear of Love" with
Trillion Small is a video to help those challenged with giving in to the emotion:
Related Reading: 

Scared Of A Committed Relationship? 10 Signs You Are Afraid Of Commitment
9. Doubt is creeping in
If you're wondering why guys run away when they fall in love, sometimes doubt begins to creep in as to whether the partnership is the right thing for them.
Often, men want to go and explore their options to ensure they're not being hasty simply because most can't admit their feelings so readily. It's not an indication they won't come back.
In most cases, once they can process what they feel and develop a semblance of clarity, things move forward. If you're willing to wait, be patient and understanding.
10. Vulnerability is a sign of weakness
Whether you're a man or a woman, many people view Vulnerability as a sign of weakness. When that feeling starts to work its way into a partnership, you might feel yourself slowly beginning to want to run instead of developing that sort of closeness with another person.
A mate can help ease these feelings if you let them know what's happening. If they've been a supportive partner and you know you can trust them, then your privacy is safe. Plus, if your mate opens up to you, you know you're safe from judgment.
Related Reading: 

16 Powerful Benefits of Vulnerability in Relationships
11. Too much pressure
If a partner pushes the relationship forward, that can result in too much pressure, especially if you're prone to running away from love.
That can result in pushing you further away faster. It's essential if this person means a lot to you to express that you need time and space. If your mate can't give you that, perhaps walking – or running is the best thing.
12. Losing who you are
People often run when they feel they're losing who they are in the partnership. When dating someone seriously, habits change, and new ones develop.
When you start to wonder where the old you went, you want to break away from the relationship to find what you had.
In this case, a mate must take the time to learn some of what made you who you were and possibly take on some of those interests and activities but also remember it's okay for independence when you need to find yourself every so often.
13. Not good enough
Running away from love can happen to the best individuals because they often feel they're not good enough for the person they're with. Sadly that's entirely a self-esteem issue.
The only way to overcome that is with intensive individual counseling and communicating to a mate that's how you feel so they can iterate the reality of the situation.
14. Lack of stability
Some people might resort to running away from a partnership because they can't contribute equally to the relationship. For instance, if you're recently unemployed or underemployed or perhaps attending school.
If the two of you are becoming serious, perhaps talking of living together, you may become scared that you would be more of a burden than a partner.
Instead of running from the situation, it's critical to communicate the problem you're facing with a partner.
Perhaps, you could wait to take the next step until you feel more able to contribute and spend time looking for better employment to feel confident in making that move.
Related Reading: 

4 Signs You Are in a Stable Relationship
15. No feelings
Running away from love might result from finding that you are genuinely not in love after all. You may have had every belief that you were falling for your mate until things become serious.
At that point, you recognize these feelings are only based on familiarity and comfortability. Rather than being honest, you choose to run to avoid what could be awkward.
For one, a mate deserves the respect of a conversation explaining what's happening when you feel the need to start cooling things off, especially if you've been together for any length of time. That should be honored.
Related Reading: 

What To Do When You're Feeling No Emotional Connection With Your Husband
How do you know you're running away from love
When you feel the need to retreat, it's often a whole-body experience.
There's an intense feeling of pressure and tension as though someone is attempting to force you to do something you don't want to. Instead of sticking around, you flee.
When running away from love, you can tell you're doing so because those feelings are intensified for numerous reasons, as mentioned, whether it be commitment phobia, self-doubt, other influences, and on.
Alerts begin to go off in the brain that it's time to go. You're pulling away.
10 Reasons why you should stop running from love
No one wants to run from the person they've fallen in love with. You lose out on developing a bond, a close friendship, and perhaps a life together.
Learn how to stop pushing love away with this podcast, plus these few other reasons to think over why you need to stop running from love.
1. Hurt might happen
Hurt is an inevitable part of life. Everyone needs to recognize that. If you don't take chances, you could end up very lonely.
2. Trust is vital
If you believe you're with the right person and they've given you no reason for doubt, trust them. You'll start to establish comfort and less fear.
3. Communication is key
Always speak about what you feel so you can work through those issues. Keeping them internalized will lead to running each time.
Related Reading: 

Solid Communication Is the Key Element of Every Relationship
4. Vulnerability is okay
When your mate is willing to open their heart and share their soul, that should be a sign that you can do so without fear of judgment and no need to run from it.
5. Past regrets
You can seek out a couple with the sort of relationship you want with your mate in a kind of "role model" scenario to avoid dwelling on past regrets that could cause you to pull away for fear of failure.
Related Reading:

 How to Let Go of Regret & Start Forgiving Yourself- 10 Ways
6. Failure
In that same vein, mistakes are brilliant lessons we can bring to current situations to make them better. Use them as such instead of continually confusing them as an excuse to run off.
7. Envision being alone
You weren't satisfied (or happy) being alone with no one to come home to. Keep that in mind when you consider pushing away a great person.
8. Embrace what you see as a challenge
You might view commitment as a challenge, but embrace that instead of running from it. You might be overwhelmed and uncomfortable with the idea of so much responsibility, but take it slow and stay open with your feelings.
9. Assess your circle
While close friends and family are part of a vital support system, taking advice lightly is wise. You're the only one who knows the authentic relationship, and you should go with your sensibilities.
10. Confront issues
When there are problems, don't run away, have conversations, face conflict. It's easy to push someone away when times get tough. When you genuinely love the person, you put in the effort and the work.
How to overcome running away from love
Communication is significant with a partner you believe is right for you, and you feel you might be falling in love like you haven't before.
That's someone you don't want to lose. If you find it challenging to find the words on your own, reach out to a couples' counselor or go to a workshop to self-educate on ways to stop running from healthy relationships.
Conclusion
Numerous reasons can lead to someone running from what could lead to healthy, stable relationships.
That can include past traumatic partnerships, disappointments, broken trust, and so much more. It's vital to remember your current mate is not the person responsible.
That can involve a conversation, but a lot of times, it can be helpful to speak with a counselor who can guide the dialogue in both a couple of settings and perhaps as an individual. After so many marathons, it's time to stop running.
Share this article on
Want to have a happier, healthier marriage?
If you feel disconnected or frustrated about the state of your marriage but want to avoid separation and/or divorce, the marriage.com course meant for married couples is an excellent resource to help you overcome the most challenging aspects of being married.
More On This Topic
You May Also Like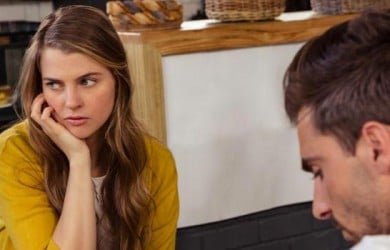 Popular Topics On Married Life