How to Deal With the Relationship Changes Caused by the Pandemic
Whether single or in a relationship, playing the field or happily married, COVID-19 has thrown people's romantic routines out of whack. This pandemic has shown how relationships change over time.
Lockdown meant that singles were suddenly no longer able to court a potential hookup in their favorite date spot, while couples couldn't simply book a romantic weekend away to spice up their love lives.
Faced with weeks and months ahead, where they weren't allowed to meet anyone outside of their households, let alone get physical with them, singles' dating lives ground to a halt. And, it all got down to maintaining relationships over text.
Meanwhile, cohabiting couples have found themselves spending 24/7 with each other, with little idea of when something resembling normality will resume.
However, despite the relationship changes, human relationships appear to have proved more resilient in the face of adversity than we might have imagined.
Navigating this newfound territory was not without its obstacles, but many couples – both new and old – became more connected than ever before during the pandemic. Here's how.
Courtship in crisis
Within days of mandatory quarantine measures being implemented, dating app usage began to spike. And within weeks, the figures were higher than ever seen before.
The average number of daily messages sent across platforms like Hinge, Match.com, and OkCupid in the month of April grew by almost one-third compared to February.
With bars, restaurants, gyms – and virtually every other place that facilitates social gatherings – closed, people were seeking social connection, even if that was through a screen.
However, with the chance for a quick hookup eliminated, dating apps found their users having more meaningful interactions than previously. Bumble users were engaging in more extended message exchanges and more quality chats.
And with these relationship changes taking place amid an unprecedented global crisis, it's not surprising that conversations seem to have taken a deeper turn, past the usual small talk.
Those delving into the matter have found that dating conversations during COVID-19 seem to more frequently skip the usual niceties and get to the heavy stuff: How were people protecting themselves from the pandemic? Should the economy reopen sooner rather than later?
Answers to these questions said a lot about a person and allowed people to decipher whether their match was a good potential partner.
These relationship changes entailed more in-depth conversations. And, the absence of physical contact allowed more singles to "slow date" and get to know each other properly before taking the physical step.
In fact, 85% of OkCupid users surveyed during the crisis revealed that it's more important for them to develop an emotional connection before a physical one. There was also a 5% increase in users from the same survey looking for long term relationships, while those seeking hookups decreased by 20%.
For those who found that messaging back and forth over the app just didn't cut it, dating app Match.com introduced "Vibe Check" – its video call feature that allowed users to see if their personalities were a good match before exchanging numbers.
Hinge also launched its video-chatting feature during the pandemic, catering to a demand for a more real connection in the absence of IRL dates.
Socially distant, emotionally intimate
Many couples in a relationship once the pandemic started were faced with a tough question: Shall we quarantine together?
Deciding whether or not to cohabit for the duration of isolation measures became a new milestone for young couples that might have otherwise waited months or years until they decided to move in together.
And it seems that a genuine full-time togetherness proved to be a success for many of them as they got to know each other on a deeper level and accelerated the pace of their relationship.
For those who were already sharing a home, a new reality beckoned: One where they would no longer be only seeing their significant others in the evening and on weekends.
Gone were the chances to take a break from each other during working hours or while on a night out or weekend away with friends.
Yet, while these relationship changes sparked initial anxiety amongst couples, what resulted was an increase in relationship satisfaction and communication levels.
This Monmouth University poll found that half of the couples predicted that they'd come out stronger post-pandemic, while the number of people that said they are "somewhat satisfied" and "not satisfied" with their relationships compared to pre-crisis levels reduced by 50%.
Though around one-quarter of participants said that their relationship changes did add to the stress of living through COVID-19, the majority were optimistic about the pandemic's impact on their relationship's long-term success.
Furthermore, 75% of respondents to this Kinsey study said that communication with their partner improved during the isolation period.
Under the sheets
For many singles, getting out into the world and restarting their sex lives is still too risky. It leaves little room to comply with social distancing guidelines, especially as cases continue to rise in many countries.
However, nothing stops those already cohabiting from using that extra time they'd usually spend on their daily commute in the bedroom.
Initially, many couples reported a dip in their sexual activity, primarily due to the change in their routines and the general stress of the pandemic-induced changes in their relationship. But, a relationship without intimacy is like a body without a soul.
Anxiety can result in a less-than-desired sexual performance when it does take place, so it's important to realize that it wasn't all a rosy picture behind bedroom doors.
However, some interesting trends emerged as quarantine continued, and couples sought new ways to get creative. Sex toy sales saw a significant increase during the lockdown:
UK sex toy and lingerie retailer Ann Summers saw a 27% spike in sales compared to the same time last year.

Swedish luxury sex toy brand Lelo experienced a 40% boost to orders.

Sex toy sales in New Zealand tripled

as quarantine was implemented.
This came alongside increasing sales of luxury lingerie too.
So, while people might not have been having a lot more sex across the board, many were embracing a more experimental approach – be that while together, or in an effort to keep the flame alive while apart.
In fact, 20% of those surveyed in the Kinsey study said that they had expanded their sexual repertoire during the pandemic.
This shouldn't come as a surprise, as sex is an excellent antidote to pandemic-induced anxiety. Sex is proven to reduce stress, increase feelings of trust, and heighten intimacy between couples, despite any unsolicited changes in their relationship.
So, while we don't yet know if there will be a baby boom in nine months' time, we can safely say that quarantining couples have found the time to explore different options and discover new kinks and lessen stress levels in the process.
As the global economy reopens and social distancing gradually relaxes, this begs the question: Has our approach to dating and relationships changed forever?
While it's true that the crisis has permanently impacted us in myriad ways. Its effects including the various changes in our relationships, and love-life remain to be seen.
But with a renewed focus on the emotional connection over casual hookups, a newfound interest in experimenting in the bedroom, and countless companions that have found themselves being with each other 24/7 and enjoying it, there's little doubt that the romantic flame is burning brighter than ever for couples navigating the pandemic together.
Also Watch:

Share this article on
Want to have a happier, healthier marriage?
If you feel disconnected or frustrated about the state of your marriage but want to avoid separation and/or divorce, the marriage.com course meant for married couples is an excellent resource to help you overcome the most challenging aspects of being married.
More On This Topic
You May Also Like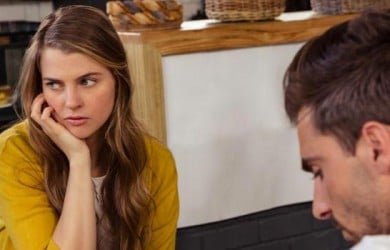 Popular Topics On Married Life