Wondering Why Am I Single? 15 Reasons to Justify
Are you tired of being single forever? Have you got a profile up on every dating site known to man? Have you asked all your co-workers, friends, and families to fix you up with an age-appropriate guy?
Do you actively put yourself out there, working the single bar scene and taking singles-only cruises? Do you find yourself eyeing every man's ring finger to see if they are taken?
Do you consider yourself attractive, a good conversationalist, and an interesting person to hang out with?
But now you have reached a point where you hate being single and are tired of being single, and you ask yourself why am I single, and will I ever find love?
Is being single okay?
Time has changed. Once people would like to fall in love and would look for a partner to spend their whole life with. However, today, people are either busy shaping their professional careers or have lost faith in relationships.
If you wonder, "Will I be single forever" know that being single is completely okay and normal if you are happy and enjoy your own company.
Nonetheless, there are some people who would still want a life partner but are single. So, if you are single and that is not your personal preference, then you might feel incomplete and unfulfilled.
15 reasons why you're single
If you're one amongst those who look around and find themselves surrounded by love birds and ask 'Why am I single?' by looking at them, then this article is for you.
Here are 15 reasons to answer your question on "why am I still single?"
1. Unconsciously appearing to be connection-avoidant
Are you perhaps a little ashamed of your single-state, and therefore avoid showing signs that might be interpreted as being "man-hungry"?
Do you not make eye contact with that cute guy you see every morning when you stop to pick up your coffee, lest he thinks you are desperate?
So, how to deal with being single for life? How to accept being single? Let me tell you a little story, one with a very happy ending.
I was in my fifties and had been recently dumped by my partner of ten years. Everybody told me how hard it would be to find another relationship "at that age." "All the good men are taken," my friends said.
After some time spent recovering from the brutal breakup, I was ready to put myself out there. This meant connecting with men, making eye contact with them, striking up a conversation if the situation merited it.
And one day, I saw a really hot guy waiting on the same subway platform as me. No wedding ring. Age-appropriate. But, reading a book by an author, I really like it.
So I summoned up my courage, went over to him, and said, "Oh, I love that writer. Have you read his other novel?"
And guess what…a great conversation followed, then an exchange of phone numbers, several dates, and now we are in a committed and very happy relationship.
All because I went towards connection, and didn't shy away from it.
So be courageous. See someone who looks interesting? Look them in the eye, smile, and see what happens.
Even though you might not be looking for reasons to stay single forever, your inability to put effort into meeting new men is diminishing your chances of getting a partner.
2. Making excuses about this not being "the right time."
There is no wrong time for seeking a partner unless you've just been through a rough breakup. (And even then, only you can judge if you are ready to try again or need a cooling-off period).
But don't delay getting out there to seek a partner because you-
Have some weight to lose

Need to devote all your time to your career

Just got a puppy/kitten who needs you to be home all the time

The new season of West World has just dropped.
Potential boyfriends can come into your path at any time, so don't hole up in your house and complain there's no one good out there. You might just miss the next chapter of your love life.
3. You consistently choose the wrong partners
You don't have trouble attracting men.
Your problem is you attract (or are attracted to) the wrong men for you. So you end up single, again and again. If this sounds familiar, you need to work hard at identifying the root issues behind this attraction.
This is best done with some short-term self-awareness and self-worth therapy.
Break the pattern. You'll be amazed at how many lovely men there are out there that you were missing because you were wearing the "wrong glasses."
Check out this video by Matthew Hussey To find out why you end up with wrong people:
4. Your emotional attachment scares men off
You love to be in love, often not choosing the love object very carefully.
A couple of dates, maybe you've slept together already, and you are dreaming about fixing a wedding date. Whoa, Nelly! Slow down! What's behind this behavior? Work with a therapist to see why you attach so quickly to your guy.
Don't put all your emotional attachment in one basket.
Try dating several men at the same time. (There's nothing wrong with this. If it makes you feel better, tell your dates you are not into being exclusive right now.)
This will help you keep perspective and not attach unhealthfully to one man.
The benefit?
By dating several men, it gives you time to get to know each of them in a healthy, thoughtful way so that when you do commit, it is for the right reasons (and not just fear of staying single).
5. Your dating criteria are too rigid
Sure, it's great to have a mental list of the type of man you'd like to date. Most lists would include single, employed, emotionally available, geographically close, interesting conversationalists.
For many years now, men have wondered what women want in a relationship.
But as a woman, if your list is super specific, for example, single and never married, must be blond, tan, and wear black loafers, must live in my town, preferably in my neighborhood, must practice yoga at the same studio as me.
Well, that's just setting yourself up for perpetual singlehood.
Open your criteria up a bit, but still, honor what is important to you. Just be a little more flexible.
Dating is definitely a numbers game.
The more you date, the more possibilities you bring into your life for finding a mate. But date intelligently, and be patient.
Don't just go out with anyone just to go out—that's a waste of your time. When you start to feel overwhelmed or a bit hopeless that you will never find anyone, take a break.
You'll want to recharge your dating energy so that your dates can feel your enthusiasm (and not your despair). Honor your standards, be your authentic self, and keep on getting out there.
6. You've closed yourself behind doors
Life is not a fairy tale. You won't get your Prince or Princess just by sitting at home. You must socialize to be able to find the right one for you. You should go out, meet people and talk to them.
That's how you meet people and find the right person.
There are some people who prefer to stay indoors and don't socialize much. If you're the one, then getting into a relationship will be a very difficult task for you.
Our recommendation would be to meet friends, join some groups or get involved in some activities. The more you meet new people, the higher the chances of finding a life partner.
7. Not-so-good past experience is holding you back
Some people are born reserved, and some become one in the process.
If you're born reserved, then you would need to work a lot in order to open yourself up. However, if you had a bad experience in the past and have decided to take a step back and hide behind your doors, then asking 'Why am I single?' won't really help.
There are different kinds of people. Some are good, and they leave behind a sweet memory. And there are others who end up breaking our hearts. Just because you had a bad experience doesn't mean you should cut yourself off from your surroundings and hide behind the four walls.
Step out. Make new friends. Leave the old bad memory behind and make the new one.
8. Dating is not on your priority list
We all have our own aspirations in life. We all are chasing our dream and are working towards it, day in day out. When we have a to-do list of life, our focus is there to complete those tasks. We work according to our life's list.
So, one of the reasons you're still single is because you've haven't put the relationship in your priority list yet.
In today's competitive world, everyone is aiming to do better professionally. While you're paying attention to your professional life, don't neglect your personal life as well.
It's necessary that you make space for your personal life in your life's to-do list and start giving its due attention if you don't want to be single for the rest of your life.
9. You're hard to get through
We all think that playing 'hard to get' might increase our demand and people might die to contact us. This may look like a promising plot in the movies, but in reality, people avoid those who are hard to get through.
Don't act pricey or throw your weight around if you don't want to stay single. Be approachable. Let people come and talk to you. Show them that you're easy to reach, but don't lean on them.
Remember! Being approachable doesn't mean you have to be desperate.
10. Chasing the wrong person
It so happens with us that we sometimes fall for those who are not so perfect for us and ignore those who are perfect for us. We all have gone through this phase at some point in our life.
The problem is how we identify them. Well, it's quite difficult and it's subjective. So, you need to keep your eyes and ears open.
If you're falling for the wrong person, then you would be single for a very long time. It's necessary that you select the person who loves you and care for you. Not the one who is just considering you as an option and mostly ignores you.
11. Constantly defending your single status
If you're asking 'Why am I single?' while you're too busy with your daily routine or are constantly making excuses to actually go out there and have fun, you know what's wrong.
You need to make time for everything. You simply can't make excuses and avoid relationships or any possibilities of it.
There are people who are surrounded by self-doubt. Just like New Year's Resolution, they promise to break the norm and actually make an effort to find someone right, but towards the end, they land up on the couch.
The first thing you should avoid is excuses, like 'I will try once I lose weight', 'Will see someone once I am settled in life, or 'Maybe I am not good enough for people around.'
It's time you should throw away all those excuses and get going.
12. You refuse to compromise
If you wonder, "Why am I single?" One of the reasons could be because you refuse to adjust or compromise in the relationship. You want everything your way and this results in a rather negative attitude every time you date.
In a relationship, both the parties adjust, and another reason to be single is that you are unwilling to do so.
13. You don't want to give up your independence
You appreciate your solitude.
One of the reasons for being single for a long time is that you might not be wanting to give up on independence. You can do anything you want, all that you like, without anyone's interference or involvement.
14. You refuse to be vulnerable
You like to keep your armor up and do not like opening up to anyone and this could be a reason why are you single. Being vulnerable means, you need to open up about your challenges and weaknesses, and you aren't yet ready for that.
You can check out this quiz to further understand, "Why am I single?"
Quiz: 

Why Am I Still Single Quiz

 
15. You are busy
If you wonder why is it so hard to find someone, it's just that you could be too busy to date. You try but aren't able to find time to go on dates and invest in the relationship. Your life is probably very overwhelming right now, and you need a break in order to plunge into the dating game.
Takeaway
Everyone has flaws, but that doesn't mean you just can't appreciate the goodness in them. Stop being picky if you don't want to ask 'Why am I single?' all the time.
Find the person who makes you happy and compliments you. Everything else will fall into place.
Your person is out there; you just need to find him.
Share this article on
Want to have a happier, healthier marriage?
If you feel disconnected or frustrated about the state of your marriage but want to avoid separation and/or divorce, the marriage.com course meant for married couples is an excellent resource to help you overcome the most challenging aspects of being married.
More On This Topic
You May Also Like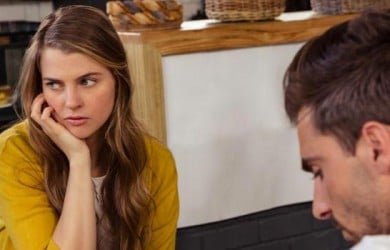 Popular Topics On Married Life