10 Healthy Expectations in a Relationship & How to Manage Them
It's inevitable to have expectations in relationships. But, expecting too much can result in a toxic relationship. This can result in resenting each other and damaging the relationship. You might wonder, "What are healthy expectations in a relationship?".
You and your partner can be happy when you have healthy expectations. These expectations can be really basic and won't likely harm your relationship. Continue reading to understand healthy expectations in a relationship and how you can manage these.
What does it mean to have healthy expectations in a relationship?
You might think that it's better not to expect anything from your partner so you won't feel disappointed. But, the truth is, having realistic expectations in relationships can actually lead to a better experience. In fact, It's crucial to balance these expectations for a well-rounded relationship.
What are reasonable expectations in a relationship? Healthy expectations in a relationship will seem like a guide or set of rules that can greatly contribute to a relationship.
4 ways you can set expectations in a relationship
You and your partner will appreciate setting good expectations in a relationship in the long run. Here are some of the things you need to remember when doing so:
1. Don't be harsh
That means you can't just narrate the things you expect from your relationship to your partner. This isn't how setting expectations work.
What you can do is highlight what's important for you so that it will be easier for your partner to understand what you want from them. You have to make sure that your partner doesn't think that you're controlling when you do this.
Setting realistic expectations in a relationship means sharing yours and asking about your partner's expectations as well.
Related Reading: 

The Harsh Truth About Social Media and Relationships' Codependency
2. Don't beat about the bush a lot
You shouldn't be vague when conveying healthy expectations in a relationship. It's important that you can communicate these expectations well so that your partner can respond appropriately to your needs.
Rather than dropping hints, you need to be more vocal. Expectations become high standards in a relationship when there's a lack of communication. So, it's important to have clear reasoning to make it easier to set expectations.
3. Set expectations together
You and your partner need to hear and understand each other when you set expectations. Feeling heard and understood in the relationship is possible when you set good expectations in a relationship together.
You can share what's acceptable or not, what you can compromise, or what the direction of your relationship is going to be. By doing this, you can prevent setting the relationship standards too high.
4. Be reasonable
What are your expectations in a relationship and how can you communicate them? You must recognize the ones that are acceptable and those that aren't.
If you do not try to become reasonable, you'll have a lot of unmet expectations which may lead to an unhappy relationship. You have to reflect a lot on what's negotiable for you in the relationship and what's not when thinking of your relationship expectations.
Related Reading: 

15 Reasons to Be in a Relationship
10 healthy expectations to set in a relationship for a successful partnership
For a relationship to succeed, you should know what to expect and how to manage your expectations. Here are the 10 healthy expectations to set in a relationship that can help make your relationship happy and long-lasting.
1. Appreciation
This means showing appreciation to each other every day. You shouldn't focus only on the bad things. Instead, you should concentrate more on the positive characteristics of your partner.
Doing this can also help manage your and your partner's expectations in the relationship effectively. You can see improvement in your relationship when you pay close attention and show appreciation to each other. When you show each other how appreciative you are, you can prevent conflicts and unreasonable expectations.
Related Reading: 

8 Ways to Show Appreciation to the Love of Your Life
2. Giving time
It can be stressed enough how important giving time to your partner is. So, you shouldn't let it slide when your partner doesn't give you enough time, and don't take your partner for granted as well by not prioritizing them.
Having healthy expectations in a relationship means prioritizing each other. You can show that to each other when you do things that make your connection better.
Related Reading: 

15 Reasons Why Quality Time Is So Important in a Relationship
3. Kindness
Showing kindness is a must in the things you expect in a relationship. You have to practice it to succeed in navigating the ups and downs of your relationship, which means you have to put more importance on your love for each other over expectations.
When you argue, you still have to be compassionate and not hurt each other intentionally. Remember that your relationship is more important than your pride. Having expectations in a relationship means fostering happiness and warmth.
4. Respect
One of the healthy relationship expectations is respect since it's not only important in romantic relationships but in all types of relationships. When you respect each other, that means their needs and opinions matter.
You can have a healthy communication and relationship if respect is always present. When trying to deal with a conflict, you should try to be empathic and constructive. You can look for ways that won't result in making the issue more tense and stressful.
5. Not doubting the relationship
Managing expectations means not over-questioning your partner's intention in the relationship. Trust can be destroyed when there's a lot of doubt in the relationship.
This can do a lot of damage even if the relationship has a great foundation. So, it's immature to think your relationship is over when you're going through some temporary issues.
6. Showing consideration
Consideration is one basic, healthy expectation to set in a relationship since it often forms the basis of a satisfying relationship. You should consider each other's expectations, interests, and feelings.
You have to keep in mind that these are made to make your relationship happy. If these expectations are viewed as rules in the relationship, it's very likely that the relationship will suffer.
7. Not jeopardizing the relationship
Having open communication and practicing give and take are healthy expectations in a relationship. When you threaten your partner such as by giving an ultimatum, you can cause your communication to shut down. If this happens, it's best to have a break and talk again after reconsidering things.
8. Showing honesty
This is one of the non-negotiable, healthy expectations in a relationship. It doesn't matter what the situation is.
Honesty is expected from you and your partner in matters like sharing your past relationships or a traumatic experience from the past. You can't have a successful and healthy relationship without it.
If there are lies and secrets hidden, these will come out sooner or later and cause bitterness. So, when you set expectations for each other, you must address the importance of honesty.
9. Making efforts
Dealing with expectations doesn't happen at one point in your relationship only. You expect each other to keep making efforts and conversing to see that your needs are met.
You shouldn't let your relationship become stagnant even if you didn't have disagreements lately. If you and your partner work hard to improve your equation continuously, you'll have a fulfilling relationship in the long run.
Related Reading: 

20 Effective Ways to Put Effort in a Relationship
10. Not comparing
What should you expect from a relationship? One of the most common expectations is not to be compared to other people or their relationships.
Every relationship has its own comfort and issues. You might feel tempted to aim for a predictable relationship. But, this isn't the way reality works.
Being compared will never satisfy your or your partner's relationship needs. It will most likely add to the resentment and frustration over not being 'enough' for your partner.
Related Reading: 

10 Reasons You Should Never Compare Relationships or Your Partner
5 Noticeable Facts about Expectations in Relationships
To prevent too high of standards or unfulfilled needs, couples have to know the difference between acceptable and unacceptable expectations. Here are some facts that can help when you set relationship expectations.
1. You get what you expect
When you discover more about healthy relationships, you likely expect more in your relationship. But discovering more about relationships that fail can make you work on making your expectations more reasonable.
Some argue that there will be fewer disappointments if you expect less in the relationship. This isn't the case since it was found out that people get what they expect. So, you better not lower your standards for the sake of it.
When you expect good things in your relationship, you'll likely be in a happy and healthy one. On the other hand, when there are examples of high expectations in a relationship, you'll get bad treatment.
It's best to have a relationship where couples expect to have love, loyalty, kindness, and respect.
2. Arguments can be beneficial
Even if your partner meets all your expectations in the relationship, arguments can be inevitable. You can't expect that all your problems and conflicts will just vanish. But, these can benefit the relationship by giving an opportunity to understand each other better.
Although conflicts can bring out the worst at times, they can also help in reflect who you are as an individual and as a couple. They can also help in discovering how well you know each other.
You and your partner have the chance to find out how great you two are in dealing with issues in your relationship. Nobody wants conflicts, but it can be something significant in relationships.
Watch this video by psychologist Jordan Peterson to understand the importance of arguments in relationships better:

3. Self-actualization is not the end result
Another unhealthy thing in a relationship is that having a relationship will help in acquiring spiritual enlightenment or self-actualization. That means relationships can't always resolve personal traumas or bad experiences you've had in the past.
You shouldn't expect too much from your partner or the relationship to get past all your problems. However, you shouldn't allow yourself to be badly treated either. You better not tolerate a physically or mentally abusive partner.
What you need to expect from your partner is to be treated with respect at all times.
4. Maintaining friendship can help
Some of the indications that you're in a good relationship are being friends with your partner, having a commitment to each other, and enjoying a satisfying sex life. Having confidence and trust that you can resolve any issue in your relationship.
One of the healthy expectations in a relationship and in marriage is having a friendly bond. People who have developed deep friendships with their partners can be significantly close to their partners in terms of speaking their minds.
If you and your partner don't consider each other friends at all, there are chances that your relationship has a barrier somewhere. When you are married and problems emerge, your companionship can help you overcome the difficulties.
5. There's no rule to set expectations
That means what works for other couples doesn't mean that it will work in your relationship too. For instance, one might expect to be greeted with a smile every day and shown appreciation for every little thing. Others might not care if they're not acknowledged all the time.
So, rather than setting expectations based on how others set theirs, it's best to have a conversation with your partner and discuss what you both want in the relationship.
Related Reading: 

Relationship Expectations – What Should You Do with These?
What are the elements of a successful relationship?
Showing selfless love, having genuine communication, trusting each other, and recognizing your partner's pain are some important elements of successful relationships. It will also help a lot if couples acknowledge behaviors that are part of their relationship.
There's no single formula for a successful relationship. What sets successful and unsuccessful relationships apart are having a common ground and finding the right balance between things.
Healthy expectations = healthy relationship
Finally, we hope you have a better understanding of healthy expectations in a relationship. You need to remember that these are made to keep your relationship happy and strong.
Fundamental needs should be met when you set healthy expectations in a relationship. Unhealthy expectations can be a recurring problem for both of you. If a partner is over-expecting despite all efforts, you can try relationship counseling to prevent that extra burden.
Share this article on
Want to have a happier, healthier marriage?
If you feel disconnected or frustrated about the state of your marriage but want to avoid separation and/or divorce, the marriage.com course meant for married couples is an excellent resource to help you overcome the most challenging aspects of being married.
More On This Topic
You May Also Like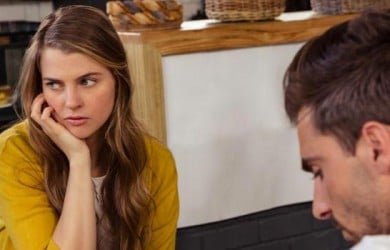 Popular Topics On Married Life