10 Signs of Power Imbalance in Relationships and How to Fix It
A power imbalance in relationships is not as uncommon as you would think. In fact, it's even rarer to see relationships where each party has equal power. Whether the relationship is platonic, familial, professional or romantic, one person will almost always have some sort of power over the other.
However, when it comes to romantic relationships, it's a lot more complex and is not simply about dominion and submission and an imbalance relationship does not necessarily mean that the relationship is doomed. Continue reading to find out more about the power imbalance in relationships.
What does power imbalance mean in a relationship?
As the name suggests, power imbalance in relationships happens when the control and power between partners are unequally distributed. In this context, power means being able to direct or influence the other person's behavior. It's less about being submissive but is, instead more complex than that.
For instance, you could be the more financially stable person in the relationship. It could be that your partner holds more influence in social plans, such as which friends you go out with or where you go for dinner.
It's also possible that you have control over your partner emotionally more than your partner does over you.
These imbalances do not necessarily signify an unhealthy dynamic. However, if you're not careful, this unequal power relationship could most likely turn abusive or suffocating.
3 causes of power imbalance in a relationship
What causes power imbalance is a debatable issue as it can differ from couple to couple. Here are the most common factors that result in imbalance of power in relationships:
1. Unequal commitment to the relationship
When one person cares more for the relationship than the other, then it's clear that the person less committed has more power over the relationship because they have less to lose.
This often leads to former becoming more dependent on their partner for their personal happiness and satisfaction, leading to a power imbalance.
Related Reading: 

Significance of Commitment in Relationships
2. Desire for control
There are also cases when the power dynamics definition in relationships are forcibly shifted by a partner who is narcissistic and cares more about gaining control than about the relationship itself.
They enjoy the feeling of being in charge and having their partner submit to them. Selfish and controlling partners do not care about how their partner feels and instead relishes in the power imbalance present in the relationship.
3. Tendency to withdraw from your partner
Usually, when partners differ in communication approach, this ends up creating an imbalance in the relationship. When one partner prefers avoiding conflicts while the other pushes and demands for change, the demander ends up having more power over the relationship.
Related Reading: 

Reasons Why You Have an Emotionally Withdrawn Husband
To learn more about factors behind power imbalance, watch this video:
Power imbalance examples
Research has shown that those that hold less power over the relationship are less likely to have their relational needs and desires satisfied. Meanwhile, those who hold more power have less of a reason to sacrifice and support their partner.
Here are several examples of power imbalance in relationships.
After a long day, the wife lays down on the sofa to rest but the husband decides to take the opportunity to initiate intimacy. The wife goes with the flow.

The boyfriend has plans with his friends. His girlfriend texts him, telling him to accompany her at the mall. The boyfriend abandons his plans.

The girlfriend rarely wearing tight-fitting outfits or anything that shows skin because the boyfriend says so.

The husband goes all out to prepare for an anniversary dinner while the wife arrives an hour late, not even feeling apologetic, but the husband doesn't let it bother him.

The husband blatantly trying to separate the wife from her friends while the wife lets him.

A boyfriend threatening to hurt the girlfriend if she leaves him.
10 signs your relationship has a power imbalance
It can be hard to acknowledge any power imbalance in relationships, especially if it's something that you've grown used to and accepted as the norm in your relationship. However, it's important to address them before it can permanently harm your relationship.
Here are 10 signs that your relationship dynamics show power imbalance.
1. They make you feel isolated
Does your partner reject all plans you make? Do they make fun of you every time you have to call your parents for advice?
If you and your partner have unhealthy relationship dynamics, you may end up feeling isolated from your family and friends just because your partner always finds an excuse for you not to go or will make it painfully obvious that they're not having a good time when you're out with friends or family.
This can drastically shift your sense of self and cut you off from any support system you have outside of your partner. It's okay for your partner to be less social than you, but it becomes a problem when they start to drag you down too.
2. Your privacy isn't respected
There is something about your power dynamics if your partner thinks that they have a right to access your personal things, such as text messages, emails, and social media accounts, anytime they want.
This behavior is only okay if both of you have explicitly given each other permission to do so. It's never alright to simply assume, especially when it comes to a person's privacy and personal space.
Related Reading: 

How Much Privacy in a Relationship Is Acceptable?
3. They never compromise
It's natural for couples to have disagreements. No two people will always agree on everything. Instead, what a healthy couple does is try to compromise and meet in the middle so both of their needs are met.
However, if your partner refuses to compromise and only takes without giving anything back, then an unhealthy power imbalance in your relationship is obvious.
4. They don't listen to what you have to say
Communication is always the key of a healthy relationship, regardless of if its romantic or not. If your partner refuses to listen to you and does not even try to acknowledge your thoughts and feelings, then this is a clear sign of selfishness and disrespect.
This needs to be addressed and resolved before it can do further harm to your relationship.
5. You find it difficult to stand up for yourself
When the relationship dynamics become unhealthy, you will start to feel uncomfortable speaking up for yourself and letting your partner know of your wants, needs and desires. You start to go with whatever your partner says and hesitate to fight back in fear of rejection or retaliation.
6. There is constant criticism
The occasional criticism is healthy. After all, humans make mistakes, too and often need to be reminded of it. But, if this is something that you constantly have to endure in your relationship, then there is power imbalance in your relationship.
This is yet another way your partner seizes control over you. Emotional power plays in relationships are not as uncommon as you would think.
Related Reading: 

10 Ways on How to Deal With Criticism in a Relationship
7. They don't care about your interests
Healthy relationship dynamics include you and your partner having separate hobbies or interests but are still willing to indulge and show support for each other's interests. However, if your partner starts treating you negatively because of what you do on your own time, then it shows insecurity or an unhealthy attachment.
For instance, maybe you've decided to learn badminton but your partner does not know or do not have any interest in playing. They'll often guilt you about the amount of time you're spending playing the sport or scold for occasionally missing dinner to head to lessons.
8. They use shaming as a tool for change
Frustration is a natural thing to feel when a partner is over-performing while the other is unable to keep up. However, if your partner starts shaming you for it, then it's a clear red flag.
For example, your partner is busy juggling multiple pots and pans on the burner then passive-aggressively says something along the lines of, "It must be nice to not have to worry about meal planning."
This is a sign that they want you to change but refuse to have a proper mature conversation and instead resort to shaming you.
9. Their love is conditional
Love should be something freely given instead of a reward for someone doing what you want. One of the signs of an unequal relationship is when the partner only expresses their love and affection toward you after they have gotten their way.
This means that their love for you is conditional and only exists for as long as you remain useful to them.
Related Reading: 

Conditional Love in Relationships: 15 Signs
10. They hold grudges or keep score
There are some people who just have a hard time of letting things go. This can be a problem in relationships when your partner is constantly bringing up your past mistakes to either punish you way or make themselves feel like they're better than you.
This is usually how they exert their power and control over you.
Related Reading: 

How Holding Grudges Affect Relationships and Ways to Let Go
Frequently asked questions!
Do you still have questions regarding power imbalances and its various aspects in a relationship? Don't worry! It's likely to leave a scope of wondering in the mind of any individual. Let's try to answer some of these questions.
What are some consequences of a power-imbalanced relationship?
When there is a power imbalance in relationships, this could lead to the following consequences:
Damaged connection and intimacy

Anger, frustration and depression

Impaired self-image, self-esteem and sense of personal value

Lack of trust in the partner and in the relationship itself

Feelings of anxiety, fear and shame

Threats, isolation and abuse to maintain the power imbalance

Decreased satisfaction of the relationship

End of the relationship

How do you fix a power struggle in a relationship?
Communication is one way you can restore the balance of power. It is rarely comfortable, but it is necessary for you and your partner to understand each other and work towards a resolution. It's also important to recognize emotional responsibility.
You are responsible for how you feel, think and behave and once you can accept this, you will no longer tolerate any abusive and disrespectful behavior from your partner. Lastly, a relationship that has suffered too much damage from power imbalance often requires outside help.
This is where therapy and counseling comes into play.
There shouldn't be a scope for imbalances in a relationship
It's not uncommon for relationships to experience power imbalance at some point. However, when power struggle in relationship remain unaddressed and unresolved, it can only end up harming it.
Power imbalance in relationships can be seen when one partner is unable to speak up for themselves and another does nothing but take advantage of their partner, often resulting in aggression and abuse. This is extremely draining and frustrating and can lead for the couple to devalue their relationship.
However, power imbalance does not signify that a relationship is doomed to fail. It can still be saved if both partners are willing to put in the effort to save it.
When there is cooperation and collaboration between both partners, then they can successfully work through any power struggles in their relationship.
But the journey towards that can be exhausting, especially when each party wants to defend their position more than to find common ground. Sometimes, to find balance, a third party who can mitigate tensions and offer outside perspective is necessary.
If you and your partner are unable to work it out by yourselves, then relationship counseling is always an option. The sooner you address the imbalance in your relationship or any other issues threatening it, the more effective counseling will be.
It can be extremely tricky to navigate the dynamics of relationships, especially when it can have significant and long-lasting impacts on your lives. At the end of the day, it's up to you and your partner to maintain a healthy balance of power in the relationship.
Share this article on
Want to have a happier, healthier marriage?
If you feel disconnected or frustrated about the state of your marriage but want to avoid separation and/or divorce, the marriage.com course meant for married couples is an excellent resource to help you overcome the most challenging aspects of being married.
You May Also Like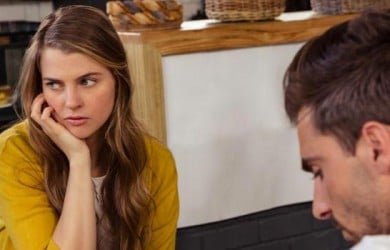 Popular Topics On Married Life