Reasons Why You Have an Emotionally Withdrawn Husband
Disagreements and arguments in marriage are very common, as you stay longer in a relationship, you tend to get used to these disagreements and then they become less frequent. However, there are cases where you just realize that you're not really growing into the marriage and you might find yourself being married to an emotionally withdrawn husband.
Getting that silent treatment or that feeling that your husband is physically present but is distant with you maybe one of the things that women just hate. Women, in general hate being given this treatment but what triggers a man to choose to be emotionally unavailable to his wife?
Signs that your husband is emotionally withdrawn
Do you feel that you no longer have that strong emotional connection with a man? Do you feel that your husband has started being emotionally withdrawn not just to you but with your marriage as well?
If you do, then you might need to start analyzing what has caused his emotional withdrawal first and then work on how you can connect with your emotionally withdrawn husband.
First things first, you have to remember that the person who knows your husband well is you and you know if you have married an overly emotional man or not. Let's start from here and let's see the signs when a man shuts down emotionally.
Lack of emotional connection in relationship

or marriage will show in obvious decisions such as his plans for the weekend or his vacation.

If you see that he has already made some plans and that doesn't include you then it means he prefers to be alone. While we all need some time alone from our spouses, if it happens all the time, that means it's because of being emotionally distant.

He doesn't care. You're hurt and sad and you try to tell him but he shrugs it off like it's nothing.

You vent out and even cry but he continues to watch his ball game or play games on his phone. It's a very direct way of showing he that he doesn't care.

An

emotionally withdrawn husband

can cause

feeling inadequate in relationship

or your marriage. You may feel that all your efforts to fix the marriage doesn't work. You may see that your husband can commit verbally but doesn't really do anything to change your current situation.

Emotional withdrawal in relationships can take a toll in any marriage. When you feel that all he does is criticize or blames you for any inconvenience, when all he does is see your mistakes and makes you feel like a burden then know that your husband is already showing a sign that he is emotionally unavailable for you and your marriage.

We all know that one of the most common

signs a man is emotionally connected to you

is when he reciprocates or initiates intimacy. Lack thereof means he's no longer invested in your relationship.
Reasons why men choose to withdraw emotionally
We may want to know now why this happens. Some of us might realize that it's partly our fault but some may also be clueless about what's happening.
Before we can assume that he's seeing someone else, we might need to first know the most common reasons why you have an emotionally withdrawn husband and what we can do to fix it.
1. He's hurt
How aware are you of the signs a man is hurt emotionally? Or how about the different emotional triggers for men that can cause them to turn into an emotionally withdrawn husband?
We have to understand that it's not only us who will get hurt and sometimes when a man is hurt emotionally, instead of yelling, crying, and venting their frustrations, they choose to get distant.
Did something happen between the two of you? Was there a death in the family? Was there anything that might have caused your husband to choose to get distant?
2. He loves you
We know. This may sound contradicting but look at it this way, why men withdraw when they like you or loves you is because they don't want the issue to become bigger or more complicated.
For example, you're crying and you're angry and you see him emotionally distant or it may seem that he doesn't care. Analyze this first. Your husband may just want to give the issue some time and doesn't want to make it into a big deal.
Remember, men deal with hurt differently than we do so maybe he just wants the issue to end.
3. He doesn't know what to do anymore
Women want to talk about the problems and search for a solution. It can sure sound like a debate sometimes but it's a way to cope with stress and disagreements. How about men?
Why do guys shut down when stressed and how to get him to open up emotionally with us? Men, when they feel that they can no longer do anything to solve the problem or they feel that it's too overwhelming and they know that they're not able to give a solution – they shut down.
They just choose to get distant, relax, take time and just drift away. Sometimes, doing this can actually help problems but taking too much time being emotionally unavailable will cause more issue in the future.
Importance of emotional intimacy – how to get it back
Now that it's clearer what causes an emotionally withdrawn husband, it's now time to know how to emotionally connect with a man and where we can start.
1. Respect
What to do when a man withdraws from your relationship? At the first time that this happens, give him the space that he needs. Respect the time that your husband needs to think and analyze the situation.
We all need space and sometimes, a man needs this space to recharge. However, if it happens constantly that is when you need to know what to do when a man withdraws from you more often than needed.
2. Listen
The second step is communication and be sure that you know how to listen. We all have our own monsters to fight and as his spouse, it's your duty to know what to do when someone shuts down emotionally.
We just don't talk and talk about what he needs to do or what you should take etc. We need to listen. Your husband might have something to say too.
3. Work together
There is no perfect marriage so we have to know how to stop being so emotional in a relationship. We're not here to seek attention and to be pacified. We're here to learn how to make our marriage work and shutting down emotionally is definitely not the solution.
Working with an emotionally withdrawn husband may become a challenge but as they say, the first few years of your marriage is the toughest.
There's always something to learn, there's always something to discover but if you know how to hold on to the person you love, then you can find ways to reconnect with him again and achieve a stronger bond as husband and wife.
Share this article on
Want to have a happier, healthier marriage?
If you feel disconnected or frustrated about the state of your marriage but want to avoid separation and/or divorce, the marriage.com course meant for married couples is an excellent resource to help you overcome the most challenging aspects of being married.
More On This Topic
You May Also Like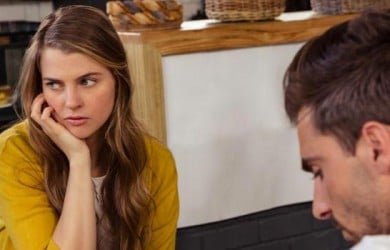 Popular Topics On Married Life