6 Useful Kissing Tips for First-Timers to Seasoned Lovers
Ever wonder where you are on the kissing scale when it comes to different types of kissing? There is no dearth of evidence that backs up the benefits of kissing and how it deepens the love bond.
So before you step up your kissing game, how would you rate yourself? Are you a 10—a fantastic pucker-upper?
Or more towards the bottom of the scale, a 2 perhaps, looking for kissing tips to improve your skills?
Or are you just starting out and unsure about how to do this:
Where do the lips go, how do you breathe?

Should you open your mouth?

What if your partner doesn't open theirs?
All of this is understandably stressful, so here's a small guide of sexy kissing tips to help you gain some confidence with this most wonderful and intimate act – Here's how to kiss!
Whether you are looking for first kiss tips or are a seasoned lover keen to level up your prowess in kissing, look no further for kissing tips you must master.
Kissing tips for couples
1. Get your lips ready
How to kiss someone for the first time? You have got lips. Your partner's got lips.
So, assure yourself that you are off to a good start because the basic equipment for kissing is already in place. Let's make sure that you have got the most kissable lips you can have.
In order to do this, a little chapstick or lip moisturizer is a good idea to use, especially in cold weather when lips can easily become chapped and dry.
A key tip for kissing. You might also try a lip-exfoliant from time to time.
This is a scrub specially formulated for the lip area, to be used before chapstick or lipstick. It will help slough off any dry skin and prep your lips to make them soft and smooth. Knowing your lips are in perfect condition will help you be confident when you go to press them against your partner's.
2. Get rid of bad breath
One thing that many kissers are anxious about is the freshness of their breath. Whether it is kissing tips for beginners or pro, paying heed to breath is crucial.
If you practice normal dental hygiene, brushing your teeth, flossing, maybe some mouthwash, you probably have nothing to worry about concerning your breath.
But let's say you just had a garlic-filled dinner or ate some anchovies on that pizza. Then you may want to pop a breath mint or two before going in for that goodnight kiss. So be sure to pack some when you go on your next date.
When you get up from the meal to use the restroom before leaving the restaurant, slip one in your mouth.
That should do the trick to get rid of any bad breath, and you can move forward to the kiss worry-free.
Also, watch these bad breath life hacks:
3. Asking for consent for a kiss can be a huge turn-on
How to initiate a kiss?
First, asking for verbal permission to kiss can be a real turn-on. "May I kiss you?" is one of the most beautiful questions you can ask, provided your partner is feeling the magic.
However, you should be able to intuit with your partner if they are on the same page as you regarding kissing. The first deep kiss and the right moment for it is something people say "they just knew".
Here's a good kissing tip: if you aren't sure your partner is ready for you to kiss them, don't.
But if you are looking at each other and smiling, and it is the end of a fantastic date, chances are that a kiss is a mutual desire. Take your partner's face in your hands, and start the romance. Makes for one of the classic kissing techniques. Never goes out of vogue.
4. Understand the physics of the kiss
If you are looking for the best kissing tips, understanding the physics of kissing is a good place to start.
Begin the kiss by gently placing your lips on your partner's lips.
No need to go in strongly, nor mash your lips up onto your partner's. No one likes the feeling of a dead fish smashed up against their face.
Start with small pecks, gradually opening your mouth.
Tune into your partner. Are they matching your rhythm, opening their mouth a little bit, too? Good. That's a sign that they are receptive to your kiss.
Stay at this pace until you feel your partner getting physically closer to you, perhaps they are pressing their body into yours.
You can pull them into you, too. At that time, open your mouth a bit more, and start to explore their mouth with your tongue.
Practice give and take. Kiss with intent, but not force.
Dart your tongue a little here, a little there, and pull back. Go back to just the lip action. Alternate this.
Take their lower lip into your mouth and bite or suck on it gently.
It's very exciting and one of the good kissing tips than just swirling your tongue endlessly in your partner's mouth.
5. Involve the hands
You may think that kissing is limited to the mouth, but you'd be wrong. There are different ways to kiss. So, how to kiss well?
A great kiss relies on a bit of hand involvement, too.
Bring your hand up to the back of your partner's head, and gently caress their hair. Maybe press that area lightly, bringing their mouth closer to yours.
A piece of important kissing advice. Let your hand explore the back of their neck, then down to the shoulder area.
As your excitement increases, you can move your hand or hands to their chest, their waist, the small of their back.
Keep on with the kissing all the while, do not break that contact. It's all part of the sensuality.
6. Treat a kiss like a good conversation
There's a give and take to kissing, a back and forth, with changing rhythms and pressures.
Just like a conversation, where you are really listening to your partner and focusing on what they are expressing, only to take that and run with it when it is your turn.
Kissing is like that: listening to your partner with your mouth. In fact, tuning in to how your partner is responding to your kiss is one of the best ways to shed any anxiety you might have about your kissing techniques.
And you'll be on your way to being a "10" on the kissing scale in no time! Continue enjoying the benefits of those happy hormones released during kissing. Plus, it is a sexy habit that will make you both happy.
Follow these kissing tips to plant each kiss like a pro, and heat things up with your bae.
Share this article on
Want to have a happier, healthier marriage?
If you feel disconnected or frustrated about the state of your marriage but want to avoid separation and/or divorce, the marriage.com course meant for married couples is an excellent resource to help you overcome the most challenging aspects of being married.
Learn More On This Topic
You May Also Like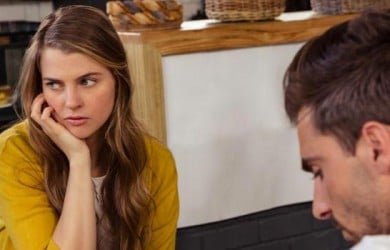 Popular Topics On Married Life