Neck Kissing: What is it and How it Feels and Complete Theory
Have you ever wondered why neck kissing just feels so very heavenly? There is actually some science behind it as well as some art, of course. And if you've never tried it, get ready to be wowed and transported to another plane.
What is neck kissing?
Neck kisses are, very simply, as the name suggests, kisses along and all around your neck. This ignites all those nerve endings around your neck that send tingly feelings to your brain.
As this Scientific American article on Why We Kiss further explains, those sensations ignite feelings of closeness and sexual excitement. In short, a kiss on the neck is often the start of foreplay.
Moreover, the curves of the neck make it both a sensual and innocent area. Even the way the neck connects the mind and the body almost suggests a doorway for getting someone else that much closer to you.
Interestingly, that same article explains that kissing is not, in fact, a universal practice. It seems that 10% of people in the world do not kiss, therefore suggesting that it's a cultural thing.
Nevertheless, we all have a need to connect and bond with each other. How you do that is completely up to you but neck kissing is worth trying regardless of where you come from.
What are the benefits of neck kissing?
One of the main benefits of a throat kiss is that it's within a central part of our erogenous zones. That means that it's a highly sensitive area that creates arousal when touched or kissed.
Although, did you know that there are 31 erogenous zones? See if you can name them all before reviewing the list in this article.
So, one of the obvious benefits of kissing her neck is that it will usually lead to sex. As previously mentioned, it's a fun part of foreplay.
Furthermore, the neck is easy to access without turning yourself into a pretzel as you do when trying to reach some of the other erogenous zones.
Then again, it's also generally acceptable to kiss on the neck in public. Somehow it can feel like a less awkward public display of affection than a full-on mouth kiss. In a sense, you can simply lean over for a gentle kiss on the neck to remind them of your deep affection at any time.
Last but not least, it can be a fun way to tease each other and generally keep some playfulness between you. Add to that the anticipation of what's to come when you find time alone, and you'll be in a heavenly deep emotional connection.
Related Reading:

What Is the Biggest Turn-on for Women in a Relationship?
When's the perfect time to have a neck kiss?
How can there be a wrong time for a kiss, barring any highly formal or professional situations?
Essentially, there's always time for a kiss in your normal day-to-day life. It can be a way to tease your partner away from what they're doing to turn towards you instead. Alternatively, it can be a quick and easy message telling them it's time for something more intimate.
Another way to use neck kisses is to deepen intimacy without necessarily going all the way. Of course, you have to be clear with your partner so that there are no misunderstandings. Nevertheless, neck kisses take you to a more special place than just kissing.
Furthermore, if, as this study on the function of kissing shows, kissing is how we gauge if we've found the right partner, don't hold back on the neck kisses. Show them what you've got by expanding your portfolio to include at least both mouth and neck before you even consider anything else.
Then, it's really up to you to have fun with your neck kisses. Be creative regarding when and where you use them, and note how they can transform a run-of-the-mill moment into something heavenly.
How can one perfect the neck kiss?
As mentioned, neck kisses connect with a key erogenous or highly sensitive zone. So, the art of how to kiss her neck is to be slow and gentle. In other words, think of your lips stroking her skin like a feather.
If you keep in mind that the aim is to activate those nerve endings, you can easily work out the rest on your own because anything that wakes up those nerve endings will work. That includes nibbling, licking, breathing, and obviously kissing.
As you keep going, your fingertips can also add to the sensations.
Another lovely way to surprise your partner pleasantly is by kissing the neck from behind. Again, it's a great way to communicate that you're there for them and that you are deeply connected.
Finally, it's all down to communication if you want to truly perfect the neck kiss. Talk to each other about what works, and be yourself. A truly loving partner will never judge and will simply enjoy the closeness and bonding that neck kisses provide.
Why do neck kisses feel so good?
The main reason that neck kisses feel so great is because we have so many nerve endings in the neck area that it's highly sensitive. From a scientific point of view, once all those nerves are activated, they, in turn, trigger happy chemicals in your brain.
As this British Council article on the science behind kissing further details, those happy chemicals are predominantly dopamine, oxytocin, and serotonin. So, not only do the benefits of neck kissing include greater intimacy, but they also improve your well-being thanks to those happy chemicals.
If you want to learn more about those happy chemicals and how to naturally give yourself a boost, watch this video on How to Hack Your Brain's Happiness Chemicals:
Some commonly asked questions
Here are some answers to certain pressing questions that can help clear your doubts about neck kissing and its effects:
How to seduce a girl with a neck kiss?
Often, it's the anticipation of what's to come that makes everything seem so great. Once it's over, there's nothing to look forward to, so make sure you linger when kissing her neck. Take your time and simply enjoy the sensations.
The best way to give a throat kiss is to have fun with what you have. Use your lips, tongue, breath, and maybe even some fingertips to heighten all the sensations. Through those sensations, you're naturally sending signals of closeness and bonding.
The key for how to kiss her neck is to also not overthink it. Yes, you can read about techniques, but sometimes that can all get overwhelming. Instead, the simplest approach is to just think about what you might enjoy for yourself.
Furthermore, just because you're not communicating verbally, you're still communicating. So, watch how her body folds into yours. If, on the contrary, you sense her pulling away or twisting around, then follow her queue to those areas. Overall, the art is to let your bodies fold together.
Why do guys like kissing your neck?
Neck kissing is both acceptable and highly intimate. On the one hand, it's full of mystery about where those curves go. On the other hand, it's just there with such easy access. That blend of mystery and temptation is irresistible to most guys.
Furthermore, whether you know the benefits of neck kissing consciously or not, your body naturally responds to both receiving and giving neck kisses. We all crave nurture and closeness, and neck kissing is one of the most powerful to generate those feelings.
Finally, a neck kiss is different from a mouth kiss and signals to everyone else that you are his. It's erotic, intimate, and creative such that no one else can get to that part but him. And it holds the key to so much more.
Final thoughts
Neck kissing is one of the most formidable ways to ignite someone's erogenous system. It can be both sensual and powerful whilst remaining mysterious and playful.
Moreover, there are many benefits ranging from igniting our brain's happy chemicals to deepening the emotional connection with our partner. And the technique of slow and gentle is easy to follow.
Nevertheless, bear in mind that life is hard, and all of us face unforeseen challenges at various times. If you find you can't seem to kiss your partner or you dread their touch, then seek couples counseling to guide you.
We all deserve a loving partnership with exciting and tender kissing to go with it.
Share this article on
Want to have a happier, healthier marriage?
If you feel disconnected or frustrated about the state of your marriage but want to avoid separation and/or divorce, the marriage.com course meant for married couples is an excellent resource to help you overcome the most challenging aspects of being married.
You May Also Like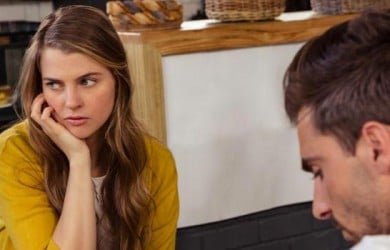 Popular Topics On Married Life