Why Do Men Play Mind Games? 9 Reasons and Ways to Cope
Relationships can sometimes feel like treading through a minefield. When you're dating or in a relationship, the expectation is to have a partner who is straightforward and honest. Unfortunately, not all people are cut from the same cloth, and sometimes, men play mind games.
But why do men play mind games? Identifying guys who play mind games can be a murky challenge. They might send mixed signals, blow hot and cold, or keep you guessing about their true intentions.
Wondering, "why does he play mind games with me?" We'll understand the reasons why men play mind games and offer five strategies to cope when you find yourself entangled in such a scenario.
What does 'he is playing mind games' mean?
The phrase "he is playing mind games" refers to the act of using manipulative or deceptive tactics to gain an emotional or psychological advantage in a relationship. This could manifest in various ways, such as sending mixed signals, being inconsistently affectionate or distant, or deliberately creating confusion or doubt.
The aim is often to exert control, avoid vulnerability, or fulfill some other emotional need at the expense of the other person's well-being. Recognizing these tactics is crucial for maintaining a healthy emotional state.
How do you tell if a man is playing you?
Identifying if a man is playing you involves observing his actions and your own emotional state closely. Consistent inconsistencies, such as frequent fluctuations between showing affection and being distant, can be a major red flag.
If he avoids serious conversations about feelings or the future of the relationship, that could also be one of the signs he's playing games.
Pay attention to how secure and valued you feel in the relationship. Mind games often leave you questioning your own judgment or feeling like you're always "on edge."
If you find yourself constantly trying to decode his behavior or doubting your own worth, it's likely that he's playing games.
9 reasons why men play mind games
So, why do guys play with your feelings? Understanding why do men play mind games can be the first step toward reclaiming your emotional well-being. Know 9 possible reasons behind these confusing and manipulative behaviors.
1. Insecurity
Some men use mind games as a coping mechanism for their own insecurities. By manipulating situations to their advantage, they get to exert some form of control, even if it's artificial.
In doing so, they temporarily allay their fears of vulnerability, rejection, or inadequacy. This is a twisted way to gain reassurance and to feel more secure in the relationship, albeit at the expense of their partner's emotional well-being.


2. Emotional unavailability
Men who are emotionally unavailable may use mind games as a strategy to keep a certain emotional distance in the relationship. They might avoid straightforward communication, instead opting to send mixed signals.
The aim is to prevent the relationship from moving into deeper emotional territories, which they're uncomfortable traversing. This often leaves their partners in a state of confusion and emotional limbo.


3. Testing boundaries
For some men, playing mind games is about testing a partner's boundaries to see how much they can get away with. By creating situations that are ambiguous or confusing, they assess how their partner reacts.
This could be a twisted form of gauging commitment or a way to ascertain how much emotional labor their partner is willing to invest in the relationship.
4. Fear of commitment
Men who have a fear of long-term commitments may employ mind games to avoid having to face their phobia. They might act inconsistently or create situations that lead to arguments, effectively diverting the conversation away from topics that would necessitate a deeper commitment from them.
5. Control
Some men play games out of a desire for control. They enjoy having power over someone else's emotions or decisions. For them, the ability to influence their partner's actions and feelings provides a sense of accomplishment and superiority, however misguided.


6. Ego boost
For men whose self-worth is wrapped up in their ability to "win" in situations, playing mind games can offer an ego boost. They may get a sense of satisfaction from outsmarting their partner or getting them to act in a way that reaffirms their own sense of worth or attractiveness.
7. Game playing as a norm
In some cases, men engage in mind games because that's all they know. Their previous relationships may have set unhealthy examples, or they might have grown up in environments where manipulative behavior was the norm.
8. Avoiding vulnerability
Engaging in mind games men play can also be a way to avoid vulnerability. By keeping their partner at arm's length and masking their own feelings, these men protect themselves from the risk of emotional pain, rejection, or perceived weakness.
9. Misguided advice
Sometimes, societal messages or peer advice can perpetuate the notion that mind games are a necessary part of dating. Men who heed such advice may believe they are playing the "dating game" as it's meant to be played, not realizing the emotional toll it can take on their partners.
How to handle a man who plays games
Not knowing why do men play mind games and dealing with a man who plays mind games can be emotionally draining and confusing. In this section, we'll explore strategies to help you regain control and make informed decisions.
1. Identify the behavior
The first step in handling this situation of men who play mind games is to recognize the mind games for what they are. If you find yourself constantly questioning your own memory, feelings, or perceptions, it's likely you're being manipulated.
2. Open communication
Confront the issue with open and honest communication. Clearly express how his actions are affecting you without attacking him personally. Use "I" statements to avoid sounding accusatory.
3. Set boundaries
Make it clear what behavior you will not tolerate. Setting boundaries is a powerful way to regain control of a situation and can serve as a litmus test for his willingness to respect you.
4. Seek support
Sometimes, it helps to get a third-party perspective. Talk to friends, family, or mental health professionals who can offer advice or validate your experiences. Emotional support can be a powerful tool when dealing with mind games.
5. Reevaluate the relationship
If the man in question continues to engage in mind games despite your efforts, it may be time to consider whether the relationship is healthy or worth continuing.
Sometimes, the best course of action is to walk away and find someone who values you and treats you with the respect you deserve.
Commonly asked questions
Relationships can be complex, especially when mind games come into play. Our FAQ section addresses some common questions, like why do men play mind games to help you better understand and cope with manipulative behavior in relationships.
How to beat a man's mind games?
The best way to "beat" a man's mind games is not to play. Recognize the manipulation for what it is and assert your boundaries. Open and honest communication can be a powerful tool. Clearly express how his actions are affecting you and what you will not tolerate.
If the behavior persists, you might need to reevaluate the relationship's health and consider walking away. The key is to maintain your integrity and emotional well-being rather than getting sucked into the drama and manipulations.
Why does he play with my feelings?
There are various reasons a man might play with your feelings, ranging from his own insecurities and fears to a need for control or an ego boost. It's crucial to understand that this behavior is not a reflection of your worth but rather an indicator of his own issues.
In such cases, he's not necessarily considering your emotional well-being, which can result in a one-sided and unhealthy relationship dynamic.
What type of person plays mind games?
People who play mind games often have underlying issues such as insecurity, emotional unavailability, or a need for control. These individuals might have a history of troubled relationships and may have grown up in environments where such manipulative behaviors were normalized.
However, it's important to note that anyone can engage in mind games, regardless of gender, age, or background. Identifying such a person requires keen observation and, sometimes, professional advice.
Does he really love me, or is he playing me?
Determining whether someone truly loves you or is playing you can be complex. A person who loves you will generally treat you with respect, value your feelings, and will not engage in manipulative behaviors.
On the other hand, if you find yourself constantly questioning his intentions, feeling confused or emotionally drained, these could be signs that he's playing games with you. If you're unsure, seeking advice from trusted friends or mental health professionals can offer invaluable insights into the relationship.
Want to know more about the types of mind games men play on women? Watch this video:
Let's skip the games
Dealing with a partner who plays mind games can be stressful and emotionally draining. However, understanding why men engage in these tactics and how to cope can provide you with the tools you need to make informed decisions about your relationship.
Share this article on
Want to have a happier, healthier marriage?
If you feel disconnected or frustrated about the state of your marriage but want to avoid separation and/or divorce, the marriage.com course meant for married couples is an excellent resource to help you overcome the most challenging aspects of being married.
You May Also Like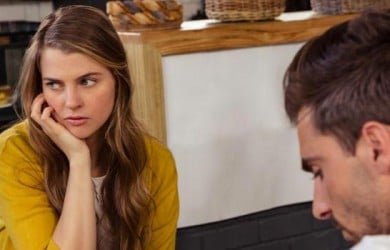 Popular Topics On Married Life