8 Telltale Manipulative Wife Signs to Look Out For
Manipulation in a relationship can take many forms and can be harmful when it comes from your partner. It can lead to emotional distress and turmoil, which can be painful and difficult to navigate. In any marriage, it's important to identify the signs of manipulation and take action for protection.
When it comes to a manipulative wife, it's essential to recognize these traits of a manipulator because she can use a variety of tactics for her partner, which are very controlling and manipulative. This can lead to an unhealthy and unsafe relationship for both partners.
This article will discuss eight common manipulative wife signs that need extra attention in your marriage. Knowing these signs of manipulation can help you to understand what you're dealing with and take the necessary steps to address their impact on your relationship, hence, maintaining a healthy relationship.
What does a manipulative wife mean?
Before delving into the signs of manipulation in a marriage, it's equally important to understand what is meant by the term "manipulative wife." Firstly, manipulation is influencing or controlling someone cleverly or duplicitously, usually for one's benefit.
In a marriage, a manipulative wife uses various tactics, such as her words, actions, or behavior, to control, influence and dominate her partner's behaviors, thoughts, and feelings. It's hard to notice when a wife is controlling and manipulative because it's often done in subtle or indirect ways.
A manipulative wife may use various tactics such as guilt-tripping, conning, victim-playing, or blackmailing to manipulate her husband to get what she desires. It's essential to note that your wife being manipulative does not necessarily mean she is a bad partner; however, it can lead to an unhealthy relationship.
8 signs of a manipulative wife
It's not uncommon to see a wife being controlling over her husband. However, it can be devastating when signs of manipulation become excessive in a relationship. Perhaps you're wondering if your wife is manipulating you or you're concerned you're trapped in a manipulative relationship; here are eight signs to look out for:
1. She always wants to control
This sign needs your extra attention among the signs of a manipulative wife. If your wife is always trying to control every aspect of your life, from the way you dress to the friends you hang out with, she may be manipulative. She may use guilt, fear, or anger to get her way and achieve this.
Related Reading: 

15 Ways How to Have Self-Control in a Relationship
2. Victim-playing
Victim-playing is among the manipulating personality traits; your wife may use it to get what she wants. Dr. George Simon, a consultant, says if your partner frequently plays the victim and makes you feel guilty and sorry for her, even when it is not necessary or reasonable, she might manipulate you.
3. She's overly critical
Your wife may be overly controlling by constantly criticizing all you do, making you feel like you are not good at anything right.
If your wife constantly does this and puts you down, she is trying to control you. This can lead to you feeling like you're not good enough for her and is thus considered one of the manipulative wife signs.
4. She uses emotional blackmail
You might have heard about it and thought, "what does it mean to be emotionally manipulative." Among the signs of manipulation is emotional blackmail, where your wife uses fear, guilt, or shame to get what she desires. If your wife is using this, it's a sign that she is being manipulative.
5. She's always right
A manipulative wife might have difficulty admitting when she's wrong. If your wife is always trying to be right, defensive or angry when you try to prove her wrong, insisting that she's right and never admitting to being wrong, she is trying to control and manipulate you into agreeing with her.
6. She's jealous and possessive
What are the signs of manipulation in a relationship?
Your wife being overly jealous and possessive is among the signs of manipulation. She may isolate you from your friends and family, making it easier for her to control you. She might get angry if you spend time with anyone else and try to convince you to distance yourself from your loved ones.
Related Reading: 

15 Ways on How to Stop Being Possessive
7. Using sex as a weapon
If your wife uses sex as a way to control you, arguably, she possesses one of the signs of manipulation. Sometimes, she might hold back from having sex if she doesn't get what she wants or use it as a conditionally expected reward to get her way.
8. Using your weaknesses against you
This can come in the form of gaslighting, where your wife emotionally abuses you by manipulating you into questioning her sanity. Here, your wife uses your weaknesses against you.
These are all traits of a manipulator and if your wife is a master at these, she may make you feel crazy or inadequate and control your behavior.
If you recognize any of these signs of manipulation in your marriage, addressing and dealing with them is important. Being manipulative is damaging to both of you and can lead to a breakdown in your relationship. The next section will examine how you can deal with manipulative wife signs.
Related Reading: 

30 Signs of a Weak Man in a Relationship & How to Deal With It
10 ways to deal with a manipulative wife signs
Dealing with a wife who is controlling and manipulative can be a challenging experience, but it's important to remember that you are not alone. Many people struggle with manipulative wives, and there are steps you can take to address the situation. Below are some tips for dealing with manipulative wife signs:
1. Recognize the manipulation
To deal with a manipulative wife signs, the first step is to recognize the signs of manipulation, some of which are given earlier in this article, that exist within your relationship with your wife. You solve bigger problems when you recognize them; it's important to address and deal with them.
Related Reading: 

How to Recognize and Handle Manipulation in Relationships
2. Stay calm
It is important to remain calm when dealing with a manipulative wife signs. Do not get emotional, as people who are manipulative often use emotional triggers to control others. Hence, remaining calm can help you to avoid falling into your manipulative wife's trap.
3. Set boundaries
In a medically reviewed article by Smitha Bhandari, it's noted that one of the most important things you can do when dealing with a manipulative wife signs is to set clear boundaries. When your wife tries to manipulate you, it's essential not to give in to her demands.
This means being firm in your expectations and refusing to tolerate unacceptable behavior.
Related Reading: 

15 Ways of Setting Boundaries in a New Relationship
4. Communicate effectively
Communication is a key feature in any relationship, and it's important to have it when dealing with a manipulative wife signs. Remember to express your feelings and concerns calmly and clearly; when you do so, be honest about your feelings and needs. Remember to listen to your wife's perspective as well.
5. Seek support
It can be challenging when you deal with a manipulative wife signs; it's important to seek help from friends and family. Talk to someone else about your experiences; it can help you gain various perspectives, develop a plan to deal with, and help you navigate the situation.
6. Take responsibility
While your wife's manipulative behavior is not your fault, taking responsibility for your actions and reactions is important.
Being aware of your triggers and vulnerabilities can help you to avoid falling into her traps. However, stand your ground and maintain your self-worth when dealing with manipulative wife signs.
7. Don't engage in drama
You should always know when to walk away when your wife's manipulative behavior is severe and doesn't improve despite your efforts. She will always thrive on engaging in drama, so it's important to avoid engaging in arguments or playing into their games. Stay calm and focused on your goals.
8. Practice self-care
Dealing with a manipulative wife signs can be emotionally draining and take a toll on your mental health, so it's crucial to practice self-care. Don't forget to take care of your physical, emotional, and mental health by getting enough rest, exercising, and engaging in activities that bring you joy.
Related Reading: 

The 5 Pillars of Self-Care
9. Seek professional help
So, how to deal with a manipulative wife when all else fails?
If your wife's manipulative behavior is increasing and affecting your relationship, it is high time you consider couples counseling and seek professional help. A trained therapist can help you and your wife to work through your issues and develop healthier communication patterns.
10. Consider your options
Likewise, you need to consider your options and prioritize your safety and well-being if your wife's behavior consistently damages your relationship and mental health. Whether that means giving each other space or making some changes in your marriage, prioritizing your well-being and happiness is important.
In her TEDxAarhus 2019 talk, psychologist Signe M. Hegestand discusses the underlying unconscious patterns that influence human behavior and sheds light on why people tend to remain in psychologically abusive relationships.
Dealing with a manipulative wife signs can be a difficult and emotionally draining experience. However, by taking these steps to address the situation, you can protect yourself and your relationship from harm.
Some commonly asked questions
In this section, we'll address some common questions that people have about manipulative behavior in a marriage. We hope this information will help you recognize whether your wife's behavior is healthy or harmful and guide you in navigating the situation.
How to outsmart a manipulative wife?
It's important to note that manipulation is not healthy for any relationship. Hence, it should not be considered something to be "outsmarted." Don't indulge in another form of manipulation just because you want to outsmart your controlling and manipulative wife.
Instead, following the ten tips in this article can be the best way to outsmart your manipulative wife. It's important to confront the behavior calmly and assertively and to express your feelings and concerns. Remember to seek the help of a therapist or counselor if needed.
What does emotional manipulation in a marriage look like?
Emotional manipulation in a marriage can take many forms. Still, it often involves a spouse using tactics to control or influence their partner's behavior, thoughts, or feelings for their own benefit. This can include tactics such as guilt-tripping, gaslighting, withholding affection, or playing the victim.
Manipulative behavior can also involve isolating their partner from friends and family or using emotional outbursts to gain control of a situation.
Ultimately, emotional manipulation can damage the trust and emotional intimacy in a marriage, and couples need to address any concerning behaviors and seek professional help if necessary.
How can I seek help if my wife is manipulative?
If you feel or suspect that your wife is being manipulative, it's important to seek help as soon as possible to avoid further damage to your relationship and emotional well-being. You can start by talking to a trusted friend or family member who can offer support or advice from a therapist or counselor.
Setting boundaries with your wife and communicating your concerns clearly and assertively is also essential. Remember, seeking help is not a sign of weakness but rather a brave and necessary step towards a healthier and happier life.
Final thoughts
If you identify one or more of the signs in any of the above eight signs mentioned in this article in your wife, it may be a sign among traits of a manipulator. It is important to address them as soon as possible before they damage your relationship.
Remember, you deserve to be in a relationship based on mutual trust, respect, and love. You can start by openly and honestly communicating your concerns with her. Communicate your boundaries clearly and calmly, and be prepared to stand firm if your wife tries to push back.
If you struggle to deal with a manipulative wife signs on your own, don't hesitate to consider seeking the help of a therapist or counselor. Doing this can help you work through your feelings and develop healthy coping strategies to manage and overcome the situation.
Share this article on
Want to have a happier, healthier marriage?
If you feel disconnected or frustrated about the state of your marriage but want to avoid separation and/or divorce, the marriage.com course meant for married couples is an excellent resource to help you overcome the most challenging aspects of being married.
Learn More On This Topic
You May Also Like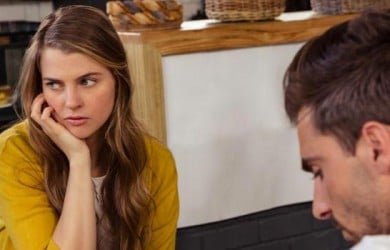 Popular Topics On Married Life