A Simple Hack to Keep Your Long Distance Relationship Exciting
Married life is tough. On top of it, if married life comes to the brink of
surviving a long-distance relationship
, it becomes all the more difficult.
In a marriage, sometimes everything works out according to plan, and other times you get stuck struggling through a rough patch. There's no helping it.
Life has its ups and downs, and marriage is a lifetime deal.
Learning how to cope with the inherent problems that pop up from time to time is part of the experience of growing into a mature couple together.
Our marriage story
Our journey started with the usual newlywed trials, so we took the age-old advice, we improved our communication, formed healthy habits, and got into a routine of maintaining our relationship.
It sounds so clinical on paper, but we did thrive just being in each other's company and enjoying our new life together.
Then came the period of our marriage no one had warned us about because it's not the traditional scenario. My husband got a great job offer across the country, and we just couldn't turn it down.
The pay was much more than we could hope for, but going beyond finances, I knew it was his dream job, and he may not get this opportunity again if I asked him to pass on it.
I just couldn't take that away from him, but I also couldn't make the jump to uproot my whole life and follow him, at least right away. It was such an uncertain time in our relationship.
We never for a moment considered this to be a threat to our marriage. If other couples could make it work, so could we.
It wasn't going to be forever, just until we had the time to set up a new home and the stability to know his job was going to be everything we had hoped it would be.
The beginning of our long-distance relationship
The day finally came when he made the big move. We had prepared as best as we could with advice from our friends and family.
We made sure to schedule weekly video calls across time zones. We texted daily whenever we had a moment and wanted to connect, and for the first few weeks, it wasn't that bad.
We used all the tools to maintain our intimacy that we could think of, and at the time, we hadn't heard of bond bracelets yet.
I thought we had it all figured out for our long-distance relationship until he came back for his first monthly visit. And, it floored me.
I guess we got caught up in the excitement of the first big move, and the adrenaline hadn't worn off until we made it through that first month.
After having seen him, and held him, and been in his presence for a little while, seeing him leave for the second time was excruciating.
If you've ever been in a long-distance relationship, you'll know the type of pain I'm talking about.
The missing aspect of our long-distance relationship
I didn't know what was missing, but I knew he felt it too and was too afraid to bring it up. I wracked my brain over it.
We talked every day, or at least as often as we usually did when he was at home, communication didn't seem to be the problem. I saw him too, and he was always on my contacts, and our video calls helped bridge that gap.
I had a little bit of his cologne that I kept at my makeup station. I had all these little reminders, and I knew he kept his own, but it just didn't feel the same.
We couldn't fulfill one sense- the touch, and comfort of the significant other's presence.
It was more than just the embrace of someone you love, and when he was home, there were those little pats on the back or pecks on the cheek.
It was those spontaneous moments when I felt his touch and the beautiful connection it sparked.
Touch bracelets for couples
I started researching on non-verbal communication, especially touch communication, after I realized what we missed in our long-distance relationship. I knew we weren't the first ones to become touch starved after a prolonged separation.
This was when I came across HEY bracelets, and looking back, this is probably the tool that helped us revitalize our marriage.
We got a matching pair and synced them so that when he touched his bracelet, I would feel a gentle grasp on my wrist, and I could give him the same feeling too.
This little bit of technology that seemed so intuitive and natural could do what hours of texting or nights of video calls couldn't. It finally closed the gap that was forming between us.
We laugh about it now. How we tried all these conventional devices and traditional advice for our very modern problem, but at least we're here now.
It's hard to communicate just what the bond bracelets were able to do, so I'll give you an example.
When I'm having my morning cup of coffee is just about when he's coming home from work. In the past, he'd just give me a good evening kiss and sit with me awhile, watching tv or doing his own thing online.
He had started coming up with these little anecdotes from work to text me on his commute home, his way of making up for his absence. But at the time, I'd be preparing breakfast or getting ready for work, so I never read it until an hour or so later when I was at work, and he was getting ready for bed.
Such a simple little disconnect is bound to happen in any long-distance relationship, but it adds up over time, and it makes us feel worlds apart. Now, I wear my HEY bracelet, and when I feel the gentle squeeze on my wrist, I know at that exact moment he just thought of me.
I probably know his schedule better now than I did before. He likes to give me a little touch during his morning and evening commute. I send him a 'touch' on my breaks at work, or just to respond to him, so he knows I felt him.
That's one of the beauties of touch connecting bracelets. We were no more struggling to squeeze in a phone call or sending rambling texts to compensate for the distance and time-lapses.
The magic of bond bracelets
The bond bracelets gave us a simple solution to our biggest problem, and we could use it any time we felt like it. They're so comfortable I can wear them all day long, and the design made it blend into most of my outfits.
Anyone who glanced over at it assumed it was a fancy wristwatch, and I preferred it that way so it could stay a single thing, just between the two of us.
Right now, I have no idea what I'd do without my HEY bracelet and the power of touch.
Having been practicing social distancing for the past few weeks, I'm sure I wouldn't have been able to receive even the lightest of touch without it, especially since I'm technically living alone without him.
It came with the perfect timing too, because he's avoiding travel, we haven't been able to meet for our usual monthly reunions.
It's really the best for both of us, from the relationship perspective as well as our health perspective. And, it would have stung so much more if I didn't have that gentle little touch by my side like he's grasping my wrist for a small, supporting gesture.
I rarely feel like I'm alone these days, and weirdly enough, I probably feel his presence more than I would have had he been at home.
I know that wherever he is in the world, I can let him know I'm thinking of him, I love him, and I'm there for him, even if for the moment "there" means a few thousand miles away.
I never knew how much his absence was affecting me, how the long-distance relationship was impacting so many aspects of my life until I got a hold of these HEY bracelets.
Even though he hates to make a big deal of these sentimental things, he surprisingly told me he felt the same way too.
He could never really live his dream job with our long-distance relationship, without me by his side But, with the help of our bond bracelets, we're one step closer to getting there.
For more tips on surviving a long-distance relationship, watch this video.

Share this article on
Want to have a happier, healthier marriage?
If you feel disconnected or frustrated about the state of your marriage but want to avoid separation and/or divorce, the marriage.com course meant for married couples is an excellent resource to help you overcome the most challenging aspects of being married.
Learn More On This Topic
You May Also Like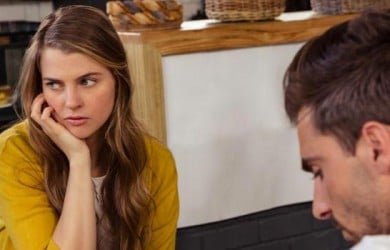 Popular Topics On Married Life