How Periodic Absences Strengthen Long-Distance Relationships?
Are you someone who is in a long-distance relationship?
And a relationship that has proved to be stronger and longer than you expected?
But you still can't help but wonder how long is it really going to survive?
And don't you really wish that you both finally manage to stay together and get rid of these recurrent absences?
Are you at a point where you hate the long distance that stands stubbornly between you two?
And just when you two are about to be reunited, do you severely dread that phone call or a text message saying his stay might go a little longer?
Do you ask yourself often that is it worth it, when you see those couple hanging out together, laughing and talking endlessly, while you keep peeking into your cellphone screen, waiting for a message to pop up from him?
And while it's already a long-distance relationship, how empty and hollow do you feel when there are total absences at times and you are unable to reach him through your Internet-based texting and calling Apps, yet still paying all those monthly cellphone bills.
What it's like to be in a long distance relationship
Well, I can totally relate to the situation that you are facing because, needless to say, I was in one too. My husband is an ex-Marine and spent years in the war in Afghanistan. We were unable to speak to each other for the longest of times during those two years, that later extended to another two years.
Now when I take a trip down the memory lane, I literally smile thinking of how all those years brought our hearts closer and strengthened our relationship. We were more appreciative of each other's sacrifices and respected each other's feelings.
Now that I practice as a counselor for couples struggling in long distance relationships, I realized a long time ago how this distance only causes people to be closer and bond as better partners.
Let's dig a little deeper into how in a long-distance relationship, absences actually strengthen the bond that you share.
How does it work for couples who are always together?
If you are struggling in a long-distance relationship and you consider 'distance' as the bone of contention and root of every single problem in your life, then let me enlighten you with a dose of reality.
Couples that stay together and have never experienced distance and absence (that you may envy each day when you wake up perhaps) are not happy couples most of the times.
Although they are together after experiencing intense surges of emotions and feelings for each other, most of them fail to retain the irresistible attraction that they initially felt through the years.
Since I also offer to counsel to the couples with unhappy problems, struggling to keep their relationship intact, let me tell you that most of the couples complain of having a lack of involvement, attention, and attraction.
Most women and even men complain of being taken for granted and how things turned out to be not up to their expectations.
So, it is not how it seems to be for the couples that are together.
None of the aforementioned complains are ever put forth by someone who is in a successful long-distance relationship. Rather, they really crave to be by each other's side and hence the level of involvement and attraction is always high.
Staying in the mind and heart means staying in life
A relationship is all about involvement and emotions that a couple shares. If lately, you have obsessed with how other couples are hanging out together, flaunting their love and looking all happy and content, you need to know that it's not the distance that makes the emotions fade away.
So, whether your relationship is the one that was a long-distance one since the beginning or it was a long-term relationship that later became a long-distance relationship due to certain commitments, just know that it is the distance really that is keeping you intact and all those emotions that you have for each other have only been augmented through this distance.
Ask yourself. Don't you get goosebumps when you think about meeting him again? That shows the strength of your relationship.
Why Are Distance and Absences Important?
When emotions are strong and powerful, hearts are close, geographical distances don't matter!
And this is how it works.
Distance and absence help you analyze so much about your relationship. It makes you recognize your partner's efforts and the love that you both have for each other. It makes you appreciate things better. It makes you crave for each other's presence that staying together for endless times never makes you feel.
While you are away and disconnected, it feels like it's a test of your resilience, faithfulness, and commitment and you realize how important are all these things really are in a relationship.
How communication helps while being distant?
Communication over the Internet or phone is really helpful while the relationship is distant, and especially after those periodic absences.
With novel texting and calling apps and facilities like video calling has made staying connected easier.
When you get to see your partner on your gadget screen, all those feelings and emotions are aroused and you feel much closer. Also, love remains rejuvenated with regular communication.
Kill that Insecurity
Stop fretting about your long-distance relationship and shun all the thoughts about being cheated on or any similar doubts. The insecurity always comes when something is lacking in terms of the basics things in your relationship, such as love, commitment, attraction, faithfulness and so on.
It's never the distance though. Focus on the qualities and sacrifices that your companion has made for you. And again, feeling insecure is just normal.
Distance doesn't disconnect, it only refreshes
Distance makes you fall in love all over again. You truly recognize how you much does your partner actually matter for you. And yes, you become all creative in your love-life because of the distance that you experienced.
So, just celebrate these absences as powerful precursors of stronger love and bonding. Wishing you a life-long relationship!
Share this article on
Want to have a happier, healthier marriage?
If you feel disconnected or frustrated about the state of your marriage but want to avoid separation and/or divorce, the marriage.com course meant for married couples is an excellent resource to help you overcome the most challenging aspects of being married.
More On This Topic
You May Also Like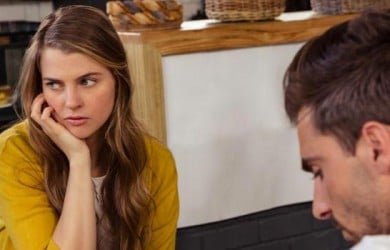 Popular Topics On Married Life