How to Resolve the Cleanliness Conflict in Your Marriage
A lot of people like cleanliness and order in their homes. However, sometimes cleanliness in the house means much more than just absence of dust and things in their places. Nothing but perfection is acceptable for certain people! That perfection becomes a reflection of their identity. In this case, order and cleanliness in the house become sacred in a way that it should be sustained at any cost. But what happens when their partners do not share their love for cleanliness or understanding of how a clean house should look like?
The concept of "clean" and "in order" mean different things to different people
I worked with a lot of women and men for whom an order in their home became a source of constant everyday conflict with their partner. To illustrate the issue, I will use the most common example of a situation when a woman is the one who looks for perfection in cleanliness, and a man is the sloppy one. However, it can be the other way round, and homosexual couples can face the same issue. In my example, women usually complain that their partners are slobs who do not care about the place they live in and the hard work those women put into taking care of the living space they share with their partners. Men very often complain that they do not even understand what they do wrong. Some of them desperately try to meet their partner's criteria for cleanliness and order, failing in a lot of cases. A seemingly obvious conclusion comes out of that: different people have different standards for what concepts of "clean" and "in order" mean. All those different standards have the right to exist, there is no right or wrong to it.
How socialization component affects the standard of cleanliness and order
There is a socialization component, which usually comes from the way people are raised. If cleanliness and order were extremely important in people's families of origin, those notions often become important their own families. However, socialization is just a piece of the puzzle. This high standard of cleanliness and order very often means to people more than just comfort and coziness in their home. The order in their houses reflects how "good" or "successful" those people are in their lives. This is why it is such a common case for women. Much more so than for men. This identity piece is the part their partners often neither see nor share. Therefore, an accusation like "You do not sweep the floor often enough" in reality means "You do not see or understand that I feel guilt and shame if I am not perfect, and I am not perfect if our house is not clean". Unfortunately, those women usually do not understand what they really need when they ask their partner's help with household chores. Men do not see it, either, and the couple gets stuck in a conflict about something that is not even a real issue.
Also watch: What Is a Relationship Conflict?
Here are some tips on how to resolve the conflict about cleaning-
Recognize that your partner can have an understanding of cleanliness different from yours.

Sit together with your partner and come to an honest agreement about what level of order and cleanliness you both commit to sustaining in common areas.

Clearly define the space for each of you (it could be a room or part of a room, or whatever works for the both of you) where each of you can be as clean or sloppy as you want. Don't interfere with your partner's way of keeping things in this space no matter how hard it could be!

Finally, look inside yourself why the order and cleanliness in your house are so important (or unimportant) to you personally. Explore where those habits of living a certain way come from. Check if they still work for you in your current living situation. You could discover that it is a time for a change!
Share this article on
Want to have a happier, healthier marriage?
If you feel disconnected or frustrated about the state of your marriage but want to avoid separation and/or divorce, the marriage.com course meant for married couples is an excellent resource to help you overcome the most challenging aspects of being married.
Learn More On This Topic
You May Also Like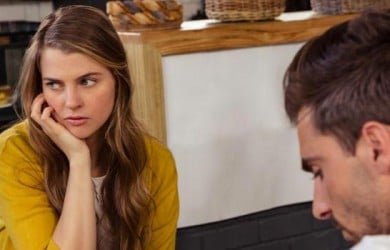 Popular Topics On Married Life