How to Understand Your Husband
Just like every woman, every man is different.
There are many things your husband would expect from you but would not ask for it. And every man has a different outlook on life and his personal relationships.
Understanding what your husband wants can be very difficult sometimes. But do not worry. This article brings you the solution.
It contains some fine tips to understand your husband adequately. Answers to every question can be different depending on the couples.
You will be sure of how different you both are and what background have you come from. You both may have different personalities and different aspects of life.
There are several ways you can know how to understand your husband nicely. After all, keeping your man happy can lead to a successful married life.
Remember he is a man, not your girl-friend
It is strange why some women expect the same from their husbands the way women treat their girlfriends.
Women want their husbands to sit with them and get involve in long chats and talk about everything excessively. Some men get annoyed by long and gossipy chats. They like things to be brief and concise.
Eventually, when their husband resists, the woman thinks that her husband does not care at all. Well, they do care, but they do not show it explicitly. Men are generally concerned about facts, and women focus more on feelings. What you really need to do is to understand his approach to life.
Whenever you ask for directions or advice, he will do it in a cursory manner. But if you ask for sympathy, he will give you the right suggestions and will offer himself to the max. Do not think that he is uninterested and that he is insensitive. It is just that he is not a mind reader.
How to understand your husband? Try to validate his emotions and empathize with him so that he feels heard and understood. Here's how you can please your husband!
Recognize his ambitions
Husbands are always thinking about progress.
He is finding ways to be competitive and achieve all his goals. If your husband is feeling low, it is obvious that he is failing to achieve his goals and the situation is not going his way.
The least he needs from you in these situations is support and recognition. The best you can do is tell him that he is a very significant part of your life.
Tell him that whatever he has done is simply great, and he has proved to be a great husband. Motivate him for his future objectives. Do not degrade him; do not tell him that he is a bad husband. Unfortunately, he will stop every step he has been taking.
On the contrary, if you praise him for his small gestures and efforts, and explain to him your expectations, he will take it more seriously.
Treat him like a king at home, understand that respecting your husband is the key to live a peaceful marital life. Encouragement goes a long way, praise him for his handy housework, and he will be extra supportive towards you.
Also watch:

His love for food
All men love food, so if your man talks about food most of the day, that means he loves it. A wife can simply keep her husband happy by serving him delicious meals. Prepare the things he loves. This is one way to impress your man and make him happy.
As a matter of fact, what you eat affects how you behave. Try doing this to make your chemistry all the more interesting!
Furthermore, for a man, a fulfilling dinner and a good conversation on the table can do a lot.
He feels the hard work he has done pays him off nicely. It is one of the simplest pleasure men deserve to get after the investment.
Priorities change with age
Men value different things at different levels of life.
A man prefers earning and achieving career goals when he is the main breadwinner in the family. As soon as he realizes that he is the key provider of the family, he thinks about ways to earn sufficient amount of money.
In his 60's he will lay emphasis more on enjoying life.
Doing stuff in the bucket list and going on holiday with family for which he earned. Keep in mind that priorities shift with growing age, and knowing how to please your husband is a very easy job.
To know how to understand your husband love your husband and give your best to your married life in old age because that's when you become more sensitive and emotional.
To sum up!
These tips for understanding your husband are not surprising at all. These are the basis of every happy marriage that is often ignored by both the partners. You will be amazed after making decisions for your husband and how to be a better woman for your man. The above mentioned golden tips will help you enhance your relationship with your husband.
Be careful before criticizing him. He is as important as you for the smooth functioning of the household.
Make him feel like your one and only, share your happiness with him and watch the joy grow manifold times.
Love him dearly, praise his hard work, and he will conquer the world for you. Have a little conversation or pillow talk before bed, where you both exchange words of kindness and let your partner know that they matter for you a lot.
Share this article on
Want to have a happier, healthier marriage?
If you feel disconnected or frustrated about the state of your marriage but want to avoid separation and/or divorce, the marriage.com course meant for married couples is an excellent resource to help you overcome the most challenging aspects of being married.
More On This Topic
Recent Articles
You May Also Like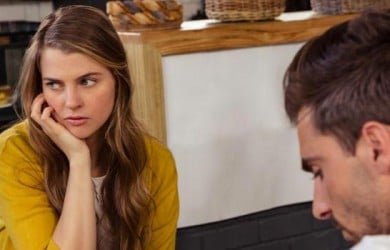 Popular Topics On Married Life