Emotionally Intelligent Husbands Are Key to a Happy Marriage
Emotional intelligence is an ability to understand, manage, empathize, and control one's own and other people's emotions.
An emotionally intelligent person is capable of identifying their own emotions and others while also keeping control of how it affects them and others around. Daniel Goleman played a major role in making emotional intelligence famous.
He suggested there are 4 main elements of emotional intelligence :
Social skills

Self-awareness

Self-regulation

And empathy
Don't get confused between IQ and EQ!
IQ or information quotient refers to an objective measure of one's ability to learn, reason and apply information to skills. While EQ has to do with controlling and managing emotions and feelings.
How is emotional intelligence important in marriage?
Emotional intelligence is often associated with leadership qualities required for successful businesses. But the role and importance of EQ in relationships should not be underestimated!
Having emotional intelligence as a quality in someone's life partner may just make yours, and their lives easier and happier.
Emotional intelligence enables you to comprehend your partner's feelings and also tackle with them.
Often conflicts and arguments arise because either of the partners is unable to feel or empathize with what the other is feeling. This leads to misunderstanding, misconceptions and even some unwanted, inappropriate actions or steps.
Marriage is a box full of different emotions
Jealousy, anger, frustration, irritation and the list goes on. It is essential for both the parties involved to be able to keep control of their emotions and what effects they may have.
We often consider people "immature" if they keep their partner's past mistakes or past mishaps in their hearts forever. Well, immaturity might be there, but lack of EQ is the right thing to say here.
When you cannot overcome emotional situations or setback, that is an indication of your lack of emotional intelligence.
Emotionally intelligent husbands and their charm
An emotionally intelligent husband would not reject or resist his wife's interference or influence in decision-making. This is because EQ helps you respect and honor your partner's wife.
In today's age, women are more aware and strong. They are now used to having a voice, which is why they will want a significant say in all the decisions being made. This can be a challenge for both the man and the woman in the marriage if the husband lacks EQ.
A marriage is a boat that cannot be run by any one party. Not giving importance to your wife's feelings or emotions, and how you affect them, you could be damaging your marriage.
With better emotional intelligence, you can resolve issues faster, more maturely and efficiently.
Women, generally, are expected to make more compromises in a marriage than men. They also have a softer approach and are submissive as compared to men. If this one-sided compromising goes on for a while, it might put a strain on your relationship, and your wife's mental health (not to mention, yours too).
As said earlier, the efforts and compromises for a marriage to work need to be equal. So, husbands who are emotionally intelligent, and understand, express and manage their feelings better, will be living a satisfied married life.
Empathy is an important element in absolutely any relationship
It is our ability to feel what the other person is feeling and understand it first-hand. Nothing makes you a better and supportive person like empathy does. And during fights and arguments and general mood swings, all your wife needs is you be there and understand.
How do you become an emotionally intelligent husband?
Men from a very young age are taught to be less emotional and focus more on leading and winning. For many social or psychological reasons, men lack emotional intelligence compared to women. So how or what can you do to change that?
Everyone feels differently
You need to realize and accept the fact that your wife, or anyone for that matter, has a different perspective and way of dealing with things. What could be fine with you might not be okay for your wife? Try and understand her view about it.
Respect your differences
When there's a conflict of views or opinions, respect the differences. Do not belittle her thoughts and perspectives.
Space
Space is important for both of you. When there's too much anger, and frustration boiling up, get a break. Use this space to let go off all the negativity and bring in positivity.
Listen
Be a good, patient listener. For you to understand her feelings, you first need to work on how you listen to them.
Forgive and forget
Do not hold onto arguments and fights, all that does is prolong the conflicts and hurt you and your marriage.
Share this article on
Want to have a happier, healthier marriage?
If you feel disconnected or frustrated about the state of your marriage but want to avoid separation and/or divorce, the marriage.com course meant for married couples is an excellent resource to help you overcome the most challenging aspects of being married.
More On This Topic
You May Also Like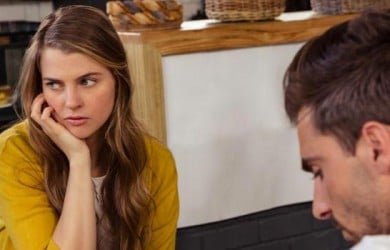 Popular Topics On Married Life