6 Effective Dos & Don'ts For Unhappy Married Women
.
The cause of every unhappy marriage is most likely a deep-rooted sense of unfulfillment. A feeling that there is not enough love, affection, trust, respect, or other crucial components for a satisfying connection.
By nature, a woman is more connected to her emotions. She is often the one who senses this first and gets more influenced by the sense of unhappiness. To overcompensate for this, an unhappy married woman:
controls her partners,

worries excessively or

engages in self-sabotaging behavior
What works, what doesn't work and what can you do differently?
Codependency can play a significant role in creating unhappy and incomplete marriages. However, it is not necessary to be codependent to get to a point where you struggle in your relationship. Wives all over the world who are secure and confident also turn to desperate measures, thinking that this is going to fix their marital issues.
Such measures often consist of an unhappy wife becoming:
super sexual to re-seduce their partner,

putting additional pressure on their spouse,

being more demanding than usual,

pleading,

introducing endless conversations about emotions, etc.
Unfortunately, such measures rarely work. In fact, all they do is generate a negative effect on the marriage leading to complaining women and annoyed husbands.
More often than not, we choose to stay stuck in a stressful and frustrating relationship. What works better is to take a moment and reflect upon the part you are playing as a wife in an unhappy marriage and to recognize what you can do about it. Even though it seems like a paradox at first, every negative life situation has some benefits to offer to us.
Becoming aware of what is that subconscious benefit we are holding on to and understanding the price we are paying for being an unhappy married woman can be a great source of motivation to change our mindset significantly.
Here are 3 do's and 3 don'ts along with their potential benefits. If applied to your mindset and behavior, this can have a meaningful impact on improving the quality of your marriage. It will give a more in-depth insight into what women need in marriage and enhance life in general.
DO: Overcome the need to outsource your self-worth
It could be that the adults in your life didn't have the capacity or the opportunity to provide you with a warm, loving, accepting environment with lots of attention and support. You are likely to choose a partner who is inattentive or inconsistent in the way he loves you.
This puts you in the position of an unhappy married woman. You might constantly try to please and impress your husband to get validated and feel better about yourself. You need to regain your power and value yourself directly without needing anyone else's approval or attention.
DON'T: Put your self-worth in the hands of your husband
When you're with an inattentive partner, you get to re-experience your childhood conditions when you are feeling unhappy. And this makes you feel familiar and "normal." This way, you can end up feeling that you don't need to be responsible for loving and valuing yourself.
You continue to suffer as an unhappy married woman. The price you are likely paying for this is quite high. It can contain anger, isolation, low self-esteem, powerlessness, anxiety, and more severe conditions like depression or similar mental health issues.
DO: Let go of expectations
Letting go of marriage expectations can set you free from tension and frustration that may be the cause of your issues in the first place.
As humans, we have the tendency to form expectations around every possible thing in life. But the expectations that lead to most disappointments are the ones we attach to the people closest to us- our spouses. We simply need to let them all go.
DON'T: Focus on the outcome
When we control and manipulate others, we are trying to make them behave and think the way we want them to. You may gain a false sense of control, certainty, and power, but the price is huge.
By controlling and manipulating, we are profoundly damaging the relationship, limiting our partner, creating distance, and rejection. We appear as takers, we become selfish and self-centered, thinking about what we want to get and not what we can give.
DO: Cultivate gratitude
You are an unhappy married woman, and the chances are that you are blaming your husband for many things that led you to this sad situation. If this is the case, it might seem unreasonable to ask you to find and express daily gratitude towards your husband.
Being grateful and thankful to your partner leads to higher marital satisfaction. Therefore, this is what you must do to make a significant shift in the overall "atmosphere" of your marriage.
DON'T: Take your partner for granted
We all get caught up in our sense of entitlement. As a result, we tend to see only the shortcomings and mistakes of our partners. The result of such an outlook on our significant others is that we feel that we are innocent and are guilty, that we are right and they are wrong.
We might feel like we are protecting ourselves from being hurt, and we have a chance to be the victim of our marital setup. The price we pay for this is loneliness, misery, guilt, and unhappiness. The husband is sure to feel annoyed while the wife is always unhappy in the marriage.
If we see our struggling marriage as an opportunity for self-development instead of an unfortunate event in our life, we will have a chance to grow as women. We can become empowered to live a fuller and more satisfying life within our marriage while making the relationship with ourselves and our partners better.
Share this article on
Want to have a happier, healthier marriage?
If you feel disconnected or frustrated about the state of your marriage but want to avoid separation and/or divorce, the marriage.com course meant for married couples is an excellent resource to help you overcome the most challenging aspects of being married.
You May Also Like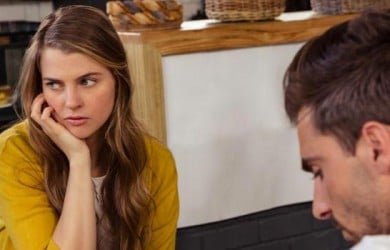 Popular Topics On Married Life