10 Traits of a Possessive Girlfriend
Love is sometimes glorified in movies.
All they show is just one aspect of a relationship. They tell us that two poles attract each other and boom, love happens. Mostly, we trust what we see in films. We consider that as reality and start to live in a dream world. However, the dream is shattered when reality struck.
In a relationship, two individuals with different qualities and tastes come together. They find certain similarities and move forward with that. Some people are casual, some are excellent in communication, and some are either introvert or extrovert. You may begin to adjust with some qualities, but excessive possessiveness is an alarming quality and should ring bells.
Listed below are some signs of a possessive girlfriend so that you can identify them easily and take control of the situation in due time.
1. Needs constant connection
We all are not with our mobile all the time. There are moments when your phone is kept aside or you're in an important meeting.
It's quite okay to expect your girlfriend to understand the situation and behave normally. However, there are some who get hysterical when their calls are unanswered or go to voicemail. They start believing that you're losing interest in them or are with someone else. If this situation is regular, then you're dealing with a possessive girlfriend.
2. Wants detailed information
It's quite normal to skip certain unnecessary details when you are describing your day to your girlfriend. You surely don't want to give an account of every minute of your day. Your possessive girlfriend, however, would expect you to share everything you did during your day. What you ate, whom you met, what you spoke, where you went, everything.
She surely wouldn't like you to skip one detail of it.
3. Turns detective from time to time
A detective's job is to locate the criminal.
They read signs and look for evidence of the wrongdoing with an aim to put the criminals behind bars. If your girlfriend is Sherlock on you and is spying or treats you like a criminal, you have an over-possessive girlfriend. They can sniff lies and always believe that you're not truthful to them. This eventually will lead your relationship in a negative direction. It's better to look for a solution in due time before things go beyond control.
4. Has a 'no girls around' rule
It's okay and normal to have a friend and good friends from the opposite sex. Even when you're in the office, you are bound to interact with people from both sexes. You have no control over it and it's totally acceptable. Not in the eyes of your possessive girlfriend.
For them, you're not supposed to talk to other girls, even in a professional setup. They will always keep an eye on you and will be suspicious all the time. So, around your overly possessive girlfriend, say good-bye to your friends from the opposite sex.
5. Limits your family time
One of the prominent traits of a possessive girlfriend is that they want you to spend your time with them, as much as possible.
Given a choice, they would never allow you to do anything else but just be with them. They start to restrict your social time and the matter could extend to your family time as well. She would stop you from meeting your parents or siblings or to have any family time.
6. Always expects a quick reply
We all have come across a character in movies wherein the girl is typing at super speed and expects her boyfriend to reply instantly. In case he doesn't do it, her texts don't stop and they quickly turn from a conversation to threat and even to 'break-up' texts. It is quite scary as you would need time to read, comprehend, and respond to the text.
This is one of the possessive girlfriend signs that are not to be missed.
7. Indulges in excessive PDA
PDA is okay, only if it's done within limits. As they say, excessiveness of anything is bad, so is PDA. Your possessive girlfriend will insist you to hold her hand and show love gestures in public, even if you are feeling uncomfortable or embarrassed. She thrives on such acts.
8. Indulges in digital stalking
Physical stalking is restrictive given the point that you both have different workplaces and in different areas of the city. However, digital stalking is always possible.
Your possessive girlfriend will insist you to share your social media platforms passwords. If not, then she will constantly check you on each platform, keep a tab on where and with who you're, and will question you on every post you share. Your Instagram account may be full of her photographs as well.
9. Crosses personal boundaries
It's a common behavior of a possessive girlfriend to cross personal boundaries and create a scene if reminded of it. They forget the fact that you demand your 'me' time and personal moments with your loved ones or friends. Their expectation to have you all the time with them will lead to troubles beyond comprehension.
10. Wants total control
By now you must have understood that a possessive girlfriend wants to have total control over your life. All they want you to do is obey their orders, show them respect, and answer all their questions. They won't hesitate to go to extreme measures to demonstrate their possessiveness to you.
So what should you do if you find that your girlfriend has all or most of these traits? The best thing to do is to break your silence about her behavior. Calmly communicate with her and set some boundaries. Tell her that some of her behavior is not appreciated and makes you feel unloved. Try to find out why she feels that it's right to own you and why that need exists so that both of you can work on it. See how she reacts to that. In case, she totally flips and never cooperates no matter how much you try, you can try walking out of the relationship since love does not work that way but if you can see her making an effort, then keep at it.
Share this article on
Want to have a happier, healthier marriage?
If you feel disconnected or frustrated about the state of your marriage but want to avoid separation and/or divorce, the marriage.com course meant for married couples is an excellent resource to help you overcome the most challenging aspects of being married.
You May Also Like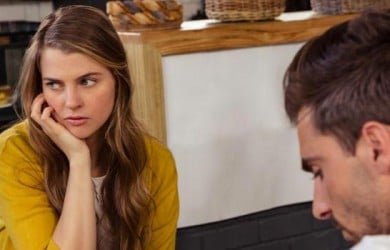 Popular Topics On Married Life